Just because: No one pitched like 'Three Finger' Brown
Mordecai Brown is a Hall of Fame pitcher, but in reality he's so much more than that.
More MLB: Scoreboard | Standings | Probable Pitchers | Sortable Stats | Odds
Hall of Fame hurler Mordecai Peter Centennial Brown (he was born in 1876, you see) wasn't "Three Finger Brown" until his minor-league days, not long after he toiled for the wondrously named Terre Haute Hottentots. What laid the foundation for his singular nickname was a tandem of mishaps that can be described as "deliciously 19th century."
Here's this from Cindy Thomson of SABR:
Because of childhood curiosity, Mordecai lost most of his right index finger in a piece of farming equipment. Not long after, he fell while chasing a rabbit and broke his other fingers. The result was a bent middle finger, a paralyzed little finger, and a stump where the index finger used to be.
Farming accident (it was a corn shredder, to be specific) plus fated pursuit of hare yields gnarled paw. Here, courtesy of the Library of Congress, is said gnarled paw ...
Gothic, but, as pitching goes, quite useful.
Indeed, Brown's legendary overhand curve (or his "lively pitch," in the parlance of the day) was declared to be the best offering ever by none other than Ty Cobb.
In order to baffle hitters who were looking for his curve, Brown would change up his release points, use his unique menagerie of fingers to apply different pressures on the ball and alter the angle of his "wrist snap." It all went a little something like this ...
As you can see from this "flip book"-style moving image (note the changing page numbers at the bottom of the video), Brown threw with something like a four-fifths delivery rather than a true overhand motion. But check out that torque. The angle isn't ideal, but it certainly looks like he gets his back shoulder behind his front shoulder during the loading phase, and he certainly hid the ball well. And then there's that very pronounced hand hook on the backswing.
Some pitching coaches will tell you that hooking (or "wrapping") is inefficient and even stressful on the arm, but a number of twirlers have survived at the highest level despite that flourish, including Rick Sutcliffe and, more recently, Barry Zito and Aaron Crow. 
Hook or no, mauled fingers or no, Brown stands as one of the greatest ever. Across parts of 14 major-league seasons, mostly for the Cubs, Brown went 239-130 with a 2.01 ERA, 55 shutouts and 271 complete games. That was the Deadball Era, when runs were scarce, but apply the necessary context and Brown still ranks 16th all-time in park- and league-adjusted ERA (i.e., ERA+).
And speaking of the Cubs, Brown happened to make his way there courtesy of the Cardinals, who in 1903 shipped him to Chicago in exchange for, in essence, one-and-a-half quality seasons from Jack Taylor. While the six-player Lou Brock-Ernie Broglio swap of 1964 is a part of the rivalry's lore, the Three Finger Brown trade was even more lopsided.
In conclusion, two bits of miscellany ...
Brown grew up working in the Indiana coal mines, and, as a consequence, was always spoiling for a better life. For instance, it was an understandable desire for more money that prompted him to spend a season in the upstart Federal League for the princely sum of $10,000. And like so many players of his generation and many generations to come, Brown always sought to pad his baseball income from outside sources. Many a tale has been told of ballplayers who spent their winters selling shoes or tending bar or even digging graves, but Brown had a somewhat leisured second job as baseball tutor to Rockefeller's grandson ...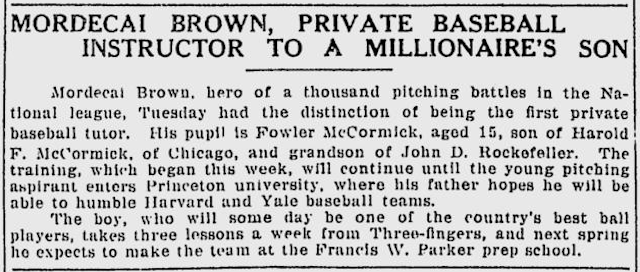 Nice work if you can find it.
Finally -- and circling back to Mr. Brown's slain finger -- let the record show that during Brown's glory days, his hometown of Nyesville, Ind. proudly displayed the piece of farming equipment -- the aforementioned corn shredder -- that had its way with Brown so long ago. Alongside the corn shredder, tucked away in a glass viewing case, was this ...

(HT: The Baseball Reliquary)
It would be weird if that were Brown's actual severed finger. What's arguably weirder is that that's a rubber recreation of Brown's severed finger, which was lovingly crafted by an unnamed local farmer quite possibly tired of farming.
So in honor of Mordecai "Three Finger" Brown, I beseech you to make a rubber finger and take it to Indiana as an act of solemn alms-giving. There is no other way.
The coveted right-hander would certainly be a fit in Milwaukee

We rate the best mustaches from random baseball cards because, why not?

Colon wants to break a Dennis Martinez record
The Twins have been rumored to be interested in Darvish all winter

Rolen is one of the best third basemen of all time, but you wouldn't know it based on this...

Neither Josh Donaldson nor Brian Dozier have talked about a new contract extension