'Million Dollar Arm' pitcher undergoes Tommy John surgery
Rinku Singh, one of the pitchers featured in the film 'Million Dollar Arm,' has undergone Tommy John surgery.
More MLB: Power Rankings | Expert Picks | Latest news & notes | Fantasy news
In theaters right now is the film Million Dollar Arm, a true story that chronicles the lives of Rinku Singh and Dinesh Kumar Patel. Both young men won a reality show in India that essentially sought to determine who could throw the hardest. Singh won with an 87 mph fastball.
Both Singh and Patel signed professional minor league contracts with the Pirates in 2008. Patel was eventually released and has since returned to school. Singh is still with the Pirates though, and, according to Jerry Crasnick of ESPN, he recently underwent Tommy John surgery, because of course.
Last summer, Singh experienced another ritual that's become increasingly more commonplace among young American and Latino males in his new profession: He underwent Tommy John surgery on his left elbow.

Like Matt Harvey, Jose Fernandez and so many other All-Stars/household names, Singh is dealing with the emotional and physical fallout of an ulnar collateral ligament tear. He'll spend this summer rehabbing in an effort to return to the playing field in 2015. That's his ultimate goal, even as he attends movie screenings, fields interview requests and hangs out with Jon Hamm, the Hollywood star and devout St. Louis Cardinals fan.

"I believe it doesn't matter where you're coming from or what kind of job you have in life," Singh said in a recent phone interview. "If you're willing to give 110 percent on a daily basis, it doesn't matter how you feel. If you're ready to show up on time and give all you've got, you're going to succeed."
Sigh. Apparently it's not enough that elite pitchers like Fernandez and Patrick Corbin are having Tommy John surgery. Now the subjects of feel-good movies who are international icons for the game of baseball are going under the knife. Where does it end?
That brings me to this unfortunately hilarious piece of Internet: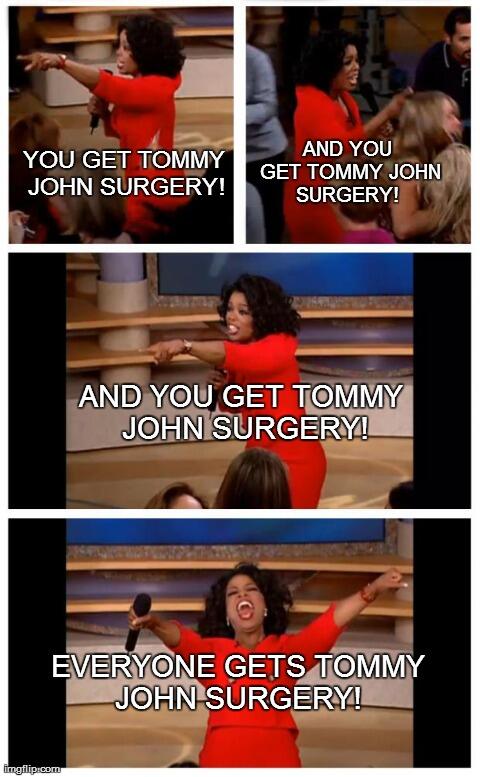 Baseball is cruel.
(Oprah via @Erik_Manning)
Gonzalez was reportedly killed in a car crash in Cuba

Our Black Friday FA shopping guide includes a starting pitcher, slugger, super sub, and re...

Get 15 percent off any order of more than $75 at CBS Sports Shop
Need a gift for someone who loves baseball? We're here to help as the holidays approach

Several prominent Japanese-born Mariners and ex-Mariners have said they will help as well

Get your sports fans something that they'll wear all year