R.I.P., 2013 Washington Nationals
The Washington Nationals were eliminated from postseason contention Monday evening, so it's time to look both back and ahead.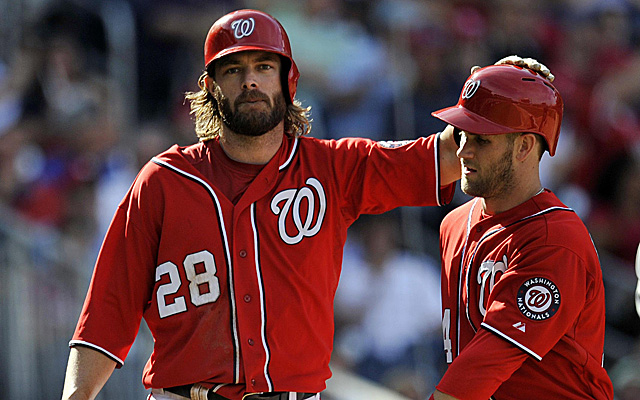 RIPs: Astros | Marlins | White Sox | Cubs | Brewers | Mets | Giants | Rockies | Twins |Phillies | Padres | Mariners | Blue Jays | Diamondbacks | Angels
The Washington Nationals were eliminated from postseason contention Monday evening, so it's time to mourn the season that was.
What went right
First and foremost, Jayson Werth played like an MVP when healthy (.318/.397/.532, good for a 154 OPS+). Bryce Harper again took strides toward becoming a megastar (138 OPS+). Ian Desmond and Ryan Zimmerman had quality seasons with the bat, while Anthony Rendon showed flashes of his upside. Denard Span got real hot during his hitting streak, too.
On the hill, Jordan Zimmermann was mostly excellent, while Gio Gonzalez and Stephen Strasburg (ignore the record, Strasburg has a 3.02 ERA, 1.05 WHIP and 9.6 K/9) were solid. Tyler Clippard was, for the most part, great in the bullpen as well. Youngsters Taylor Jordan and Tanner Roark flashed some promise as well.
Overall, the Nationals enter Tuesday with a 30-13 record since their low point at six games under .500, so there's definite optimism to take into the offseason.
What went wrong
Harper running into two walls -- the second one doing the most damage -- hampered him for most of the season. Adam LaRoche disappointed for the most part, especially early in the season when the club was struggling. Dan Haren was a disaster in the first half while Ross Detwiler disappointed before his injury. Rafael Soriano wasn't awful, but he wasn't the lock-down closer they envisioned and Drew Storen seemed to have a hangover from the playoff disaster last season.
Overall, though, the Nationals entered the season in "World Series or bust" mode. And they've missed the playoffs, so it's a "bust" of a season.
MVP: Werth and his beard. He's a clubhouse leader who is leading the team in WAR and several other categories. His contract is largely maligned, but he earned his money this season.
LVP: I'm going with Haren. Through July 22, the Nationals were 4-14 in his 18 starts. If we make that 9-9, the Nationals are 89-68 -- or one game behind the Pirates and Reds in the wild-card mix.
Free agents to be: 1B Chad Tracy, SP Dan Haren
Gameplan heading into the offseason
I actually don't think they need to do much in terms of talent acquisition. The group they have now is playing like a playoff team and has been for the past six-plus weeks. They aren't old -- in fact, there are plenty of guys young enough to believe improvement is coming.
First thing to do, however, is find a new manager. Davey Johnson is retiring. Matt Williams is a candidate and the job is likely going to be an attractive opening for any past manager with a good track record looking for a return.
In terms of team needs, it's possible they go after one starting pitcher, but they also don't necessarily need to. They have Strasburg, Zimmermann and Gonzalez locked and loaded. Detwiler, Roarke and Jordan give them six total internal options that look feasible.
Otherwise, unless they do something like trade LaRoche -- for little return, mind you -- there isn't really much to be done. They should have about the same starting lineup, rotation and bullpen. It would be difficult to be in the shoes of general manager Mike Rizzo and not be aggressive after a disappointing season, but there's plenty of talent here to make the deep playoff run they desired a year late. Overreacting to a year were tons of things went wrong into mid-August doesn't seem the smart approach.
Ridiculously premature prediction for 2014
They play more like the team we saw the last six weeks than the one we saw before. A return trip to the playoffs is in order. I won't be as aggressive as last year and predict and World Series championship, though.
The Pirates recently shipped Gerrit Cole and Andrew McCutchen to Houston and San Francisco,...

Surely, Martinez and his agent are holding out for more

The reliever had a very good 2017 season with the NL Central champs
We don't need to discuss Chipper's Hall of Fame case, so let's have fun instead

Dioner Navarro still hopes to return someday

Christian Yelich's agent says his client's relationship with Marlins is 'irretrievably bro...