R.I.P., 2014 Boston Red Sox season
The reigning-champion Red Sox have been eliminated. Let us now eulogize their 2014 season.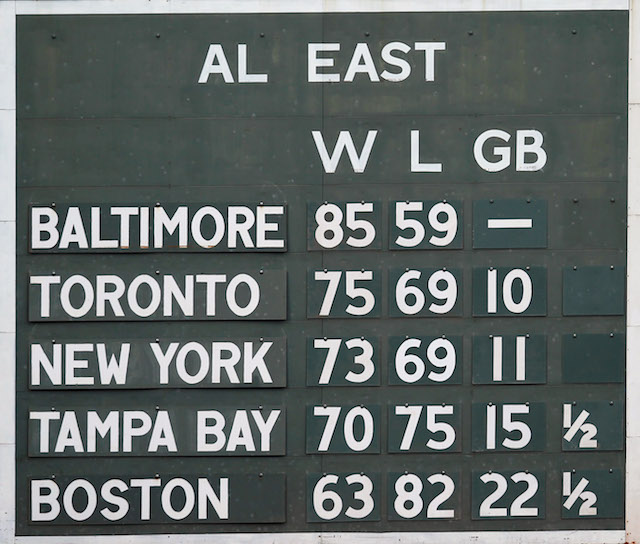 The Boston Red Sox's 2014 playoff hopes officially ended on Wednesday, Sept. 10, per the MLB method of determining elimination. So now let us properly eulogize the the reigning World Series champions ... 
What went right
David Ortiz and Mike Napoli continued to produce at high levels. Jon Lester had perhaps the best season of his career (although partly on Oakland's watch). Brock Holt proved to be one of baseball's most valuable bench players. Christian Vazquez's defensive skills behind the plate lived up to the billing. Jackie Bradley also thrived with the glove (but not with the bat). Mookie Betts impressed in limited action. 
All that non-contention allowed GM Ben Cherington to sell off at the deadline (Lester and John Lackey, among others, got moved) without significantly compromising the team's ability to contend in 2015. 
What went wrong
In broad terms, the 2014 Red Sox will wind up as one of the worst defending champs in MLB history. Injury and under-performance are largely to blame. 
Clay Buchholz struggled badly and couldn't stay healthy. Dustin Pedroia, who just saw his season end, put up the worst full-time offensive numbers of his career. Bradley and Xander Bogaerts didn't hit. Stephen Drew was awful during his brief stint. Will Middlebrooks was, variously, hurt and ineffective. Shane Victorino managed just 30 games played. The bullpen regressed. A.J. Pierzynski, their primary catcher, wound up getting DFA'd, and Jonny Gomes, prior to being traded, dropped off significantly from 2013 levels. 
The result of all that? At present, the Sox have given up 84 more runs than they've scored. They rank last in the AL in runs scored and 10th in runs allowed. In other words, the '14 Sox did nothing well but were particularly inept on offense. 
MVP: Ortiz. He's batting .261/.358/.512 with 32 homers in 135 games. That's not quite his usual level of productivity, but it's still very, very good. 
LVP: Middlebrooks. You can't blame him for the injuries, but when on the field he hit just .182/.249/.260. 
Free agents to be: RHP Koji Uehara, C David Ross, RHP Burke Badenhop
Gameplan heading into the offseason
They'll certainly need to fill Lester's vacancy in the rotation, possibly with Lester himself (he's bound for free agency) or a fellow free agent like Max Scherzer or James Shields. There's a good bit of young starting pitching in the system to pair with a marquee addition plus returnees like Buchholz and Joe Kelly. 
The Sox will also hope that Yoenis Cespedes and Allen Craig take to Fenway more fully than they have thus far and that Pedroia bounces back from hand surgery. David Ortiz will need to stave off deep decline for another year, and Napoli will once again need to hit as he has since coming to Boston. A healthy Victorino will help, and they'll need to get a bat-first catcher to pair with Vazquez. Will they re-up with Uehara, who showed some signs of soft decline this season (he's 40, after all)? 
Elsewhere, Cuban import Rusney Castillo figures to be a core contributor, and the Sox will be looking for better production from Bogaerts and Bradley. Where does Betts wind up? Does Middlebrooks have a future as a regular? Would a free agent upgrade at third like Hanley Ramirez or Pablo Sandoval be in play? Considering the worst-to-first-to-worst-again run that they're on, this team offers more questions than answers. 
Ridiculously premature prediction for 2015
Improvement but not a return to the postseason. I'll say a win total in the 80-83 range and a fourth-place finish. The old guard is too post-prime, and the young ones aren't quite ready to helm a contender. A flurry of "win now" moves by Cherington and company will of course change that.
CBS Sports HQ Daily Newsletter
Get the best highlights and stories - yeah, just the good stuff handpicked by our team to start your day.
Please check the opt-in box to acknowledge that you would like to subscribe.
Thanks for signing up!
Keep an eye on your inbox for the latest sports news.
Sorry!
There was an error processing your subscription.
Murray was a first-round pick in baseball and could be selected in the first round in the NFL...

Here are the latest hot stove rumors as we march toward spring training

Machado deserves significantly more than the offer
The Red Sox had previously accepted the invitation in December

Harper and the Cubs have been linked for years, but all the speculation was apparently for...

Vizquel has 11 Gold Gloves in his trophy case