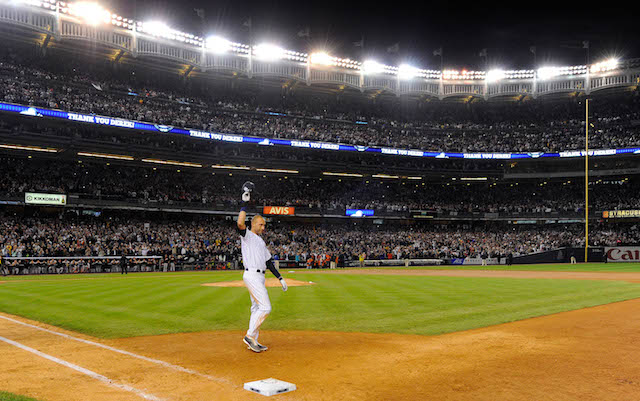 Apropos of nothing save baseball itself and on this game-less day, let's take a look at the all-time standings, shall we?
That is, let's see how the division standings shake out based on each team's "lifetime" winning percentage. We know the Yankees have the most World Series titles by a wide margin, but what about dominance in the regular season over all these many years? Thanks to the lovely and talented Baseball-Reference.com, we can run the numbers and find out.
Note that B-Ref includes long-ago iterations of each team when it comes to their franchise records (i.e., the Yankees' mark includes their seasons as the Highlanders, the Cardinals as the Perfectos, the Dodgers as the Robins, the Nationals as the Expos, the Orioles as the Browns, etc.). For each division, we'll list the franchises' all-time winning percentage, all-time winning percentage scaled down to a 162-game pace and first year on record. Onward!
First up, the AL East ... 
AL East All-Time Standings
Team
All-time win%
162-game pace
First year
Yankees
.569
91-71
1903
Red Sox
.517
84-78
1901
Blue Jays
.495
80-82
1977
Orioles
.476
77-85
1901
Rays
.462
75-87
1998
No surprise to the Yankees atop the division, what with all those rings lying around. They also check in at 2,418 games above .500, which is also tops among all franchises. As for Orioles' disappointing mark, cut them some slack. The "St. Louis Browns" period of franchise history put them more than 1,000 games below .500. Since becoming the Baltimore Orioles before the 1954 season, they're playing .513 ball. 
AL Central All-Time Standings
Team
All-time win%
162-game pace
First Year
Indians
.509
82-80
1901
Tigers
.508
82-80
1901
White Sox
.505
82-80
1901
Royals
.482
78-84
1969
Twins
.480
78-84
1901
As you can see, the AL Central is a hotly contested loop. The Indians take the division by scant percentage points. How close is it at the top? The Indians and Tigers are separated by just 29 games in the loss column and just five games in the win column. That's a tremendous amount of compression considering how long they've been around. 
AL West All-Time Standings
Team
All-time win%
162-game pace
First Year
Angels
.501
81-81
1961
Athletics
.488
79-83
1901
Astros
.487
79-83
1962
Rangers
.476
77-85
1961
Mariners
.468
76-86
1977
Not a strong division! That's largely because the AL West is 80 percent expansion franchises. Let's bear in mind that those modern expansion franchises like the Angels, Rangers, Mariners and Astros (and Royals and Mets and Rays, etc.) are at a disadvantage in this exercise because they took a lot of body blows from the more established teams in those early seasons. As for the old-line franchises, sure, they were new once, too, but so were their peer teams, generally speaking. Connie Mack's two complete and utter teardowns of his Athletics also don't help matters in the West.
NL East All-Time Standings
Team
All-time win%
162-game pace
First Year
Braves
.501
81-81
1876
Nationals
.482
78-84
1969
Mets
.478
77-85
1962
Phillies
.473
76-86
1883
Marlins
.470
76-86
1993
Not a strong division! For as long as the Braves have been around, they're just 59 games above .500 overall. In other words, back-to-back 66-96 seasons in 2015-16 would put them into negative territory (highly unlikely, of course). Elsewhere, the Phillies "lead" all franchises with 10,551 losses. The Braves and Cubs are the only other teams to have lost at least 10,000 games. 
NL Central All-Time Standings
Team
All-time win%
162-game pace
First Year
Cardinals
.519
84-78
1882
Cubs
.511
83-79
1876
Reds
.508
82-80
1882
Pirates
.504
82-80
1882
Brewers
.478
77-85
1969
Strong division! In fact, the NL Central is the only loop with four winning franchises in it, and four of the seven 10,000-win teams -- those same four teams -- call the NL Central home these days. Yes, the Cubs, despite not having won the belt and the title since 1908, have a winning record all-time. Speaking of the Cubs, they lead all franchises in games played with 20,732. As for the Cardinals, they of course rank a distant second to the Yankees with 11 World Series titles. 
NL West All-Time Standings
Team
All-time win%
162-game pace
First Year
Giants
.538
87-75
1883
Dodgers
.525
85-77
1884
Diamondbacks
.492
80-82
1998
Rockies
.469
76-86
1993
Padres
.464
75-87
1969
Rejoice, Giants fans: For your team has vanquished its all-time enemy. Those Dodgers are just three games shy of joining the Yankees and Giants as the only franchises to be at least 1,000 games above .500. 
So, with each of the six divisions laid out, here's how the nonexistent "all-time" playoffs would look ... 
AL wild card game: Tigers @ Red Sox
ALDS1: Tigers/Red Sox vs. Yankees
ALDS2: Angels vs. Indians
NL wild card game: Cubs @ Dodgers
NLDS1: Cubs/Dodgers vs. Giants
NLDS2: Braves vs. Cardinals
Thought experiment concluded. As you were.