Top 10 2014 MLB free-agent relievers
Time to wrap up our positional free agent rankings by going through the top 10 relief pitchers on the market this winter.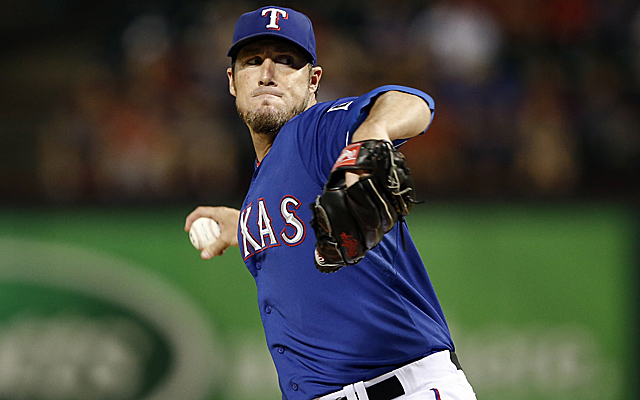 FA tracker: Position players | FA tracker: Pitchers | Top 10 starting pitchers | Top 10 OFs | Top 10 corner infielders | Top 10 middle infielders | Top 5 catchers
To wrap up our series on free agent rankings, we'll hit up the men from the bullpen. Here are the top 10 relievers available in free agency this time around.
1. Joe Nathan, 39: The six-time All-Star has been among baseball's best closers for years and there's little reason to believe he can't hold onto that for at least one more year, even as he approaches 40. His 1.39 ERA last season was his best since 2008, his 0.897 WHIP was his best since 2006 and his strikeout rate was again above 10 per nine innings.
2. Brian Wilson, 31: Call 2013 The Return of the Beard. Wilson posted a 0.66 ERA, 0.88 WHIP and 13 strikeouts in 13 2/3 innings in the regular season after returning from Tommy John surgery. He also worked six scoreless postseason innings with eight strikeouts. He's back.
3. Grant Balfour, 36: Wouldn't it be funny if Balfour took his rage to Detroit after getting in a screaming match with Victor Martinez? It could happen. The Aussie has been an effective reliever in the past four seasons and five of the past six. Last season, he saved 38 games in 41 chances with a 2.59 ERA.
4. Joaquin Benoit, 36: He rode an unbelievable 2010 campaign to a nice deal with the Tigers. Now he's coming off a season in which he closed for a team that went to the ALCS, and he had a 2.01 ERA and 1.03 WHIP with 73 strikeouts in 67 innings. Expect Benoit to get another solid deal in free agency.
5. Jesse Crain, 32: Injury cut Crain's season short, but he was among the most effective relievers in baseball when healthy. He had a 0.74 ERA, 1.15 WHIP and 46 strikeouts in 36 2/3 innings. He wasn't a closer -- and some believe you have to have a "proven closer" -- but Crain had 19 holds and only one blown save. I'd sign him to close in a heartbeat.
6. Edward Mujica, 30: Here's an interesting case. The right-hander is coming off an All-Star season in which he eventually lost his grip on the closer job and wasn't used in any pressure situations as his team went to the World Series. He was outstanding for most of the season but fell apart in September, posting an 11.05 ERA and allowing as many home runs (three) as he posted strikeouts. He's been good for much of his career, but never near as good as he was for five months in 2013.
7. Fernando Rodney, 37: One year too late, Fernando. In 2012, Rodney posted a historic season. This past season, while he did save 37 games -- and it's an overrated stat, by the way -- he blew eight and the control issues that plagued him throughout his career resurfaced. Now he'll be 37. He's unreliable and has poor control. Buyer beware, but that memory of 2012 gets him a job.
8. Francisco Rodriguez, 31: It's hard to believe K-Rod is only 31. He was one of baseball's most dominant closers from 2005-08 and has had a few productive seasons since. Last year he was excellent for the Brewers before being traded to the Orioles and stumbling a bit. His strikeout rate is still high and he had better control last season. It's possible he finds a closing gig.
9. Chris Perez, 28: Put simply: 2013 was a nightmare season for the two-time All-Star. Not only did his relationship sour with the fan base so badly that he had to delete his Twitter account -- and while it might sound stupid, it's a big deal to many players -- and he was also arrested after having pot shipped to his house in his dog's name. His ERA has gone from 1.71 (2010) to 4.33 (2013). His hit and home run rates were an all-time high. Still, he's far from old and did battle shoulder issues during the season.
10. Suk-Min Yoon, 27: Yoon had a 4.00 ERA in 87 2/3 innings across 13 starts and 17 relief appearances for the Kia Tigers of the Korea Baseball Organization this past season. He was dealing with shoulder trouble, though. When healthy, he won the league MVP in 2011 after going 17-5 with a 2.45 ERA in 172 1/3 innings. He could start or relieve in the majors.
The Dodgers and Braves pulled off a whopper on Saturday

Sabathia will reportedly spend a 10th season in the Bronx

Fowler suffered a knee injury at Chicago's Guaranteed Rate Field
The lefty starter is coming off a terrible season

After acquiring Ian Kinsler and Zack Cozart in recent days, the Angels are trending upward

Cozart's coming off a big season as the Reds' shortstop