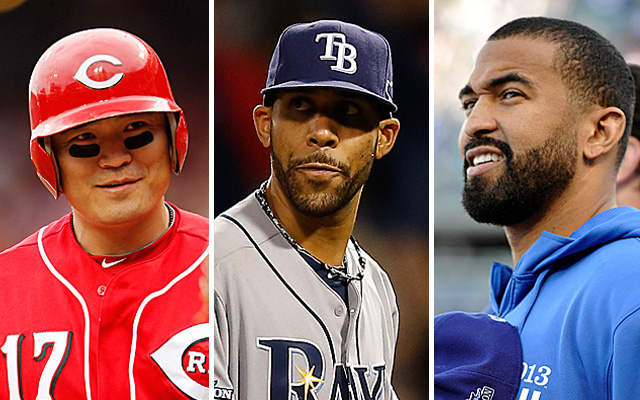 MORE: FA tracker: position players | FA tracker: pitchers | Winter Meetings updates
ORLANDO, Fla. -- So it's late afternoon Thursday the week of the MLB Winter Meetings, which means the areas of the Dolphin resort at Disney World that were packed with media all week are getting closer to "ghost town" level. Though there's no set end time to the meetings, most general managers already departed at some point Thursday, so the action is mostly over.
Thus, it's time to wrap up the week of action -- or non-action in many cases -- that we saw here in Mickey Mouse's element.
Slow movement atop the starting pitching front
Well, the story for the week was actually that not that many moves happened -- partially due to so many happening last week. Still, the starting pitching market has free agents Matt Garza, Ubaldo Jimenez and Ervin Santana. It might have David Price and Jeff Samardzija available in trade, too. And yet nothing happened with any of those guys. The biggest-name pitcher to go anywhere this week was Bartolo Colon, who signed a two-year, $20 million deal with the Mets.
What's the hold up?
Well, some of it is Japanese phenom Masahiro Tanaka. We still don't know if his Nippon Professional Baseball club, the Rakuten Eagles, will post him for MLB free agency. If not, the value of each of the above starters goes up. If so, the teams most interested in frontline starting pitching will likely go hard after Tanaka before ponying up for the large salaries wanted by Garza, Jimenez and Santana -- not to mention trading the type of talent required to land Samardzija and especially Price.
So we're essentially waiting on Tanaka before some of this movement will take place.
Is Shin-Soo Choo gonna be this offseason's version of Prince Fielder or Michael Bourn?
Scott Boras isn't shy about his clients going past the Winter Meetings unsigned. Sometimes it doesn't hurt his player, sometimes it has appeared that it has. Two years ago, Prince Fielder ended up landing a nine-year deal north of $200 million. Last offseason, though, Michael Bourn -- who Boras had said it would take at least $100 million to sign -- had to settle for four years and $48 million.
Shin-Soo Choo is Boras' big-ticket guy this time around -- now that Jacoby Ellsbury is signed -- and he wants eight years and well over $100 million. Thus far, it doesn't appear anyone has decided to offer more than six years. So, certainly, Boras will wait. And wait. And wait.
Will it work? We'll know by February, in all likelihood. Until then it's hard telling where this thing goes.
Nationals, Mariners make nice, cheap additions
The Nationals needed a left-handed reliever and getting Jerry Blevins is real good on two fronts. One, he's a very good reliever and, two, he's not a LOOGY (left-handed-one-out-guy). He was actually tougher on righties last season.
Corey Hart averaged 29 homers a year in his last three healthy years. Yes, he's moving to the AL and, yes, his knee could provide a problem, but it's worth $5 million for this season to find out if he can be a good protector in the lineup for Robinson Cano, especially since Nelson Cruz might be signed for four years and $70 million.
Will the Dodgers carry four starting-caliber outfielders?
Now that Matt Kemp appears to be off the trading block, will the Dodgers keep all four starting-caliber outfielders (Kemp, Yasiel Puig, Andre Ethier, Carl Crawford)? It sounds like they might, which makes sense. In the past several seasons, Kemp, Ethier and Crawford have all been injury-prone, Crawford's still in a walking boot and Puig's style of play might lead to an injury for himself. Though all four guys will want to start every day, for now it seems the best route is to keep all four.
And then maybe all four prove healthy and productive next season, at which point that's some excellent trade bait in July for help to shore up another area.
Expansion Era Hall of Fame committee gets three right, two wrong
Tony La Russa, Joe Torre and Bobby Cox are obviously Hall of Fame managers. So the committee got those three right. Marvin Miller and George Steinbrenner should be Hall of Famers, too, though.
Whither home plate collisions
Perhaps the biggest storyline from these Winter Meetings was that MLB is moving toward banning collisions at home plate. The MLBPA needs to approve for this season, but even if it doesn't, the ban will take effect in 2015.
Bad first-base market
A small handful of teams are still in the market for a first baseman. It appears they'll be shopping between free agent James Loney and trade possibilities Ike Davis and Mitch Moreland. Enjoy, Rays, Pirates and Brewers!
Mets are spending some money
Though I don't think we could call them the large-market Mets just yet, these aren't the small-market Mets, having shelled out over $80 million combined to bring in Curtis Granderson and Bartolo Colon.  I also liked the earlier offseason addition of Chris Young, giving the Mets are very rangey outfield -- which, in turn, helps make their pitchers look better in the long run. Well done so far, Mr. Alderson.
Goodbye, Doc
Immediately after the Hall of Fame announcement Monday morning to open the meetings came the announcement of the retirement of a future Hall of Famer (in my opinion). Goodbye, Roy Halladay. We'll miss watching you carve up opposing hitters.