2014 NBA Draft: Replenishing the NBA shooting guard position
The depth at shooting guard has greatly diminished over the years. Will this loaded draft class have enough at that position to change that?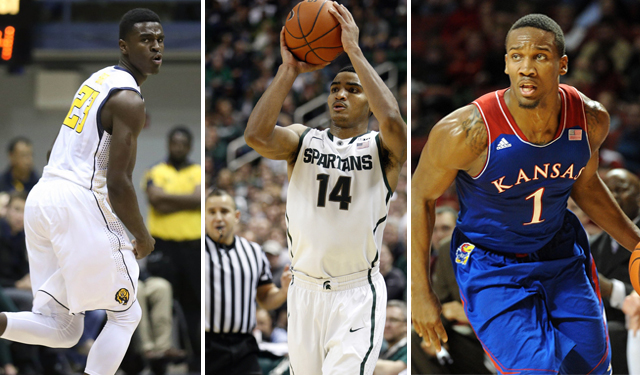 As the NBA has become a league of point guards, great power forwards, and specialists either protecting the rim or bombarding from 3-point range, one position's depth has weakened considerably over the past few seasons. All-Star caliber shooting guards that dominate with scoring have fallen by the wayside. Instead, we've seen a lot of small backcourt lineups looking to take advantage of perimeter defensive rules or bigger wings looking to shrink the perimeter defensively on one end and stretch the floor on the other.
As Kobe Bryant and Dwyane Wade begin put their tray tables away and prepare for their descent toward retirement, we're running out of quality shooting guards in terms of star quality on the court. We're also losing Ray Allen and Manu Ginobili in the next few years and they're just role players at this point anyway.
James Harden's star quality is bright and growing, but who is next after him? Is DeMar DeRozan going to be the next good shooting guard? Is Bradley Beal enough to carry the position? Can we call Gordon Hayward a shooting guard? Can Klay Thompson become enough of a shot creator to be a star?
While positionality in the NBA is largely dying out for a more versatile, less categorized set of roles on the floor, the idea of the scoring shooting guard is still important for a couple of reasons. First, it's a valuable position in terms of drawing the focus of the defense. Having a Harden in your team's attack can open up everything for your offense. Second, it may not be a dying role but more of a position lacking the talent to fill such a role.
Looking ahead to the 2014 NBA Draft, the majority of the focus is on the star quality of the forwards coming in, but there are some very quality backcourt options. We've already looked at which point guards from this draft class might make the position a lot more crowded. The shooting guard class is even more intriguing, mostly because they have a much easier position to crack in the NBA.
Top shooting guard prospect
Wayne Selden, Kansas: The cream of the 2014 crop of shooting guards is Kansas guard Wayne Selden, whose all-around game makes him one of the best players in this draft class regardless of position. Selden isn't a special athlete by any means when it comes to NBA-level athleticism, but his skills on the basketball court along with his power for the position make him a bit of a throwback option.
He's a bruising shooting guard at 6'5" and 230 lbs. but his 6'10" wingspan gives him the potential to score against taller defenders. His shooting stroke from outside looks to be deadly and he easily finishes around the basket because of his power. The biggest concern he's shown outside of the free throw line (17-of-34, yikes) is fitting in on a team where he's not the focus. That could just be the chaos of playing for a loaded Kansas team or maybe he has a hard time fitting into the background at times. He could make bully ball at the wing position fashionable.
The tier bordering on star potential
Jordan Adams, UCLA: The sophomore guard from UCLA is a big-time scorer with an ability that will translate to the NBA level. He isn't the athlete that Harden is on the floor but he's certainly nimble enough to find scoring spots on the floor. If his improved outside shooting continues to solidify throughout his development, there won't be a spot on the floor he can't get a bucket from. He's incredible at drawing fouls and makes his free throws. He'll be able to manufacture points even when his stroke isn't working. You'd like to see him lock in defensively more consistently than he has, but he's great at getting steals in a variety of ways.
Aaron Harrison, Kentucky: It's always scary to have a shooting guard prospect who doesn't shoot well from outside or handle the ball all that well. However, Harrison is still very good at getting to the free throw line and he can score at a high level. We may be seeing more a DeMar DeRozan type of prospect with the shooting guard version of the Harrison twins, but that's not necessarily a bad thing. The key for him will be his ability to play defense at the next level. He looks to be a good defensive prospect but his attitude will need to be focused at all times.
Rodney Hood, Duke: I'm not sure if you should really classify Hood as a shooting guard or a small forward. He's probably just the new age wing player that is capable of filling both positions and splitting his time there. At 6'8", his height makes him more suited for the SF position but his skill set screams of a nice shooting guard. His sophomore season (already 21 because of a year off from transferring) has cemented his star status in this class but that will have to transfer to the next level.
He's a big time scorer averaging 18.5 points on a team where Jabari Parker is getting the majority of the attention on offense. He can hit from deep 3-point range, finishes inside, makes midrange jumpers, and gets to the free throw line where he's money. If he can put on some muscle and fill his frame out, it's hard to imagine a defender stopping this lethal lefty.
Zach LaVine, UCLA: I know he's considered to be more of a point guard prospect than a shooting guard, but I don't really see him being more of a point at the next level. He'll need to add some muscle to handle the 2-guard in the NBA, but his propensity for scoring makes him such a deadly option with the ball. Maybe he's a combo guard or a scoring lead guard. It probably doesn't matter what you call him, just give him the ball and let him go to work. Perhaps the point guard distinction/background will make him impossible to guard when he makes the jump.
Star role playing shooting guards
Gary Harris, Michigan State: I was big on Harris entering this season because of his fantastic freshman year with the Spartans. His poor outside shooting has worried me a bit to begin this season but his shooting form makes me believe it will be successful long-term. My biggest question with him is can he be a good enough playmaker for himself and others to be more than a great role player at the next level. If his ceiling is Klay Thompson, that's not a bad thing at all. You can be a star role player and be lauded for your impact. It just gives you a lower ceiling than maybe you initially thought Harris had. He's still a big scorer.
Jabari Bird, Cal-Berkeley: Gunner alert! Gunner alert! We may have a Jamal Crawford-level fan crush developing here with myself and Jabari Bird. He's down with an ankle injury but I've seen enough to know I love his game. He's the type of scorer you can see sliding into the sixth man role in the NBA and thriving. Not sure I'd want him as my scorer in a starting lineup but throw him into the second unit and watch him thrive. He's not the dribbler that Crawford is but who can say that anyway? Give him the ball and let him cook.  
Nik Stauskas, Michigan: Speaking of scorers off the bench, Nik Stauskas could be the next NBA sniper that changes how defenses play a pick-and-roll when you're facing his team. He's so deadly from outside that it's impossible to leave him. He isn't a great athlete but he's quick enough to come off screens and be ready to fire once he receives the ball. His shooting stroke is perfect and his 44.5 percent from 3-point range in his college career will translate to the NBA three.
Spencer Dinwiddie, Colorado: The junior from Colorado isn't someone I trust to finish inside, which could really limit how he impacts the NBA level. However, his ability to score from downtown and midrange makes him a nightmare coming off of screens and spotting up. It's nice to know he bounced back from a down sophomore season in which his 3-point shooting dropped down from 43.8 percent his freshman season to 33.8 percent. He's back over 40 percent (41.9) and he's still showing great playmaking ability for others. 
The sleeper of this shooting guard class?
P.J. Hairston, North Carolina: This man is the wild card on so many levels. We won't get to see his game this season at the college level after his eligibility was ended. He's doing the right thing though by trying to get into the D-League to show teams what he can do and that he isn't a personality problem. He'll have to prove his 3-point shooting is legitimate at the next level, but most importantly that he won't be a distraction off the court. Hairston has shown flashes of immense talent but will that be enough for him to be important at the NBA level? The lack of an answer to the question makes him a sleeper in both good and bad ways.
Trail Blazers guards Damian Lillard and C.J. McCollum have been pushing for Anthony to join...

Anthony reportedly gave the Knicks an expanded list of teams he'd waive his no-trade clause...

The Suns will also receive a second-round pick in the deal
Kerr noted Warriors are deeper than the NBA championship team of last season

The Dubs will make a decision as a team on visiting the White House, but Steph would vote...

Wolves are an up-and-coming NBA squad, but this region knows heartache too well