2014 NBA Draft: Western Conference team grades
We're grading out the Western Conference teams and how they did in the 2014 NBA Draft.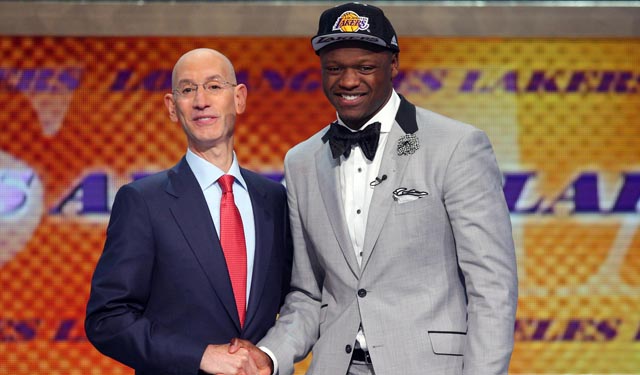 More Offseason Analysis: Coaching changes, news | Free Agency | Draft
The 2014 NBA Draft is in the books and it's time to start picking apart how each team did Thursday night. Who graded out the best and which teams needed some help with their selections? Let's check the report card for each team in the West.
Also: Eastern Conference Draft Grades
Players acquired: None
Grade: Incomplete
Really, they acquired Tyson Chandler and Raymond Felton while giving up Jose Calderon, Samuel Dalembert, Shane Larkin, and Wayne Ellington, along with their second round picks in this draft. But we've already graded that trade.
Players acquired: Jusuf Nurkic (16th), Gary Harris (19th), Nikola Jokic (41st)
Grade: C+
The Denver Nuggets were never too keen on keeping the 11th pick. They probably didn't feel like they could address their needs/desires at power forward for Brian Shaw, so they packaged the 11th pick for 16 and 19. Jusuf Nurkic is a nice grab for the future, but he's unlikely to be someone who comes over right away. Gary Harris is a nice pickup but they did also just re-acquire Arron Afflalo in the last day. Nikola Jokic is another pick-and-stash guy in the second round, but Denver still didn't do a whole lot to help their current roster. They probably have trade or free agency plans for that.
Players acquired: None
Grade: Incomplete
The Warriors didn't have any picks in this draft and didn't move up to grab any picks in this draft. They're concentrating on trying to get Kevin Love for some E-40 concert tickets.
Players acquired: Clint Capela (25th), Nick Johnson (42nd)
Grade: B+
Hard not to like what Daryl Morey did here. He's had a plan for years and he's stuck to it. He didn't want to necessarily take on a contract in the first round with every penny counting toward bringing in a third star with cap space. He grabbed Clint Capela, who was rumored to be going in the lottery at certain points, to stash for now and provide plenty of defense and rebounding later (unless they decide to bring him over next season). Nick Johnson is a high-flyer with aspirations of being a consistent 3-point shooter. He'll develop in the D-League and be a weapon off the bench for them later.
Players acquired: C.J. Wilcox (28th)
Grade: C+
I love C.J. Wilcox in this draft class and think he's the second best shooter of the bunch. I'm just not sure the Clippers needed another wing right now. They roll about six deep on the wings already and are in desperate need for interior depth. The Clippers really only have Blake Griffin and DeAndre Jordan under contract for next season, in terms of big men. Wilcox is an athletic marksman, but they needed size.
Players acquired: Julius Randle (7th), Jordan Clarkson (46th)
Grade: A+
I couldn't be happier with the Los Angeles Lakers in this draft. Having Julius Randle fall to them at No. 7 after they were reportedly trying to move the pick this week was a big gift. Randle is immediately a starting caliber power forward with the potential to be a very good player in this league. He'll be tough and active, appeasing Kobe Bryant on this roster and giving him someone he can mold. The Jordan Clarkson pickup in the second round was well worth the money. Clarkson has first round talent and can be a nice combo guard. He'll probably play a lot of point guard in the NBA, but he's great with the ball in his hands.
Players acquired: Jordan Adams (22nd), Jarnell Stokes (35th)
Grade: C+
I like Jordan Adams a lot and think he's a first round talent in this loaded draft class. However, I'm not sure he's a great fit with this team, especially when Rodney Hood was on the board. They needed a small forward to end the idea of playing Tayshaun Prince. They already have Tony Allen, Courtney Lee, and Jamaal Franklin on the roster for shooting guards. Adams is a playmaker on both ends of the floor, but it feels like they went with the wrong position on this one. I love the addition of Jarnell Stokes to this bench. He's big and strong. He'll fit in with the Grit'N'Grind mentality.
Players acquired: Zach LaVine (13th), Glenn Robinson III (40th), Alessandro Gentile (53rd)
Grade: C+
It's hard to know how Zach LaVine and Glenn Robinson fit into this roster because we have no idea what this roster will look like once Kevin Love is traded. Flip Saunders said he wanted to improve the athleticism of this team, and he certainly did that with the picks. But is LaVine going to take over the shooting guard position and play smart basketball? Is Robinson going to get on the court if he can't shoot the NBA three? These could be good picks but the direction is unknown.
Players acquired: Russ Smith (47th)
Grade: C
The Pelicans traded Pierre Jackson to the Sixers in order to end up with Russ Smith. Smith is more of a scoring point guard than he is a distributing point guard. With role players Austin Rivers and Tyreke Evans playing so much lead guard off the bench, it's hard to know if Smith will actually get to play much. If he does, he should be a nice backup point guard.
Players acquired: Mitch McGary (21st), Josh Huestis (29th), Semaj Christon (55th pick)
Grade: C+
If McGary's back is sound, he'll be a fantastic pickup for the Thunder. He's big, mobile and he can kill opponents in the pick-and-roll. He wouldn't do a physical for teams, but he might have shut that down with a promise from the Thunder and not because he's structurally unsound. Huestis at 29 is a complete reach, in my opinion. He's a very good defensive wing, but he can't shoot and they have three small forwards ahead of him. Christon is a very interesting pick for them. Early in the college season, he was sniffing around the first round. He's a backup point guard with a great feel for running a team.
Players acquired: T.J. Warren (14th), Tyler Ennis (18th), Bogdan Bogdanovic (27th), Alec Brown (50th)
Grade: B
I'll admit that I don't totally understand the draft the Suns just had but I'm fairly intrigued by it. Three times they had a chance to draft Kyle Anderson and they passed on him. Perhaps that was because they felt T.J. Warren was the necessary wing depth they require. He's a fantastic scorer inside the arc but they'll need to develop his 3-point shot to fit in with the roster. Tyler Ennis gives them some Eric Bledsoe insurance just in case they change their mind on his restricted free agency. Bogdan Bogdanovic is a great guard option for them to stash away. I'm not big on Alec Brown, but he's a big body with a chance to make the team or develop in the D-League.
Players acquired: None
Grade: Incomplete
They didn't require themselves to be involved in this draft. It was a far cry from the days when they were buying picks left and right. 
Players acquired: Nik Stauskas (8th)
Grade: B
It's not a perfect match with their roster, but this roster is still very much in the process of being reshaped since new ownership took over the toxic wasteland of the Maloofs. They took the best shooter in the draft with the eighth pick. It's not a great pick but it's also not a bad pick. He'll push Ben McLemore for playing time and he could be a super sub off the bench. He's a big time weapon for a future playoff team.
Players acquired: Kyle Anderson (30th), Nemanja Dangubic (54th)
Grade: A+
The San Antonio Spurs aren't done winning everything just quite yet. They arguably got the best value pick in the entire first round. Kyle Anderson is an incredible playmaker out of the forward position and he had lottery capabilities. To have him fall into your lap at No. 30 is a very Spurs thing to do. He can learn from Boris Diaw if they re-sign him or just learn from any of the valuable champions on this team. Dangubic is a stash player we'll probably forget about until he joins the Spurs in a few years and becomes an integral part to their team.
Players acquired: Dante Exum (5th), Rodney Hood (23rd)
Grade: A+
I'm not sure the Utah Jazz could have had a better draft either. Perhaps they needed a big forward to put next to Derrick Favors but they opted to go with Dante Exum and have him be a backcourt mate with Trey Burke. That means Alec Burks now likely adds to their depth off the bench and they can interchange the parts in any way they'd like. With the Rodney Hood pick, he was another lottery-level talent who fell too far. Hood is a good shooter from the outside and a good playmaker. If they feel like they have to overpay to keep Gordon Hayward, they can keep rebuilding and let him walk because of the Hood selection. They have options.
Curry's outburst will cost him some money, but he won't miss any games

A look at the ups and downs for various suitors as Bledsoe has left the team.

Mike McClure, a DFS pro with more than $1M in winnings, gives optimal DraftKings and FanDuel...
Eric Bledsoe will not be playing against the Kings. Could there be more to come?

J.R. Smith back in the starting lineup after Dwyane Wade's early struggles to start the se...

Travis Schlenk, a former Warriors exec, told CBS Sports' Bill Reiter that Golden State tanked...