Anthony Davis, 2012 class avoid media missteps on day before NBA Draft
Anthony Davis and the rest of the 2012 NBA Draft class met with the media on Wednesday in New York City.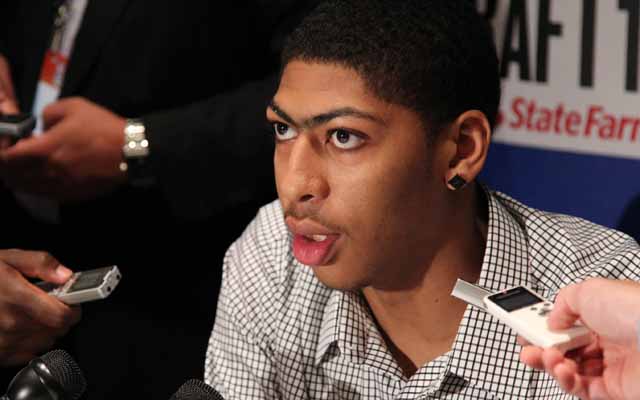 Anthony Davis had to pretend he wasn't the No. 1 pick for one more day.
(Getty Images)
NEW YORK CITY -- The league's day before the Draft media availability is an annual epicenter of dodges and cliches,  a place where the class's blue chippers face the media in a Times Square hotel conference room and do their best to avoid saying anything stupid or controversial enough to cause last-minute damage to their stock. That goes for everyone, even Kentucky big man Anthony Davis, The consensus, no-brainer, shoo-in, five star lock No. 1 overall pick. 
"How do you know?," Davis said, when asked how exciting it was to be the No. 1 pick. "You've got some scoops?"
Welcome to the NBA's annual pretend-a-thon. Davis played it straight because that's what's expected with cameras and microphones hovering. It's one video/photo opportunity in a week full of them. Minutes after the one-hour session is over, multiple prospects had already stripped out of dress shirts and ties and were milling around the hotel lobby in white t-shirts and big smiles. Phew, their faces read.
While the protectiveness can border on the absurd, there are always a few honest -- sometimes even funny -- exchanges over the course of the hour. There were no gaffes but here's a round-up of some of Wednesday's highlights.
Kentucky F/C Anthony Davis
Davis doesn't have much pressure on him this week -- his destination, the New Orleans Hornets, is secure -- but there's the little matter of dealing with the expectations that go with being a franchise player for the next decade that seemed to be weighing on his mind.
"It's been a whirlwind," he admitted. "But it could be worse, right?"
It could be a lot worse than Davis, a 6-foot-10 big blessed with a monster wingspan and excellent basketball intelligence who led Kentucky to a national title in his freshman season by averaging 14.2 points, 10.4 rebounds and 4.7 blocks per game.
"You've got to try to have fun with it," he said from the middle of a brewing circus. "It's all coming at me at once. You've got to downplay it."
That circus has been stoked by his agent's recent decision to trademark references to his unibrow, a move aimed at cutting down on outsiders looking to capitalize on Davis' signature facial hair.
"I had nothing to do with it," he said of the trademarking. "My parents and my agents, they just told me they had done it. I was like, 'What are you talking about?' I didn't even know about it."
In between questions about his biggest fear ("failing") and the NBA players he looks up to (the standard list: Kevin Durant, LeBron James, Kobe Bryant and Kevin Garnett) Davis did manage to get in one quality zinger.
Asked how he planned to react when his name was called by NBA commissioner David Stern, Davis smiled: "I'm not sure. That's a game time decision." 
Kansas F Thomas Robinson
The unanimous All-American and double-double machine made headlines earlier in the Draft process with some squawking that perhaps he should be selected ahead of Davis, contrary to the opinion of every respected analyst. While he toned that talk down a bit on Wednesday, Robinson, who averaged 17.7 points and 11.9 rebounds for the Jayhawks last season, still managed to pitch his talents. And he still found a way to get across the idea that this class isn't just Anthony Davis and then everybody else.
"I don't really see no difference between the first and the fifth pick in this Draft," he said. "Everyone's really talented and anyone could be up for the No. 1 argument." 
It's been a fast rise into that elite group for Robinson, who saw his playing time, and most of his key stats, double from his sophomore to his junior season at Kansas.
"Last year I was just making goals for myself to at least be a solid first round pick," he admitted. "Now, to be one of the top 5, it's definitely an adjustment."
Robinson stressed that his game continues to develop, even in recent weeks.
"The things that I'm best at, rebounding and playing hard, that's not something you can go in to the gym and work on," he said. "I think I'm better than a lot of people think," he said. "I've been working very hard on my offensive game. I've got some things to prove. My shot, hitting open shots consistently, reading the pick and rolls, reading the situations. I'm still working on everything."
Projected by many to be selected No. 2 overall, whether by the Charlotte Bobcats or someone that trades into the slot, Robinson handled the idea with light self-deprecation.
"Nobody remembers the second pick," he joked.
On Tuesday, the Bobcats traded forward Corey Maggette to the Detroit Pistons for guard Ben Gordon, leading to speculation that perhaps the trade was made with an eye towards opening up minutes for a forward.
"[The trade] made me start thinking more about them," Robinson said. "I still think it's a good organization, a good move. [Gordon is] a solid veteran. The fact that they got a guard and the Wizards got a big, it made me think I got better chances. It really don't matter to me right now. I just want to get picked, get in the league."
UNC F Harrison Barnes
There's no one in this class more polished than Barnes, who looked as comfortable as can be in a blue cardigan and a tie.
The Iowa native said that he adopted Michael Jordan's Chicago Bulls as his favorite team as a kid, and he displayed just a touch of MJ's famous chippiness towards perceived slights. After being ranked by some as No. 1 in his high school class, Barnes was very good but not extraordinary during his two seasons at UNC.
Asked how he would respond to the idea that some analysts believe he will be a better pro than a college player, he looked ever so slightly annoyed.
"Maybe it means my game is more suited to the pro level," he said. "There's a lot that can go into that, I don't exactly know what they're referring to."
With this not really the venue for him to address any alleged collegiate shortcomings, Barnes simply said that he agrees with those who see his game as more suited to the NBA, where he looks forward to facing off against "big hitters" like James and Durant.
"I like to think so," he said. "I like isolation basketball. That's what the NBA is slowly turning into." 
There was a Jordanesque cold professionalism to Barnes, too.
"I think everyone is criticized to some extent," he said. "That's part of the business, part of the agreement. If you sign up to play basketball at a high level, you're going to be criticized. You have to take the knocks in stride and keep moving."
UConn C Andre Drummond
Barnes is dealing with soft criticism compared to Drummond, the 2012 Draft's biggest player and biggest question mark. After opting to enroll at UConn instead of finish prep school, Drummond showed only flashes of his potential rather than sustained greatness during his freshman season. He has been dogged by questions about his free throw shooting, offensive game, motor and his commitment to the game throughout the Draft process.
So perhaps it's no surprise that his most open moment on Wednesday came in defense of another constantly criticized star: James.
"It was out there to the death," Drummond said of the Miami Heat's title-winning performance in teh 2012 NBA Finals. "They wanted to win that game so bad. My hat goes off to LeBron. He definitely deserves this ring. He battled and he fought, not only basketball but people outside of basketball. Best player in the world, obviously."
Drummond, in a word, is young. He won't turn 19 years old until August and he went slack-jawed when a reporter asked him how it felt to be a celebrity. 
"I don't consider myself a celebrity," he said, almost surprised by the idea. "That's for other people. I see myself as a person who plays the game that he loves. That's really what it is. I don't see myself as higher or better than anybody."
Drummond was quick to dismiss questions about whether he was ready for the NBA life off the court.
"I've had the same circle since I was 12 years old," he said. "My circle is real tight. Nobody ever gets in. That's just how it's been."
In the end, the Draft's biggest question mark had an unanswered question of his own: Where was he going to be selected?
"We really don't know," he said. "No team is really going to come out and say, 'We really want you.' It's like a poker game, everyone keeps their mouth closed and keeps a straight face. Anywhere from 2-to-7."
Duke G Austin Rivers
Rivers, the son of Boston Celtics coach Doc Rivers, has seen criticism too, although most of its been centered on his personality rather than his game. Whether because he played at Duke, because he tends to gesticulate during games or because he likes to play with the ball in his hands, Rivers has found himself fighting the "cocky" label during his pre-Draft interviews.
"I just tried to be 100 percent real with every interview," he said. "When they said I'm cocky, I told them I'm not. I told them I'm cocky in a good way, where I feel like I'm confident on the court and I can help anybody, I can do anything to help the team win. That's my confidence, not in an arrogant way. I just had to explain to them who I really am."
Cocky in a good way. Yep.
Rivers will be joined by his father for the Draft on Thursday and, in a less cocky moment, admitted that the big night does have him anxious. 
"I'm nervous because I've never been through this," he said. "I've seen it first hand so people think I'm going to magically be alright, come tomorrow that I'm going to know what to do and where to sit. I've never been here, I've never done this before, it's always been through a TV screen. I'm new at this."
Kentucky F Michaell Kidd-Gilchrist
Kidd-Gilchrist, a talented two-way player with boundless energy, has a speech impediment that causes him to stutter, particularly during media interviews. So, of course, the subject of his media interviews was, again and again, his stutter.
"It's my life," he said to the first question about his stutter.
"I can't really get into all that stuff right now," he said later.
"It's me, it's my life, I deal with it," he said, leaning back and away, a bit defensively, as he answered yet another question about it. 
After telling reporters he planned to switch his professional jersey number to 31, to honor his deceased father, Kidd-Gilchrist was asked which question he was the most sick of answering.
"I don't know if I can answer that one," he said. "The next one. And the next one."
The circle of writers broke out laughing as he grinned.
Weber State G Damian Lillard
For a small-school guy, Lillard wasn't overwhelmed in the slightest. One of the Draft's quickest risers, he's found himself moving into the top-5 of top-6 of some mock drafts despite little television exposure and not much name recognition nationwide.
His stock really took off after he measured and performed well at the Chicago pre-Draft combine, a process that started comparisons to the likes of Derrick Rose and Russell Westbrook when it comes to measured athleticism. From there, Lillard conducted solo workouts with teams and, in some cases, was said to have left his audiences extremely impressed. In Portland, for example, the Trail Blazers reportedly felt he had their best workout since 2007, when then Texas forward Kevin Durant wowed the Blazers front office.
"That workout did go extremely well," Lillard said. "I made a lot of shots."
As for the Durant comparisons, Lillard was clearly ready for the question, even if Blazers fans didn't want to be reminded of the reality.
"I did hear that they were saying it was the best since Kevin Durant, but they didn't draft Kevin Durant," he noted. "So I don't put too much stock into it at all. I just try to focus on what I can control, and that's when I get to the workouts, showing that I work hard, showing my strengths and going to the next gig."
Syracuse G Dion Waiters
Perhaps the most electric moment of the hour came when Waiters was asked point blank about a promise that the Phoenix Suns, who hold the No. 13 pick, have reportedly made to him. Waiters dodged and dodged and dodged, even as he was confronted with the fact that he hadn't worked out for any teams during the pre-Draft process. Video of the exchange is available on DraftExpress.com.
While he didn't wan to discuss those matters, he was happy to describe his off-the-dribble game, saying that he was looking forward to the man-to-man defenses and "more space" that await him in the NBA compared to college.
"I'm pretty good off the dribble, pretty good at taking my man down and going to the basket," he said. "My first step is quick, I'm aggressive. Once that first step and I'm by you, my whole focus is to dunk on you."
Sounds pretty straightforward.
Florida G Brad Beal
One of the Draft's top-5 projected picks, Beal, a one-and-done scorer with good size, succeeded as well as anyone in avoiding anything remotely close to controversy. Many mock drafts have him pencilled in at No. 3 to the Washington Wizards and the subject turned to whether or not Beal was aware that the Wizards were often a laughingstock last season because of their on-court follies.
"I never noticed any of that," he began, before stopping and smiling. "Besides a few times, the big guy, JaVale McGee, would do some silly stuff."
He sure would.
Thomas took to Twitter to let the Celtics know he doesn't want to ruin Pierce's night

The Hall of Famer was a seven-time All-Star with the Celtics, and was MVP of the 1976 NBA...

It's rare to see a legit punch in an NBA fight, but this was definitely one of them
We've got all the scores, highlights and news from an NBA Tuesday

The former Slam Dunk Contest champion will take his talents to Tri-State

Do NBA players have look-a-likes from famous paintings? We found out on the new Arts & Culture...