C.J. Miles basically thinks the Cavs get too sad sometimes
Cavaliers guard says the team lacks mental focus and let things get to them.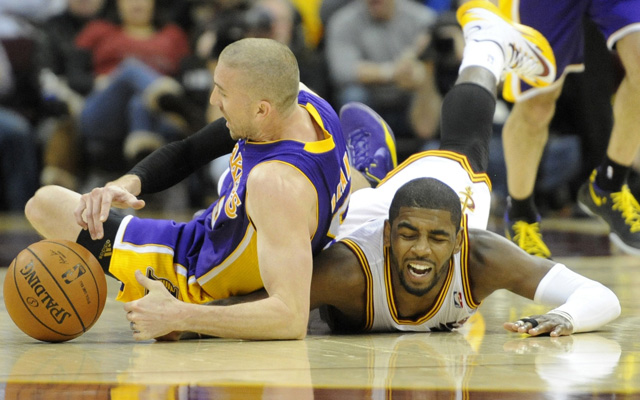 Jarrett Jack took the hit Wednesday night. On a night where the Cleveland Cavaliers lost to a team who literally ran out of available players, there were going to be a lot of questions. It was an embarrassing loss in a season that is a runaway sewage train. How do you lose to a team starting Ryan Kelly and Nick Young... and then after they run out of available players... by double-digits?
Jack simply called it "unacceptable." 
Guard C.J. Miles also spoke to the media after the game, and that couldn't have been fun. But he did say something interesting about what he thinks the problem is. 
"I just think we get discouraged too easily,'' he said quietly. "It's been hard, and it's going to be hard. There have been nights where we played our hardest and played our best basketball and haven't been able to win games, and there have been nights that we didn't play good basketball and won games.

"Lately, with everything that's been going on, it's just like our mental focus…take anything that's bothering you or any frustration and leave it out there. if you don't want anybody to talk about you, prove them wrong.'
via Cleveland Cavaliers embarrass themselves for three quarters in 119-108 loss to injury-depleted Los Angeles Lakers | cleveland.com.
Miles is relating to a veteran concept you learn in this league, that the good teams in this league can win when things don't go their way. The Cavs are the opposite. When things don't go their way, they don't just quit, they set the ship on fire and then accidentaly fall into the ocean trying to get into the liferaft. 
Kyrie Irving also spoke, and admitted that the second unit (who closed the gap) played better than the starters. It's good for Irving to be honest, but you'd like to see him focus on how the starters need to improve. 
There's a lot of blame to go around, but "we get sad too easy" is a really bad thing to see from a team with veteran players like Jack, Varejao, and Deng. This isn't some team of young pups, Chris Grant tried to shoehorn a veteran team into a young core. And now we see that they just don't have a veteran mentality to hang. We're past the point of trying to figure out what the problem is. The problem is everyone. 
We've got you covered for all the scores and highlights from Sunday's NBA games

The Cavs superstar compared Kaepernick to Martin Luther King Jr. and Muhammad Ali

The Warriors coach isn't surprised that the president and LaVar Ball are in a war of words
Kyle Kuzma is tired of how his teammate Lonzo Ball is being treated

The Warriors used a huge third quarter to come back from a 23-point deficit to get the win

Three takeaways from Golden State's 24-point rally past the Sixers