Court Vision: Playoff lessons and looking ahead, 4/21
A look back at the action Mon., April 21, in the NBA playoffs starring the startling return of Grit-Grind.
by

Eye on Basketball staff

• 7 min read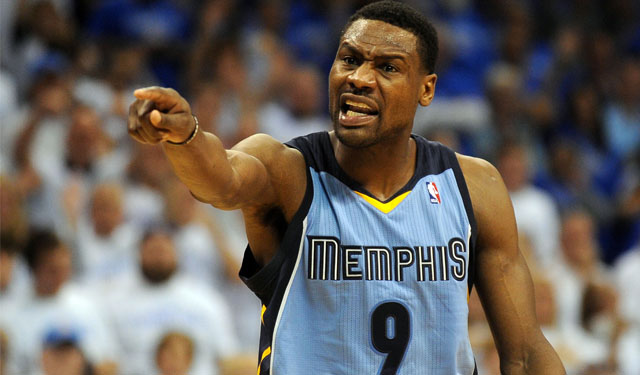 More Playoffs: Schedule | Threat Matrix | Previews: East | West | Picks
More postseason coverage: Playoff schedule, results | Machine
Here's what we learned from the playoffs on Sun., April 20, as well as a look ahead to Monday's games. 
Los Angeles Clippers 138, Golden State Warriors 98: Series tied 1-1
• We're not math wizards here but 138-98 is officially a whooping. 
• Blake Griffin was absurdly efficient in this game and has been destructive in the first two games of this series when he's allowed to play. He set a playoff career-high with 35 points in Game 2 on 13-of-17 from the field, 9-of-10 from the free throw line, and only playing 30 minutes. He didn't have his overall gaudy stat line in this game because he simply didn't need to. This was over early.
• We learned that someone will be in early foul trouble in every game of this series. It was Griffin and Andre Iguodala in Game 1. In Game 2, Klay Thompson picked up three fouls in the first quarter and ended up playing just 20 minutes total. He was a star of the third quarter in Game 1, so missing his scoring help clinch the blowout loss.
• DeAndre Jordan is having himself a series right now. He had 11 points, nine rebounds, and five blocks in 30 minutes.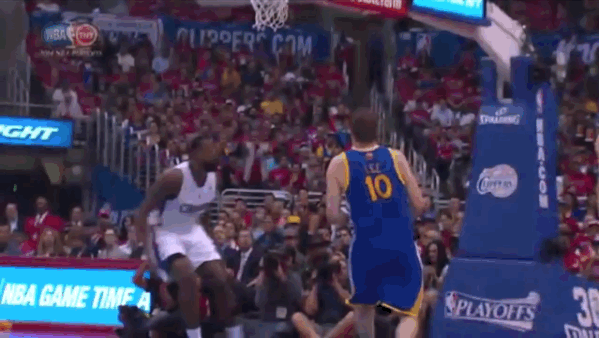 • There was a stretch in the third quarter in which Stephen Curry was driving to the basket constantly and he kept getting knocked down. The Warriors were getting blown out and were probably just happy to get the split. But Curry kept trying and he kept getting knocked to the floor. He wanted foul calls but he probably wanted his teammates to have his back more. Not a single hard foul or elbow was served in retaliation by his teammates.
• We learned that this Clippers team can cook. Seven different players were in double figures and nine differnet players scored at least nine points in the game. Ryan Hollins was the only player on the Clippers not to score in this game. 
• We learned that a new officiating crew isn't going to stop the whistles from coming in this game. 51 fouls called in Game 1; 55 fouls called in Game 2. 60 free throws attempted in Game 1; 62 free throws attempted in Game 2. These Clippers-Warriors' games are going to last forever. 
• Jordan Crawford got ejected late in the game because of this flagrant foul. But he was allowed to stay in the game.
• We learned that Danny Granger can still shoot a little. He had 15 points in this game and made 6-of-10 from the field, 3-of-4 from 3-point range. That's such a nice weapon for them to have off the bench. If he's hot, let him shoot and if he's not, you have a dozen other wings.
• He's going down... he's yelling "Timberrrrrrr..."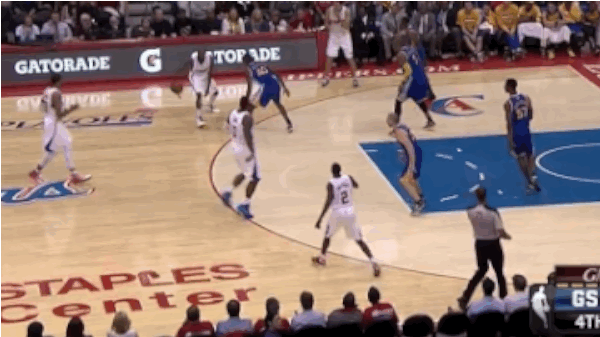 • Five different players on the Clippers had a plus/minus of at least plus-20.
• Curry had just two turnovers in this game and finished with 24 points and eight assists. But he didn't receive any help and he couldn't get things going from 3-point range (1-of-7). This entire team shot the 3-ball poorly and if the Warriors aren't hurting you from the outside, they're not setting anything else up properly on the court.
Memphis Grizzlies 111, Oklahoma City Thunder 105 OT: Series tied 1-1
• We learned that Grit-Grind don't die. Backs against the wall after being blown out in Game 1, the Grizzlies looked outclassed in the first meeting. Their second-meeting, they were th ones to keep the Thunder at bay. Every time OKC would make a rush, the Grizzlies managed to shove them back, in the raucous Chesapeake Energy Arena. Even after the magical mystery tour from OKC (more on that in a minute) managed to tie the game and force overtime, Memphis responded. 
• This can't be overlooked. In overtime, after suffering a crushing collapse that involved a four-point play and Kendrick Perkins scoring on a God's honest basketball play at the buzzer, Memphis ripped out of the overtime and scored six straight. They held on and held on and held on. We've seen this from Memphis a lot over the past four seasons, but it still derves mention. This team does not die. It does not quit. It does not surrender. And if you back them in a corner, that's when they are most dangerous. 
• We learned OKC still hasn't figured out how to beat the Memphis defense to get KD looks consistently. Going into the series, one of the assumptions was that Durant had evolved past the point of being bothered by good defenders (Tony Allen) going over the screen had (Tony Allen) and getting on Durant's hip (Tony Allen) to bother his shot without fouling (Tony Allen). He has not, at least not against Tony Allen. Part of that is the Thunder's scheme. They try and get Durant the ball at the top of the key or on the perimeter off relatively simple actions. Memphis countered by basically blitzing the catch, either preventing it or forcing an immediate kickout.
• Still, OKC was very much in this game. Durant put up the points, but it was Russell Westbrook who kept them in it. He was aggressive, made plays, made steals, and generally caused havoc with his athleticism. He forced some shots late, but he also had seven rebounds and eight assists. 
• Serge Ibaka was also unfathomably good on both ends, including this sequence: 
• But late in the game, Zach Randolph got the best of him. Randolph had 13 points on 5-of-9 shooting in the fourth quarter and overtime. He just kept coming at them and his usual style of flip shots and creating space worked. 
• There is one person on the planet who can make this play. Was it desperation? Yes. was it a circus shot? Yes. Was it a flail to draw the foul? Yes. It was also very much Kevin Durant. 
• We learned Beno Udrih is alive! Signed off the waiver wire after New York's Mike Woodson constantly disparaged him with the Knicks, Udrih has been third on the depth chart behind Nick Calathes. But Calathes' 20-game suspension opened the door for Udrih, and he bust it down. Bench scoring is huge in his series and Udrih made the Thunder pay for going under the screen time and time again, lighting them up for 14 points and two assists in fourteen minutes. His role in the series going forward could be pivotal. 
• The Grizzlies looked gassed to start this game, whch made their continued effort all the more impressiv.e 
• Russell Westbrook killed the rim. 
• How about the whip dish from Mike Conley? 
• Speaking of Conley, tough night for him down the stretch. He lost the ball several times and just seemed exhausted from guarding Rusell Westbrook. But look at his performance. 19 points on 7-of-16 with seven rebounds, 12 assists, and two turnovers. 
• We learned this series won't be a sweep, and is far, far from over. 
Tomorrow's questions, today;
Atlanta at Indianapolis Game 2, 7 p.m. ET: How serious are the Indiana Pacers about turning this thing around? How do they stop Jeff Teague from carving them up? How do the Pacers find a way to make Roy Hibbert a defensive force and stop him from being the weak link against a team going five-out on offense? Will the Hawks role players step up two games in a row? Should Paul George be defending Teague? Will Pero Antic and David West actually fight? Is Game 2 a must-win for the Pacers?
Brooklyn at Toronto, 7:30 p.m. ET. : How does a relatively inexperienced Toronto Raptors' team respond after a disappointing Game 1 loss? Where was Amir Johnson in Game 1? Can Kyle Lowry out play Deron Williams? Can DeMar DeRozan slow down Joe Johnson? Can DeRozan get to the basket for easy scores? Can the Nets get Kevin Garnett going early? Will they get aggressive Deron Williams two games in a row? Is Toronto done if they go down 0-2 heading back to Brooklyn?
Washington at Chicago, 9:30 p.m. ET. : Do the Chicago Bulls have enough scoring to win this series? Is Nene back to being a hyper-efficient offensive force? Is Taj Gibson capable of slowing him down? Will John Wall step up in Game 2 and be the best player on the floor? Will the presentation of Joakim Noah's Defensive Player of the Year award spur the Bulls? Can D.J. Augustin be an offensive weapon again? How good does Washington's offense have to be in this series?
It's a different league now, but the veteran is filling a void for New Orleans after his four-year...

The Bulls lead by three with 10 seconds left but lost 116-115

Larry Nance Sr. starred for Cleveland from 1988-94
The hotline comes in the wake of the 'Sports Illustrated' investigation into the Dallas Ma...

Giannis, who spent last weekend in L.A. for the All-Star Game, says he loves 'low-key' Mil...

We have all the scores, highlights and news from the first day back from the All-Star brea...