Jazz say Marcus Smart won't work out for them
VP of personnel says the Jazz are interested in Marcus Smart with the fifth overall pick, but the Oklahoma State guard won't come in for a workout.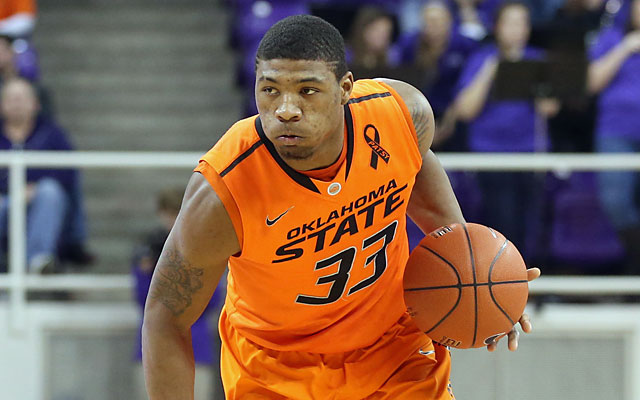 More Draft: Mock drafts | Draft news
Update 8:00 p.m.: The full video of the interview is on Jazz.com and Perrin references the fact that Smart had a tweet which was later deleted saying the Jazz weren't interested. Perrin states that the team has done substantial work on Smart and are interested in him at No. 5. When asked whether they plan to have him in for a workout, Perrin says "I've talked to his agent four times trying to get Marcus in," indicating they tried and were unsuccessful. "Whatever the reason that they don't want Marcus to come in, Perrin said, "that's on them."
---
Utah Jazz Vice President of Player Personnel Walt Perrin spoke with the Salt Lake Tribune this week at a workout for Julius Randle and revealed that they've been trying, unsuccessfully, to bring in Oklahoma State guard Marcus Smart for a workout. 
Perrin said he's talked to Smart's agent four times in hopes of bringing him in for a workout. No dice

— Tony Jones (@Tjonessltrib) June 18, 2014
The Tribune reports the reason is that Smart and his team are efforting to ensure he's taken top four, by no later than Orlando at No. 4. 
It's an interesting tactic unless they have a promise, which seems unilkely but would change quite a bit in the draft if so. The assumption is that Australian guard Dante Exum is solidly ahead of Smart as far as point guard prospects go, and Orlando is widely thought to prefer him. Which would mean the only way for Smart to go above Utah at No. 5 would be for either Joel Embiid, Jabari Parker, or Andrew Wiggins to drop past the top four, if Orlando took Exum. 
Would someone elect to take Smart, who has a lot of quality abilities as a prospect but also shot 30 percent from three last year as a combo guard, over one of the Big 4? 
If that's not the case, then Smart and his people are angling to keep him out of small market Utah. Which would be disappointing, but not surprising. Past Utah are Boston and the Lakers, two teams with a higher perceived level of success, despite their recent misery.
It's part of the game being played by Smart and his agent, but it is notable that the Jazz have been unable to bring in a top-ten prospect with a week left befor the draft. 
Irving has requested a trade away from the Cavaliers

The Lakers made a strong push for Rose, but he would have been a backup in Los Angeles

The small forward spent last season with the Sacramento Kings
Knight still has three years left on his five-year, $70 million contract

The Golden State forward is accused of assault, battery and making misleading statements

The Nets get their shooter a year later, and the Blazers reportedly will waive Nicholson