Josh Smith benched for missing practice, goes scoreless
Pistons forward had made plans to spend an off day in Atlanta, and when his team had practice, the All-Star forward went scoreless off the bench.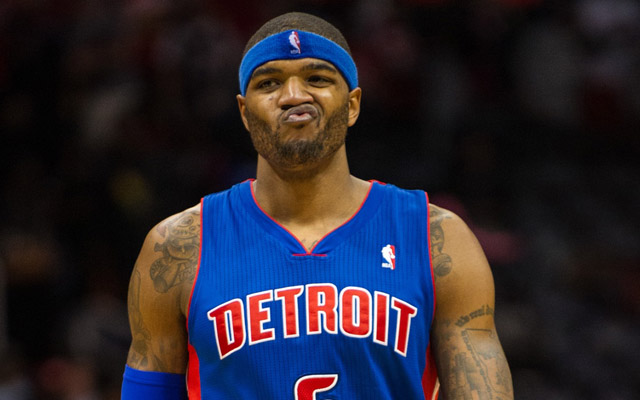 Pistons forward Josh Smith, who signed in Detroit as a free agent last summer for four-years and $54 million, was benched Friday night vs. the Hawks for missing a practice ... then went scoreless off the bench ... then left without talking to reporters. From MLive.com: 
Cheeks said Smith missed practice Thursday.

The player, meantime, already had planned to spend what he expected to be an off day in Atlanta that day.

The miscommunication produced an abject lesson in athletes trying to predict when their coaches plan to schedule practice.

But given the timeline Cheeks presented, the head coach who was brought here in part for his history as a player's coach could have covered for his team's biggest offseason addition.

Cheeks decided to bench Smith under unusual circumstances instead.

Cheeks also was non-committal about what happens next.

"Is Josh Smith starting going forward?" Cheeks said.  "Probably, but nothing's written in stone.  So we'll see."

Moments later, Cheeks seemed to soften that stance.

"Come on, Josh is one of our top players," he said.  "So he's not going to be on that bench.  You know, things happen."
via Josh Smith benched for missing practice, Detroit Pistons' fallout remains to be seen | MLive.com.
I mean, you can understand Cheeks setting a precedent and following up with disciplinary measures. But Smith, whatever shot selection he's had in the past, has never been a problem to manage as a player. He's a veteran, and missing practices, at least to my knowledge, hasn't been part of his M.O. Missing one day when he clearly just had a miscommunication doesn't seem like something worth taking these kinds of measures for. 
Then following up by saying he may not start in the future? 
There are power trips, there are big power trips, and then there's this. 
The Pistons have disappointed this season so far, stumbling to a 4-8 record after their second loss to the Hawks inside of a week Friday night. The three-man combination of Smith, Andre Drummond, and Greg Monroe has been outscored by 8.9 points per 48 minutes according to NBA.com, and Smith has yet to develop chemistry with either of the young bigs or Brandon Jennings. 
Cheeks was brought in to carry some gravitas over a reconstructed roster after years of player conflicts with coaches, so you have to expect him to carry a big stick instead of talking softly. But given how Smith reacted Friday night you have to wonder if there's real trouble brewing in the Palace. 
A look at the context of the schedule and who plays who when, and how far they travel during...

Durant took on rapper Lil Dicky and actually might have lost

A report that James would once again be leaving Cleveland made the rounds on Wednesday
Known for his 'take that for data' rant, the Grizzlies coach touched on a number of important...

Wade's days with the Chicago Bulls appear to be numbered

Misty Suri will reportedly keep his job with the New Orleans Pelicans