LeBron James mocks his 2011 Finals failures on Twitter
Heat forward says his 2011 Finals performance vs. Mavericks could put a child to sleep.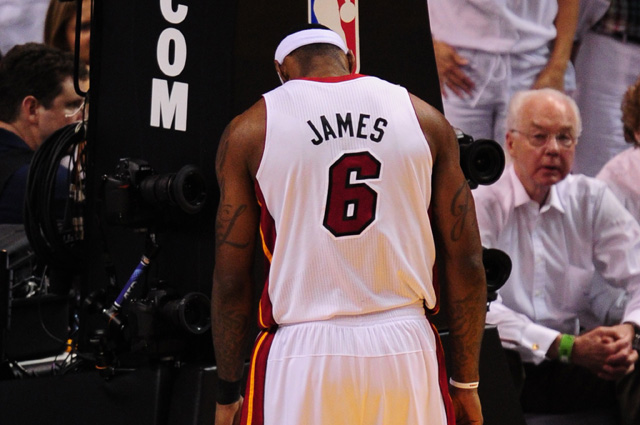 Nearly three year ago, LeBron James hit the low-point of his career. That it came after the NBA Finals kind of shows you what level he's playing on. James had lost the NBA Finals on his home floor to the Mavericks, having a disappointing and uninspiring performance that lead many to question his heart, commitment, and ability. After the game, he lashed out, talking about how the critics had to go back to their lives the next day. He was pretty much the most hated individual in sports there for a little while. 
But time heals all wounds, and on Saturday night, James was answering Twitter questions. Someone said they needed to get their kid to sleep. James responded: 
"@thorpjoshua: @KingJames How do I get my baby to fall asleep?"(Put my performance in the 2011 Finals on! Night night immediately)

— LeBron James (@KingJames) January 11, 2014
Boom! Self-roasted. 
It's all fun and games now that James has won two more MVPs, two championships, and two Finals MVPs. But it's also an insight into how James understands how he failed. He doesn't deny it, he doesn't make excuses. He knows how bad that moment was for him, he learned from it, and is able to laugh at himself.
That's pretty cool. 
Stephen Oh has his finger on the pulse of the Rockets and just made a pick for Wednesday night's...

Gasol doesn't seem opposed to the idea of a midseason trade

The Ball brothers better put their heads down and focus on basketball, according to Billy...
Paul George returns to Indiana for the first time since his trade to the Thunder

Also, LeBron James' historic season continues, while Kevin Durant reminds us who he is

The Rockets are looking for 11 in a row