NBA Draft Combine: Dozen winners and losers
If anyone tries telling you that someone jumped 10 spots due to the NBA draft combine, they are full of you-know-what. However, there were certainly those who gained -- and others that lost -- following the Chicago event. We've got you covered.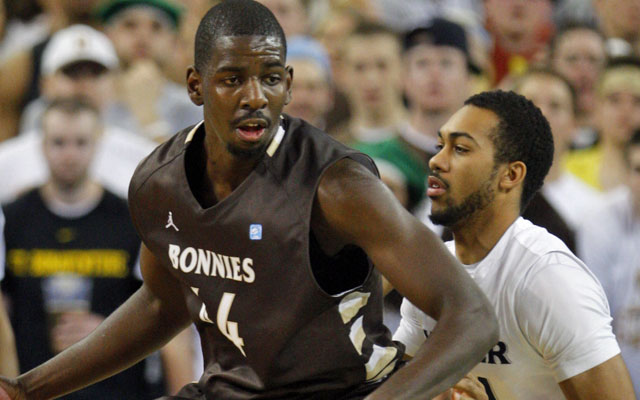 Andrew Nicholson displayed an impressive scoring versatility in Chicago.
(Getty Images)
CHICAGO - Just about every NBA executive converged on the campus of Illinois-Chicago for the past two days to watch most of the top prospects eligible for this year's NBA Draft in the Combine. 
It was fairly uneventful -- with 11 of the elite players choosing to bail on the on-court portion -- and the NBA dummying down the event to what was primarily a series of shooting drills. 
However, there were still clearly those that improved their stock -- and those that didn't do themselves any favors. Here are a dozen winner and a dozen more than came up short: 
WINNERS
1) Damian Lillard - Already regarded as arguably the top point guard in what is a weak floor leader crop, the Weber State star likely solidified his spot. He showed swagger -- and the best pure perimeter shot in the entire camp (yes, better than John Jenkins). He also displayed a high IQ -- which should enable him to be able to effectively run a team at the next level. 
2) Dion Waiters - Unless this is one hell of a bluff from agent Rob Pelinka, the Syracuse guard has a promise from someone in the lottery. Maybe it's Houston, Portland, maybe Phoenix. Whatever the case, Waiters was told to leave Chicago on Thursday -- so he's a clear winner just for being able to avoid another day full of prodding interviews. 
3) Royce White - The NBA teams have asked me about White's mental makeup all season. He's had some issues, but White is engaging and takes accountability for his past actions. No one, according to several NBA guys, was more impressive in the interview process than the Iowa State point forward. 
4) Perry Jones III - He could have bailed on the combine, but Bill Duffy and PJ3 decided to participate -- and it paid off. Smart move because Jones will always thrive in a workout setting -- and that's exactly what happened. I'd be shocked if he doesn't go somewhere in the Top 10 with his length and upside. 
5) Meyers Leonard - He checked in at 7-foot-1 and change, had a 9-foot-plus standing reach and was also impressive on the court. He played hard, showed his athleticism and agility and likely solidified himself in the lottery. Toughness remains a question, but Leonard certainly helped himself in Chicago. 
6) Andrew Nicholson - No one looked better in the workout setting than the former St. Bonnies star from Canada. He's so skilled -- and made shots from everywhere. At one point, I watched him drill 15 consecutive shots from just about every spot on the court. Strength is a concern at the next level, but he looked phenomenal in terms of his ability to score the ball in a variety of ways. 
7) Terrence Ross - I pegged Washington's wing as a lottery pick prior to the start of the season -- and he's got a chance to move into the top 14. Ross has the length, athleticism and also the perimeter shot. He made more shots than most -- and he also did a nice job on the defensive end. 
8) Darius Miller - I admit I pegged Miller as a future overseas guy prior to the year, but he's progressed, matured and developed. Miller showed he can do it all at Kentucky -- and did it again in front of all the NBA guys. He made shots from deep, provided consistent effort and also got after it on the defensive end. He's likely the key to UK getting a record-setting six guys into the first round. 
9) Jared Sullinger, Thomas Robinson, Austin Rivers and Bradley Beal -- NBA guys were concerned how they would measure, but each wound up breathing a sigh of relief. Sully checked in at 6-foot-9, T-Rob at 6-foot-8 and 3/4, Rivers at 6-foot-5 and Beal at 6-foot-4 and 3/4. 
10) Moe Harkless - Was somewhat of a mystery man among NBA teams, but fared well on the court -- both from a production and maturity standpoint. Harkless was also impressive in the interview process -- according to several NBA guys who spent a half-hour with him on Thursday afternoon. 
11) Robbie Hummel - The Purdue star blew out a sneaker. Blew it out completely. Most would have been rattled. Not Hummel -- who has blown out his knee on two occasions. He had to borrow a pair from Quincy Miller to take the vertical jump. Hummel was a winner because he did what he does well, make all the right decisions, drained shots -- and carried himself well. And he wasn't even wearing a knee brace. 
12) Howard Moore - He's the head coach at UIC -- where the event was hosted. Moore had all the top NBA guys in his gym for a couple days and if I was in his place, I'd make that clear to everyone I was recruiting. 
LOSERS 
1) Quincy Miller - The long Baylor forward should have stuck with his initial decision to return to Waco He's just not ready. Period. Miller has the length, but he's not overly athletic, needs to improve his perimeter shot and doesn't defend. He could easily slip into the second round. I'm not sure how this guy was ever the No. 1 player in America and considered a lottery pick, but he obviously bought into the hype and make a mistake coming out after just one year. 
2) Arnett Moultrie - His agent, Derek Lafayette, pulled him out of the workout competition of the combine. Moultrie isn't a sure-fire lottery pick, but could play his way into a top 14 spot due to his size and rebounding ability. But this was a head-scratcher and could certainly backfire. 
3) Jeremy Lamb - He sat next to Bradley Beal on Thursday morning, watching the shooting guards who elected to participate in the combine, and looked as though he would have rather been anywhere else. Lamb has talent, but he always appears disinterested. According to sources, it carried over to the interviews as well. 
4) Tyler Zeller - He measured as a legit 7-footer with sneakers, but the most important stat for NBA guys isn't pure height -- it's standing reach. Zeller has short arms and his standing reach was 8-foot-8 inches. By comparison, Royce White -- who gives away more than four inches to Zeller - has a longer standing reach. 
5) Jae Crowder - The Big East Player on the Year struggled to guard quicker wings in Chicago. He's caught in-between positions -- as he's not a guy who is adept at putting the ball on the floor. He measured at just 6-foot-4 and 3/4 without shoes. 
6) Kevin Jones - He was the runner-up to Crowder in the Big East POY voting - and he also struggled. Jones also didn't shoot the ball well from the perimeter -- and has difficulty beating defenders off the dribble. 
7) Andre Drummond - Could have answered some questions in a setting like this, but didn't participate. He obviously wasn't alone, but so many wonder about his love for the game and intensity. Drummond also wore sneakers that gave him an added two inches and didn't blow teams away in the interviews. 
8) NBA Guys - The guys that work all year long and watch games just don't get much out of the event. It's a series of drills that don't give NBA execs much in terms of a players' feel for the game and competitiveness. 
9) J'Covan Brown - The guy must be a regular at McDonald's and put down more Big Mac's than me each week. That's the lone explanation for a body fat of 12.5 percent, the highest in the entire camp. 
10) Renardo Sidney - I know he was overweight at a recent mass team workout, but I can't help wondering what the old Big Sid would have looked like against some of these big guys. He's so much more talented than most of these guys -- and wasn't even invited to Chicago. Such a waste. 
11) Imports - With Evan Fournier as a late scratch due to injury, Tomas Satoransky was a last-minute addition. This European crop is abysmal as Satoransky looked out of place besides bringing nice size to the table. He's slow-footed and is caught in-between positions. 
12) Media - I was fortunate enough to be allowed to watch as the "pool reporter", but no other media members were permitted besides ESPN guys (they air the event). If the NBA wants to add interest to the event, it needs to allow writers and TV guys to watch. It sounds like that may happen next year. 
CBS Sports HQ Daily Newsletter
Get the best highlights and stories - yeah, just the good stuff handpicked by our team to start your day.
Please check the opt-in box to acknowledge that you would like to subscribe.
Thanks for signing up!
Keep an eye on your inbox for the latest sports news.
Sorry!
There was an error processing your subscription.
The Warriors will likely have Cousins back for their first game back from their road trip

There are six games on the NBA schedule on Tuesday night

The Pacers are looking for the season sweep of the Clippers
How to watch Lakers versus Bucks

Mike McClure, a DFS pro with almost $2 million in career earnings, gives optimal lineup ad...

Out East, the tightest race is for No. 4 between Boston and Indiana, and for the final three...