Nuggets' JaVale McGee has season-ending tibia surgery
Denver Nuggets' center JaVale McGee underwent season-ending surgery to repair a stress fracture in his left tibia.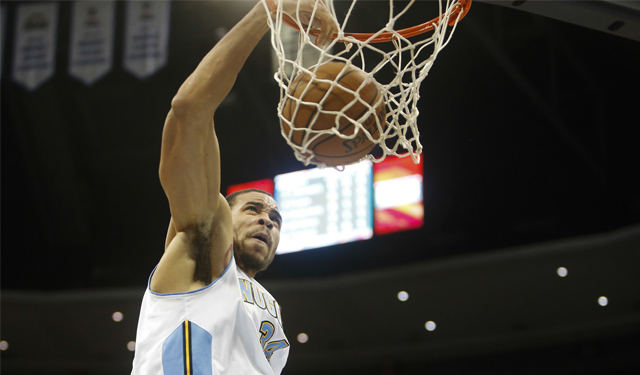 The second year of the $44 million JaVale McGee experiment by the Denver Nuggets has ended with a whimper. After missing every second of action since November 8 with a stress fracture in his left tibia, McGee underwent surgery Thursday morning to repair the fracture bone. The Nuggets announced he'll miss the rest of the 2013-14 season.
Denver Nuggets center JaVale McGee underwent surgery this morning to repair a stress fracture in his left tibia, Nuggets General Manager/Executive Vice President of Basketball Operations Tim Connelly announced today.

The procedure was performed in West Palm Beach, Fla., by orthopedic surgeon Dr. Dror Paley.

"While it's disappointing that we won't have JaVale back on the court this season, we're happy that he can move forward in his recovery," Connelly said.
McGee only made it through 79 minutes in five games this year before ending up with the injury that effectively ended the season for him. He averaged 7.0 points, 3.4 rebounds, and 1.4 blocks in 15.8 minutes. Since joining the Nuggets in the 2011-12 season, McGee has averaged 9.2 points, 4.9 rebounds, and 1.9 blocks in just 18.5 minutes of action.
He'll have $23.25 million left on his deal through the 2015-16 season.
Stephen Curry, who grew up in North Carolina, wants to be part of the next Panthers ownership...

Vince Carter is destined for a Raptors reunion; he doesn't know when it'll happen

Thomas has a target date for his return, and with the Cavaliers scorching, this could be h...
LeBron James once again is using his platform to be socially active

Not many games, but still plenty of action and intrigue Sunday in the Association

Kobe Bryant had a solid piece of advice for back in 2016 when he left OKC for Golden State