Report: Carl Landry is Warriors' 'focus'
The Warriors are reportedly targeting Carl Landry as a free agent addition.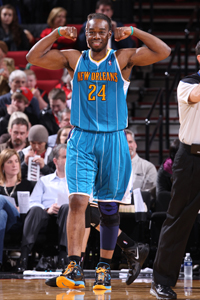 "Can my bonus be based on bicep size?"
(Getty Images)
The Warriors are still finishing out their team, which looks, at least on the surface, to be quite a bi better than the lottery tank-out they were at the end of the season. Mostly because they won't be sitting their best players. But still. And they're looking for one more major impovement, this time at reserve power forward. 
From the Contra-Costa Times comes word that the Warriors' "focus" is Carl Landry, who may be the best free agent left on the market.  
Landry would give the Warriors a decent replacement for David Lee when he goes to the bench. They'll lose rebounding, but should have the kind of roster to sustain well enough otherwise. Landry's a hard-working defender and can score at the rim. He's not afraid to do the dirty work, even if he loses a few teeth. 
Big men are at a premium and Landry does the job well enough. He averaged 18 points and 8 rebounds per 36 minutes last season with a very-respectable 18.2 PER. If the Warriors land him, that's going to make them two-deep at every position. 
Thomas took to Twitter to let the Celtics know he doesn't want to ruin Pierce's night

The Hall of Famer was a seven-time All-Star with the Celtics, and was MVP of the 1976 NBA...

It's rare to see a legit punch in an NBA fight, but this was definitely one of them
We've got all the scores, highlights and news from an NBA Tuesday

The former Slam Dunk Contest champion will take his talents to Tri-State

Do NBA players have look-a-likes from famous paintings? We found out on the new Arts & Culture...