Report: Thunder are 'front-runner' for Pau Gasol
Veteran forward weighing options from contending teams for less money or lesser teams for more money.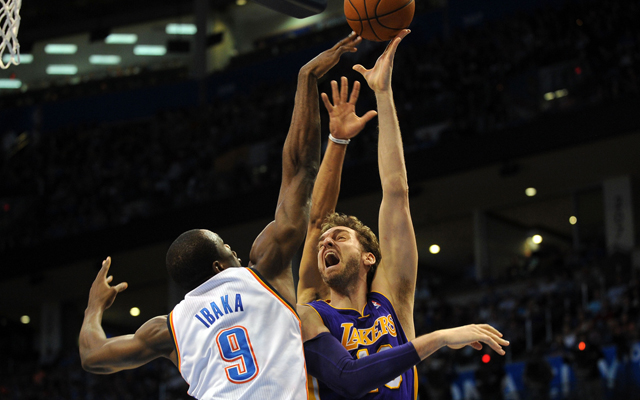 More Offseason Analysis: Updating Free Agency news | Top 40 free agents
The Oklahoma City Thunder have surprisingly emerged as the favorite to land Lakers free agent Pau Gasol, ESPN reports: 
In a surprising twist, OKC has come on strong with Pau Gasol, and described as a "frontrunner" for the Spaniard.

— Ramona Shelburne (@ramonashelburne) July 2, 2014
ESPN has learned that Thunder stars Kevin Durant and Russell Westbrook made a come-to-OKC pitch directly to Pau Gasol today in Los Angeles

— Marc Stein (@ESPNSteinLine) July 3, 2014
The Thunder have been targeting an upgrade and Mike Miller is among several weapons they're considering pursuing with the Mid-Level Exception. But to add Gasol, he would have to accept a massive paycut under the reported $12 million he's pursuing. But the Thunder could present the best opportunity for both contention and playing time for Gasol, who averaged 17.4 points and 9.7 rebounds per game last season for the Lakers. 
The Lakers are interested in bringing back Gasol, but the Spurs and Heat have also entered the fray. Gasol will essentially have to choose between the money and contention, and from there which team presents him the best chance to make an impact. 
The Thunder would use Gasol as their five, presumably moving Kendrick Perkins somehow. Gasol would give them a substantial upgrade in post scoring and a gifted passer, and Serge Ibaka's defense would cover for Gasol's increasing failures on that end. 
Miami would likely use Gasol paired with Chris Bosh and return to a more traditional lineup with Bosh at power forward instead of the smallball run they've used to win two championships. 
San Antonio would essentially use Gasol to replace free agent Boris Diaw, creating a gifted pair of passing bigs with Gasol and Tim Duncan, and presumably moving Tiago Splitter to the bench. Gasol would thrive in the Spurs' ball-movement-centric offense. 
One thing to consider: when Gasol was moved to the Lakers, he commented immediately on how much he appreciated having the opera of LA available to him. I'm sure that the Oklahoma City and San Antonio operas are great, but you're still talking about a cultural shift. 
Either way, Gasol looks to be the most popular upgrade option for the contenders right now. 
LeBron has a player option for next season, and is expected to opt out and become a free a...

Keep it right here for all of the news, notes, scores, and highlights from around the Asso...

The Pistons will be looking to snap a five-game losing streak when they host the Celtics on...
Bryant offers some advice for Ball and other rookies about having a sense of urgency in the...

Burks has stepped up in a big way for the Jazz, averaging over 20 points per game since Rodney...

Nooooooo James Harden don't do Noah Vonleh like that