Report: Timberwolves 'finalizing' 2-year contract for Andrei Kirilenko
The Minnesota Timberwolves are reportedly "finalizing" a 2-year contract for forward Andrei Kirilenko.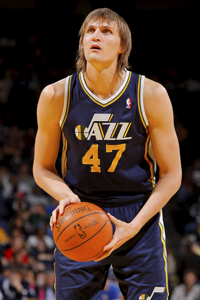 Andrei Kirilenko is reportedly heading to Minnesota.
(Getty Images)
Eleven years after he first left Russia for the NBA, Andrei Kirilenko is reportedly set to make the jump again.
The Minnesota Timberwolves and Kirilenko are "finalizing" a 2-year contract worth $20 million, according to Yahoo Sports. The deal will reportedly include a player option for the second season. Earlier Wednesday, it was reported that Kirilenko could be headed to Minnesota as part of a 3-team trade scenario that would ship out small forward Wesley Johnson.
Kirilenko, 31, spent the 2011-12 season playing for CSKA Moscow in Russia during the lockout. 
Prior to his return to Russia, Kirilenko spent 10 seasons with the Utah Jazz, where he posted career averages of 12.4 points, 5.6 rebounds, 2.8 assists, 2.0 blocks and 1.4 steals in 30.8 minutes per game. He made the playoffs in six of his 10 seasons with the Jazz and was selected to the 2004 All-Star team.
Utah selected Kirilenko in the first round of the 1999 NBA Draft after one season with Spartak St. Petersburg as a teenager. He then spent three seasons with CSKA Moscow before coming to the NBA in 2001.
Kirilenko, a versatile forward known for his versatility and length on defense, plugs in at the small forward position for the Timberwolves, who have been searching for a big-time three. Minnesota made a 4-year, $46.5 million offer sheet to Portland Trail Blazers restricted free agent forward Nicolas Batum. In clearing the room to make that offer, the Timberwolves released forward Martell Webster. Once Portland matched Minnesota's offer, retaining Batum, and leaving the Timberwolves with a hole to fill.
The Timberwolves also have  Derrick Williams, a combo forward who was the No. 2 pick in the 2011 NBA Draft, and small forward Chase Budinger, acquired in a recent trade with the Houston Rockets. Kirilenko is a clear upgrade on both and plugs in as the starting small forward on a team that should compete for a playoffs spot if point guard sensation Ricky Rubio gets back for a reasonable percentage of the season and All-Star forward Kevin Love remains healthy.
The $10 million per year price tag is comparable to the deals received by Batum, Brooklyn Nets forward Gerald Wallace and Denver Nuggets forward Danilo Gallinari and slightly higher than contracts given to Ersan Ilyasova by the Milwaukee Bucks and Ryan Anderson by the New Orleans Hornets. Given the short-term nature of the deal and Minnesota's need to keep Love happy in the short-term by making the playoffs, the price is right, even if Kirilenko's peak statistical seasons are behind him. He's a tough, tested competitor who fills the Timberwolves' biggest position of need.
While Kirilenko spent the last four years of his time in Utah in trade rumors due to the monster size of his previous deal, he's not in a position to be a salary cap anchor with only a 2-year deal. If things don't work out this season, he can always bounce next summer.
Earlier this month, Minnesota also agreed to terms with Russian guard Alexey Shved.
SportsLine's advanced computer model simulated Monday night's Lakers-Warriors game 10,000...

Galin Dragiev has his finger on the pulse of the Nuggets and locked in a strong pick for Monday's...

The NBA TV analyst and ex-Raptors coach doesn't look back in anger
Jackson is reportedly unable to make the trip from Montana

The Rockets are on fire, and my money is on Durant to join LeBron and Harden in the MVP ra...

Then-Lakers owner Jerry Buss eventually shot down the idea