Stephen Curry may be worth $14.1 billion to Under Armour's value
Steph Curry's shoes could be bolstering Under Armour in a major way.
In analyzing the market value of a company like Under Armour, some analysts don't believe their projection is headed in the right direction. Morgan Stanley analyst Jay Sole released a report concerned that while Under Armour is a fantastic company that is run quite well with its management, there might be a struggle to justify UA's stock price when compared against slowing sales.
There may be a savior though. Would it be crazy to think Golden State Warriors' star Stephen Curry could mean to Under Armour what Michael Jordan meant to Nike all those decades ago? UA's basketball shoe sales are through the roof, thanks to Curry's signature shoe and meteoric rise in fame across the world. You can credit that to his basketball success and dominance. The streak in which Curry is affecting the sales of UA could mean the difference in being valued at $14.1 billion and $28.2 billion in the future. From Business Insider:
There is one person, however, who could change it all for the company: reigning NBA MVP Steph Curry.

"UA's US basketball shoe sales have increased over 350% YTD," the note said.

"Its Stephen Curry signature shoe business is already bigger than those of LeBron, Kobe, and every other player except Michael Jordan. If Curry is the next Jordan, our call will likely be wrong."

Sole named his bull case for the stock "Spicy Curry," with a price target of $127.50, and said it would become "the world's No. 2 athletic brand" based on the performance and popularity of Curry.

If Curry continues his streak, the difference in market-cap value of the company could be approximately $14 billion, with Under Armour being valued at about $14.1 billion under Sole's base case and $28.2 billion in his bull case.
Those are insane projections. I don't mean insane in that they aren't real; I mean insane to think he's possibly putting himself ahead of LeBron James and Kobe Bryant in terms of the shoe business. LeBron and Kobe have well established brands, and Curry's signature venture with UA is relatively new. You would have to think this would also skyrocket Curry's business portfolio considering his stake in Under Armour with his latest deal.
Imagine what may have been for them had they brought Kevin Durant into the mix when it was rumored they might pluck him away from Nike on a shoe deal worth more than $300 million. Instead, UA is getting by strictly on Curry's name in the basketball side of it all for signature and promotional wear. Seeing success like this could lead to them being real players for the young guys coming into the league over the next decade or so.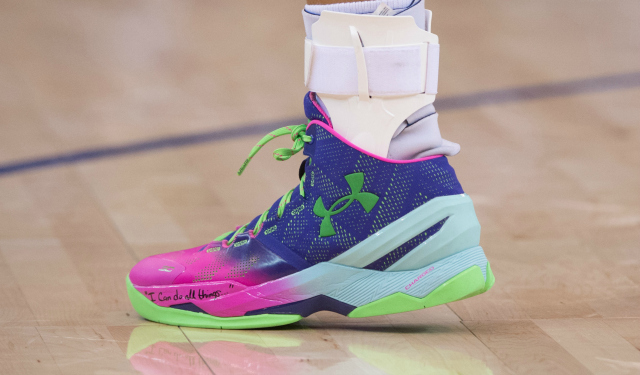 Another day, another social media beef for Embiid

We have all the latest scores, highlights and news from Wednesday's NBA games

Thomas spent a day with a 10-year-old girl whose family is also new to Cleveland
Barkley did not hold back with his opinion of the Big Baller Brand patriarch

LaVar Ball also made it clear he thinks his sons are being placed in 'a great situation'

The Thunder are just 12-14 on the season, despite the addition of Paul George and Carmelo...