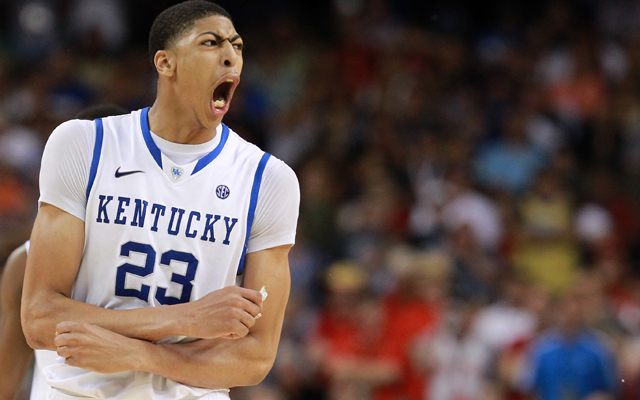 Kentucky big man Anthony Davis is the 2012 NBA Draft Lottery's No. 1 prize.
(Getty Images)
Tempted to downplay the importance of Wednesday's NBA Draft Lottery, or write it off as overly hyped? Don't be. Seriously, don't be. Especially this year.
The path to title contention begins with ping pong balls and this year makes that point as clear as any. The Eastern Conference's top two teams -- the Chicago
Bulls
and the Miami
Heat
-- are each led by a No. 1 overall pick:
Derrick Rose
(2008) and
LeBron James
(2003). The Western Conference's top two teams -- the San Antonio
Spurs
and the Oklahoma City
Thunder
-- are led by
Tim Duncan
(No. 1 overall in 1997) and
Kevin Durant
(No. 2 in 2007).
From that group alone, the list of accolades is endless. Duncan has won two MVPs, James has won three MVPs, Rose has won one MVP and Durant finished second this season. The Heat and Thunder are regarded as the two teams best positioned for success in the
NBA
. James' Heat also feature high-lottery stars in
Dwyane Wade
(No. 5 in 2003) and
Chris Bosh
(No. 4 in 2003), while Durant is now flanked by
Russell Westbrook
(No. 4 in 2008) and
James Harden
(No. 3 in 2009).
The draft will always be an art and not a science but picking at the very top of the board is a pretty reliable way to find a franchise-defining superstar. Just ask the Bulls, who were promptly bounced from the first round of the playoffs by a No. 8 seed when Rose went down with a knee injury. Or ask the Orlando
Magic
, whose season blew up when 2004 No. 1 overall pick
Dwight Howard
went down with back surgery. Or ask the Portland
Trail Blazers
, who are in the lottery this season in large part because they selected Greg Oden, who is not currently under contract in the NBA after undergoing five knee surgeries in five seasons, instead of Durant with the No. 1 pick in 2007. 
The 2012 lottery might as well be called the Anthony Davis Sweepstakes. The University of Kentucky big man has been projected as a lock at No. 1 in this year's Draft. He has transformed from a highly touted high school prospect still getting accustomed to an impossibly long frame into the Final Four's Most Outstanding Player, National Player of the Year, First Team All-American and an NCAA champion. During his one season at Kentucky, Davis averaged 14.2 points, 10.4 rebounds and 4.7 blocks per game, accomplishing everything there was to accomplish in college in one season. His declaration to enter the draft was a formality and he might have been the No. 1 pick in the 2011 NBA Draft if he was allowed to enter straight from high school.
What makes Davis so special? (Aside from his signature Unibrow, which he refuses to shave.)
His story begins with a huge growth spurt in high school, one that transformed him from a guard to a 6-foot-10, 220-pound big man with a 7-4 wingspan. Unlike so many other players his height, Davis maintained his guard-like coordination, reflexes, footwork and quickness.
Light on his feet and quick off the ground, Davis can cover ground like few players, whether that's closing out to a shooter, coming over to provide defensive help from the weakside, or rolling to the basket off the pick-and-roll.
His offensive game is more than just dunks. He isn't afraid to put the ball on the floor, pivot and spin, or shoot the midrange jumper. He has been known to grab a rebound and dribble out to start a fast break and he passes well out of double teams, especially for a teenager.
Ultimately, his calling card is defense. His length, timing and instincts make him an elite shot-blocker and he rebounds very well too, even though he's sure to add significant muscle to his frame. He has drawn comparisons to the likes of
Kevin Garnett
and his coach at Kentucky, John Calipari, said that he will wind up being a better professional than
Marcus Camby
, the No. 2 pick in the loaded 1996 draft who is still making an impact nearly two decades later.
Putting it simply: Davis is really a perfect storm. He plays a highly coveted position, he fits the modern model of a super-versatile big man who can play inside and outside, he's a winner with no character issues, he plays with energy and enthusiasm and seems to love the game, he proved that he was more than just potential in college, and he has no major injury history.
Given all of that, it's fair to call him the best big man prospect since Howard. No one else since, including Oden, can match Davis' résumé. That's why Davis is regarded as a franchise-changer and why so many teams are crossing their fingers, praying that the ping pong balls fall their way.
The Mechanics of the lottery
The draft lottery consists of the 14 teams that didn't make the NBA playoffs. While there are 14 spots in play only the top three spots are actually decided by the lottery system. The other 11 fall in line in order of worst-to-best record once the top three are determined.
The lottery is weighted so that teams with worse records have better odds of being selected in the top three spots. 
Teams with the best chance to land Davis


The Charlotte
Bobcats
finished with the worst record in the NBA and have a 25 percent chance of landing the No. 1 pick.
The next most likely teams, in order, following the Bobcats: the Washington
Wizards
(19.9 percent), the Cleveland
Cavaliers
(13.8 percent), the New Orleans
Hornets
(13.7 percent), the Sacramento
Kings
(7.6 percent) and the Brooklyn
Nets
(7.5 percent).


Teams with the worst chance to land Davis


After the six worst teams, the other eight lottery teams have a much lower chance of snagging the No. 1 pick. Those teams are: Golden State
Warriors
(3.6 percent), Toronto
Raptors
(3.5 percent), Detroit
Pistons
(1.7 percent), New Orleans Hornets (1.1 percent), Portland Trail Blazers (1.1 percent), Milwaukee
Bucks
(0.7 percent), Phoenix
Suns
(0.6 percent) and Houston
Rockets
(0.5 percent). New Orleans' pick here comes over from the Minnesota
Timberwolves
courtesy of a previous trade.
Playoff teams without a pick in the lottery obviously have no shot at landing Davis on Wednedsay night.


Who should land Anthony Davis?


A CBSSports.com panel of NBA writers weighed in with their thoughts on who
should
land Anthony Davis.
Ken Berger
: The Brooklyn Nets.  Few teams have as much at stake in the lottery as the Nets. Whatever happens with Dwight Howard, getting the No. 1 pick in and of itself might be enough to persuade
Deron Williams
to stay. If the Nets fall below No. 3 in the lottery, they lose the pick. So it's all or nothing for a team that needs something to hang its hat on heading into a new arena in Brooklyn. Given what they gave up for D-Will, the stakes don't get much bigger than that.


Royce Young
: The Charlotte Bobcats. Should winning only seven games out of 66 and becoming the worst team in NBA history really mean you deserve anything? In the landscape of the NBA, yes it does. The Bobcats were so bad that they weren't even tanking to give themselves a shot at Davis. They were just truly a horrifyingly awful team. And with the way the league is built and the lottery is set up, the Bobcats have the best shot to get a player that's likely to change a franchise. Something the Bobcats need because at this point, they're becoming the Siberia of the NBA with Michael Jordan a laughingstock of an owner. That's not a good look for the league.


Matt Moore:
The Detroit Pistons.
Greg Monroe
and Davis would form one of the best young frontcourts in the NBA. Davis' defense covers for Monroe's weaknesses, Monroe's offense helps Davis not have to produce too much.
Brandon Knight
provides an outside shooter,
Tayshaun Prince
and possibly
Ben Wallace
if he returns can tutor the young freakazoid, and the Motor City gets its pride back. Everyone wins if the Pistons get the pick.


Ben Golliver:
Washington Wizards. Davis needs to be paired with a quality point guard for maximum pick-and-roll effectiveness and alley-oop potential. While the Cleveland Cavaliers and
Kyrie Irving
would probably have a better long-term chance at contending for a title, going to the Wizards and playing with
John Wall
would be plenty enticing. For one, it could help breathe new life into Wall's professional career, which has been a bumpy ride thanks to a roster full of headcases and changes in both ownership and coaching. For two, a pairing with Nene Hilario would be essentially perfect, as the Brazilian could occupy the low post with Davis free to roam and be active. For three, there's a desperation in D.C. -- 2012 marks Washington's fourth straight lottery appearance and the franchise hasn't won a playoff series since 2005, while enduring an ugly gun scandal with
Gilbert Arenas
and a whole bunch of nonsense courtesy of
Andray Blatche
. Davis is the anti-Blatche in every way.
Consolation Prizes


Of course, only one team can get the No. 1 pick. The other 13 teams won't go home empty-handed. Here's a look at a handful of possible top-five selections.
Harrison Barnes, F, North Carolina:
 A wing with prototypical NBA size who can shoot the ball and smoothly create his own shot.

Bradley Beal, G, Florida:
 A high-upside backcourt player with play-making ability and a full complement of dribble moves.
Andre Drummond, C, UConn:
 A high-risk, high-reward player whose size and strength make him an elite prospect despite a disappointing one-and-done season in college. 
Michael Kidd-Gilchrist, F, Kentucky
: An energetic, defensive-minded wing who has drawn comparisons to
Gerald Wallace
for his motor and athleticism.
Thomas Robinson, F, Kansas:
 A polished scoring forward widely considered the most NBA-ready prospect besides Davis in this year's pool.