The 2014 NBA Draft lottery representatives
This is the one time when Julius Erving, James Worthy, Kyle Singler and the Morris twins are all on equal footing.
• 1 min read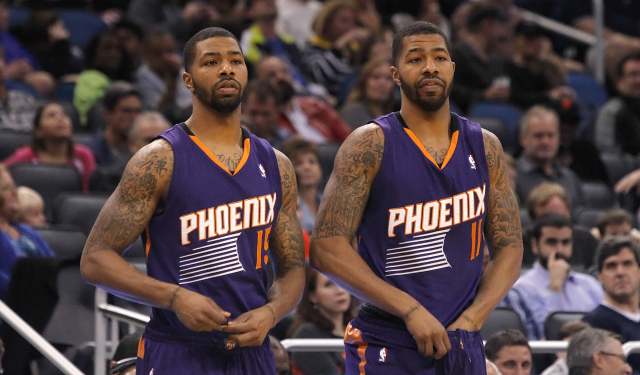 More Offseason Analysis: Coaching changes, news | Free Agency | Draft
Tuesday night is the 2014 NBA Draft lottery. It will air at 8 p.m. ET on ESPN, and there will be the usual assortment of executives, coaches, current players, former players and relatives of executives on stage to represent the teams involved, minus Cavs owner Dan Gilbert's bow-tied son. Here's the full list, ordered from most likely to least likely to win the lottery:
1. Milwaukee Bucks: Mallory Edens (daughter of new co-owner Wesley Edens)
2. Philadelphia 76ers: Julius "Dr. J" Erving (NBA legend, obviously)
3. Orlando Magic: Pat Williams (co-founder, four-time lottery winner with Sixers and Magic)
4. Utah Jazz: Bryan Miller (son of owner)
5. Boston Celtics: Stephen Pagliuca (co-owner)
6. Los Angeles Lakers: James Worthy (NBA legend, who plans to bring three bobbleheads with him)
7. Sacramento Kings: Anjali Ranadive (daughter of owner)
8. Detroit Pistons: Kyle Singler (forward, claims to be "fairly lucky guy")
9. Cleveland Cavaliers: David Griffin (general manager, will consult with Nick Gilbert but "does not anticipate wearing a bow tie") 
10. New Orleans Pelicans: Dell Demps (general manager, has a less-than-four-percent chance of keeping his pick because of the Jrue Holiday trade)
11. Denver Nuggets: Brian Shaw (head coach)
12. New York Knicks: Nobody, because this pick is either going to Denver or Orlando.
13. Minnesota Timberwolves: Milt Newton (general manager)
14. Phoenix Suns: Marcus Morris and Markieff Morris (twins, forwards)
We've got all the scores, highlights and news for Thursday night

The Sixers big man got his first All-Star selection -- and maybe some revenge -- on Thursd...

It appears some players are not entirely taking the All-Star voting process seriously
There were some weird discrepancies between the fan, media and player votes

LeBron and Steph will be the captains for the 2018 NBA All-Star Game

Arron Afflalo was involved in an altercation with Timberwolves big man Nemanja Bjelica on...