Browns sign player with torn ACL to replace player with torn ACL
Cleveland placed quarterback Brian Hoyer on injured reserve on Saturday and signed receiver Charles Johnson to replace him. One problem with the signing? Johnson has a torn ACL.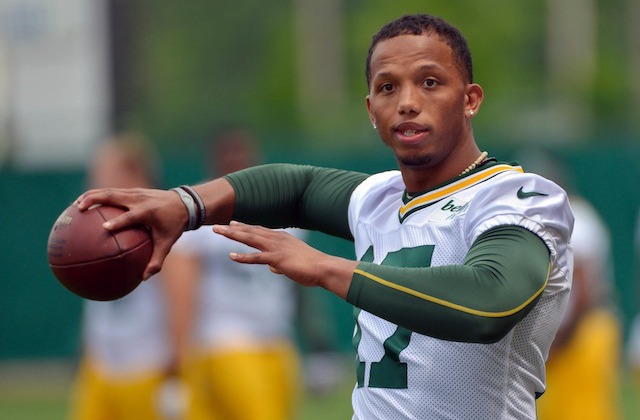 Usually when you sign a player, you don't expect that player to show up at his physical with a torn ACL. That's what happened to the Cleveland Browns and now, they'll have to play the next two weeks with only 52 players on their 53-man roster. 
How did the Browns end up signing a player with a torn ACL? It all started on Oct. 12 when the team placed quarterback Brian Hoyer on injured reserve. Hoyer was lost for the season when he tore his ACL in Cleveland's Week 5 victory against Buffalo. 
With Hoyer on injured reserve, the Browns signed wide receiver Charles Johnson from the Packers practice squad to fill Hoyer's spot on the active-roster. That happened on Saturday. On Wednesday, during Johnson's introductory physical, the Browns discovered that he had a torn ACL, according to the Akron Beacon Journal. 
Because Johnson was a practice squad player with another team, the Browns were unable to give him a physical until after they signed him. Since Cleveland signed Johnson from the Packers practice squad, the Browns are now stuck with him for at least two more weeks. Per NFL rules, a player that's signed off another team's practice squad has to be a part of the new team's 53-man roster for at least three games.
Johnson was signed on Oct. 12, one day before the Browns played the Lions, so now he'll count toward the 53-man roster for two more games. 
After the Browns discovered Johnson's injury on Wednesday, they placed him on the non-football injury list. It's not clear where or when Johnson tore his ACL, but we do know one thing: He won't be playing for Cleveland this season. 
The Colts quarterback may have to deal with more issues if he suffers a setback

Will the Bengals be able to land a big fish? Let's take at look at seven potential candidates...

One of Tom Brady's favorite targets will be sidelined with a shoulder injury vs. the Steel...
Emory Hunt has his finger on the pulse of the Boys and locked in a strong pick for 'Sunday...

Carolina will not be allowed to conduct an internal investigation

The longtime Bengals coach and the team are planning to part ways after the season ends