Chargers tweak jerseys for 2013
With the season a little more than two months away, the Chargers have unveiled their 2013 jersey, complete with a few minor changes.
• 1 min read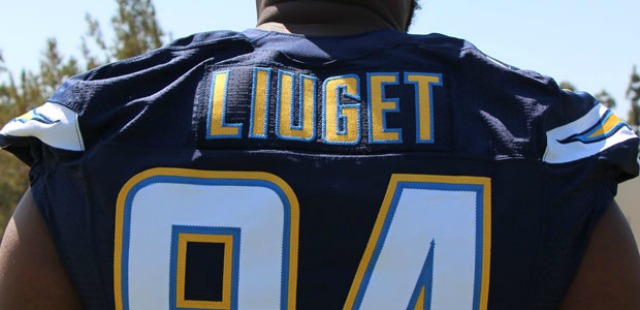 You might not notice it this season, but the Chargers have tweaked their uniforms for the first time since 2007. And the change is … well … subtle.
As the team's website points out, there are only three minor changes to the uniform, but apparently, the team believes "they will greatly improve the aesthetics of the jerseys."
So, why is that, exactly?
"We have been thinking about this change for several years," Chargers CEO A.G. Spanos said. "We knew exactly what we wanted to do. We didn't have to redevelop the uniforms.  We like the uniforms, but we felt like we could adjust a few details and make them better. The changes aren't big changes. They are really just tweaks. We didn't make this change, so fans had to go out and buy new jerseys. It was never meant to spruce sales. We wanted to change the jersey because we thought it would make it better."
Everybody hear that? Don't buy any more Chargers jerseys! The team CEO says so.
Anyway, here are the changes:
1. The nameplate on the jerseys will be changed to a two-color font so that it "really highlights the name. It looks a little bit sharper and a little bit more modern," Spanos said. The primary color on that navy jersey's nameplate now will be gold, trimmed with powder blue. On the white jersey, the font will be navy with a gold outline, while the powder blue jersey will have a white nameplate trimmed with navy.
2. The collar of the jerseys will change to be the same color as the actual jersey. Apparently, five other NFL teams are altering their collars for the 2013 season.
3. Socks! As in, there now will be a gold stripe midway up the sock.
For those who want to ignore Spanos' advice about buying the jersey, the team says there is no set date for when the new-look duds will go on sale.
So for now, you'll just have to languish in your recliner while sheepishly sporting your embarrassingly dated Chargers uniforms with their incorrect color schemes and with their stripeless socks. What a nightmare, indeed.
It looks like we're going to have a quarterback competition in Jacksonville

Smith is facing up to seven years in prison if convicted

Plus everything else you need to know about Week 2 of the 2017 NFL preseason
This is why being a rookie in the NFL isn't fun

The Raiders running back went Beast Mode on reporters

Elway tried his best to emphasize how complicated the situation is