John Fox will skip press box, coach Broncos from the sideline
There will be no press box for John Fox. Fox has decided to coach the Broncos from the sideline on Sunday.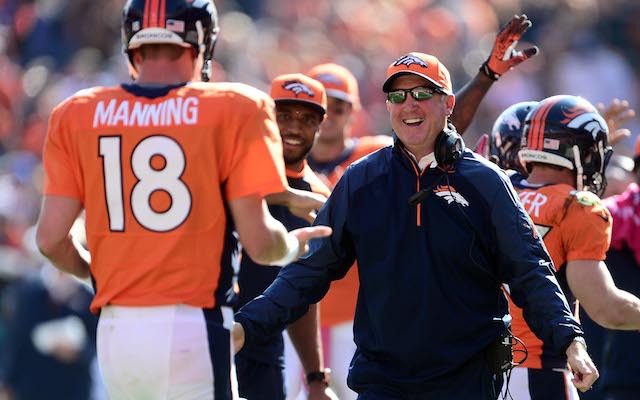 It's official, John Fox will be coaching the Broncos from the sideline on Sunday. Denver's game against Tennessee will mark Fox's first game back since undergoing heart surgery on Nov. 4 and Fox wasn't sure if he was going to coach from the field or the press box. 
The Broncos coach said on Friday that he'll definitely be on the sideline. On Thursday, Fox said that he didn't feel there was a big difference between coaching on the sideline and coaching from the press box. 
"I don't think it is a tremendous effect one way or another," Fox said. "I communicate with the same people. I spent half of my career in the press box [as assistant coach and defensive coordinator] and another half on the field."
The fact that Fox decided to coach from the sideline shouldn't come as a surprise to anyone. Fox said earlier this week that he was feeling better than good, "I feel tremendous, obviously the doctors feel good about me getting back to work," Fox said. "I actually would have preferred to have been back sooner, but there was a pretty hard deadline after the surgery of four weeks, and I honored that."
The last time Fox was on the Broncos sideline was on Oct. 27 when Denver beat the Redskins 45-21. 
With Fox out, the Broncos went 3-1 with interim coach Jack Del Rio running the show. The three victories included two wins over Kansas City, wins that have given Denver control of their own fate for home-field advantage and the No. 1 overall playoff seed in the AFC.
Let's call it the Blair Walsh revenge game

Jeremy Lane also stood near Bennett along with pass rushers Cliff Avril and Frank Clark

Bennett also dedicated it to 'all of the other athletes using their platform to promote ch...
The Patriots quarterback shows commitment from Day One

Cardinals' running back says he's feeling more energized

The Vikings' receiver is wearing his heart on his foot