Levi's Stadium menu items revealed (including BBQ jackfruit)
When fans step into Levi's Stadium this year, they'll have a cornucopia of food choices.
• 1 min read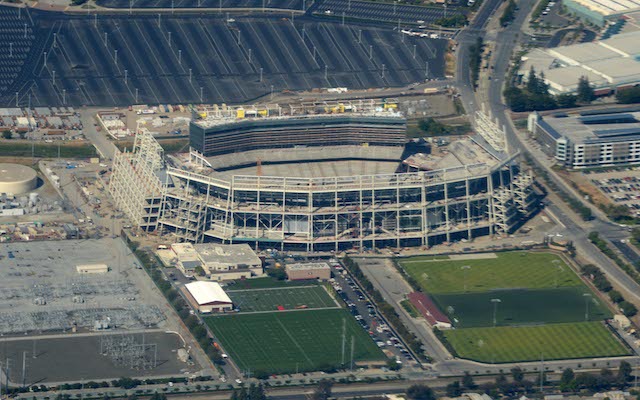 If you don't already have your tickets to the 49ers games that will be played this season in the brand-new Levi's Stadium, you're going to have to watch those games on TV. Because each game already is sold out.
Naturally, the team is happy to provide concessions for the tens of thousands of people who will spend their Sundays inside the stadium, and on Wednesday, the team released some menu news.
The San Jose Mercury News referred to it as "somewhere between a fast-food joint and a white-cloth fine dining institution," even though about 3/4 of the menu will be traditional stadium food like burgers, chicken, pizza, fries and hot dogs (though curiously, they're not referred to as "hot dogs." Instead, the team is going more old school with "frankfurters.").
But ...
The team, which gathers 70 percent of its menu items from within 150 miles of the stadium, also will sell more than 30 vegan items, including something called a BBQ pulled jackfruit sandwich. Meanwhile, you also could have a multi-cultural buffet with Indian, Mexican, Italian and Asian offerings.
Or even better, according to the Mercury News, "In the pricey club and suite sections, high-rollers can feast on portobello pastrami stacked on a Le Boulanger baguette, or an oyster pan roast featuring freshly shucked Pacific oysters."
Perhaps even more importantly, more than 40 beers and 15 varieties of wine will be available in the stadium.
Said 49ers President Paraag Marathe, "We don't want it to be compared to stadium food."
Right, because who'd ever think to have hot dogs frankfurters at a football game.
Seriously, though, if you'd like a visual look, click the video below from KTVU. For those of us left in the dark, it shows you exactly what a jackfruit looks like.
The Jaguars are taking some cool cleats with them to England

Tickets are dirt cheap and very much still available for the TNF matchup

The Lions are being recognized after beating two popular preseason picks to make the playo...
Hernandez was 27 when he committed suicide in April 2017

Mowins is set to become the first female play-by-play announcer in NFL on CBS hisory

The Rams have struggled against the 49ers but that was during the Jeff Fisher era