Sorting the Sunday Pile: Chip Kelly's odd late-game playcalling
Sorting the Sunday Pile takes a look at all the biggest stories from the week that was in the NFL.
Sorting the Sunday Pile takes a look at the biggest storylines from the week that was in the NFL. Send questions, complaints or comments to me on Twitter @WillBrinson. EOF Podcast delayed this week for travel reasons.
Let's set the record straight: I'm a big Chip Kelly fan and I want to see him win. But Kelly made mistakes on Sunday against the San Diego Chargers in his game management and offensive planning and it might've cost him a win against San Diego.
It didn't help, of course, that Kelly's offense was limited to 10 points in the first half by San Diego. That's cause for concern alone. But his clock management in the final minutes of Sunday's game were by far more disturbing.
When Michael Vick hit Desean Jackson for a 25-yard gain to the Chargers 14-yard line, the Philadelphia Eagles were trailing 30-27 and looked primed to score a winning touchdown an escape with Kelly's first home victory. Then Kelly forgot where his brake pedal was.
On the next play, Vick snapped the ball with 2:09 remaining in the half -- Kelly eschewed letting the clock run down to the two-minute warning in favor of getting another play in -- threw an incomplete pass to Brent Celek and got absolutely drilled. He had to leave the game, meaning stone-cold backup Nick Foles entered on second down with 2:03 left in the game and the clock stopped.
He threw an incompletion. Suddenly it was third down, the two-minute warning had passed, the clock was stopped and Vick was coming back on the field to try for the touchdown. He threw another incompletion and Kelly was forced to send Alex Henery onto the field for a game-tying field goal. Henery hit the attempt, which is great, but when he did there was nearly two minutes left on the clock.
You know the rest by now. Philip Rivers -- who spent all afternoon carving up the Eagles defense like they were holiday fowl -- needed eight plays to get the Chargers in Nick Novak 's range and the Bolts left Philly with a win.
Had Kelly simply let the clock run, bypassed the two-minute warning and then attacked the Chargers in the red zone he would've been better off. Yes, hindsight is easy. Yes, using no-huddle offense to keep a team off balance is smart. Yes, I respect Chip Kelly's football decisions. But I don't think he was right here, even if he defended his move after the game.
"We were trying to score," Kelly said. "We were trying to score a touchdown, not trying to kick a field goal. We were trying to score a touchdown and hopefully trying to get to a situation where we made it a four-point game, not a [tie] game."
Scoring a touchdown there was critical because it meant drastically increasing the odds of Philadelphia winning. Kelly should've done what he felt was the best move to put six on the board. But he's also gotta weigh the concern over leaving too much time on the clock for Rivers.
Kelly didn't take that into consideration, he nearly got his quarterback decapitated and he lost the game to boot. For me the process is more important than the outcome so probably take issue regardless here.
Chip could've melted the clock past the two minute warning (taking away a potential timeout for the Chargers) and set up a trio of plays with difficult personnel for the Chargers to defend and run them at no-huddle speed.
Protect This Man (From Himself), NFL
Player safety is the mantra for the NFL, right? Well if that's the case then Roger Goodell and the folks at 345 Park Avenue need to HAMMER Brandon Meriweather this week.
Meriweather, who was a part of Great Concussion Issue of 2010 when the NFL started making big changes to player safety, was at the forefront of the concussion issue on Sunday again.
First he went head-first into Eddie Lacy , knocking the Green Bay Packers running back out for the game with a concussion.
Later Meriweather would KNOCK HIMSELF OUT of the game with a concussion because he once again led with his helmet.
Meriweather's a good bet to miss at least a game with his head injury, but this would be a prime time for the NFL to levy a one-game suspension on the Washington Redskins defensive back. He might be missing it anyway, so why not?
Drop the hammer on him because clearly he's not learning. And who is? The Lacy hit wasn't flagged during the game -- that Meriweather will get a fine is largely irrelevant -- and after knocking a player out for the game he proceeded to put people at risk.
The only irony of Meriweather's concussion is that it occurred when James Starks lowered his helmet (against the new running back rule) and the two collided.
The Quarterback Whisperer
I've got no idea who deserves the lion's share of the credit in San Diego for Philip Rivers' return to being not terrible, but in light of all the evidence I can see, I'll give most of it to Mike McCoy, the Chargers new head coach.
Remember, McCoy's the guy who fashioned an offense -- on the fly no less! -- around Tim Tebow and dragged the Denver Broncos into the playoffs before adjusting to Peyton Manning and the Broncos won 13 games. Working with Manning's a lot easier than Tebow and Manning's a de facto offensive coordinator of sorts, but they were successful nonetheless.
Through two games I'm extremely impressed by what McCoy and Ken Whisenhunt have done with Rivers. Rivers is averaging 307 yards per game, he's completed 65.8 percent of his passes and he's thrown seven touchdowns and just one interception.
That's despite having Eddie Royal basically serving as his top receiver. Rivers isn't "back" just quite yet. Let's see how he does over a longer stretch before we crown his return as a capable quarterback. (Going against the Eagles helps; the second half against Houston is a monstrous red flag.) But he certainly looks back. And it stands to reason that the new coaching staff has plenty to do with it.
A Tale of Two Mannings
On Sunday it was all Peyton Manning, flexing his big brother muscles to beat up on Eli Manning . Peyton was a very impressive 30-for-43 and is now second in the NFL in total passing yards with 760 for the season.
He's also first in the NFL with touchdown passes at nine. Eli is "first" in something too: number of interceptions thrown. Except that's not a good thing. Eli now has seven on the season, giving him the most of anyone in the NFL and giving the New York Giants serious cause for concern.
Not all of the picks -- in either Week 1 or Week 2 -- were his fault. And Eli's hampered by a serious lack of a running game.
High Probability of Heartbreak
The Tampa Bay Buccaneers are in a weird spot these days. There are rumors of trading Josh Freeman , the team looks discombobulated on the sidelines and worst of all they're now 0-2. But Tampa isn't a normal 0-2. They're an extremely heartbreaking 0-2.
Hat tip to the folks at Wagerminds for pointing out just how bad things are: a peak at their Win Probability graphs from AdvancedNFLStats.com shows you just how close to 2-0 they really are.
In Week 1 against the New York Jets , Lavonte David shoved Geno Smith giving the Jets new life.
That's a damn cliff to close out. Week 2 wasn't much better:
A similar curve in Week 2, thanks to Drew Brees doing Drew Brees things.
In both cases the Buccaneers were at a 90-plus percent win probability with less than two minutes remaining and somehow managed to lose the game. Last week David's shove handed Geno and Co. a shot to win. This week a missed 47-yard field goal gave Brees the ball back with a minute remaining.
The result was predictable. And the result for Greg Schiano will be predictable too if the Buccaneers continue to lose nail-biters while swimming in off-field controversy with its players.
Speaking of Heartbreak
The Carolina Panthers under Ron Rivera are now 2-14 in one-score games. At a certain point it stops being about "bad luck" and "unfortunate circumstances" and begins to be about "not being able to close out games" right?
Carolina's offensive gameplan was much better on Sunday than it was in Week 1, when they were as bland as a mashed-potato and mayonnaise sandwich. (Copyright: my Twitter followers.) Cam Newton took deep shots and hit on some of them.
But once again a failure to step on an opponent's throat did them in. Carolina got the ball back, up three points, with 7:13 on the clock in the fourth quarter. Cam completed a 15-yard pass to Greg Olsen for 15 yards.
Then, with 6:33 left on the clock, the Panthers proceeded to run the ball 10-straight times. I'm not complaining about that being bland, because if you're running it 10-straight times, it means it's working. They picked up gains of 5, 3, 4, 5, 7, 9, 2, 5, 0 and 2. Then it was fourth down and one on Buffalo's 21-yard line ... and the Panthers kicked the field goal.
I understand why, since you would rather be up six points than three points. Miss the fourth-down conversion and the Buffalo Bills don't have far to go for a game-tying field goal. But if you convert the fourth down, the game is OVER. This is very reminiscent of the Atlanta Falcons game last year when Rivera punted the ball to the one-yard line and the Falcons still managed to win.
DeAngelo Williams and Mike Tolbert weren't running wild, but Newton can pick up a yard on fourth down by sneezing. This team is built to pick up short yardage in situations like that and they consistently refuse to do it.
You know the rest -- it involved an EJ Manuel drive, a Carolina loss and all of it inspired an amazing social-media moment ...
"We landed on the moon!"
It was impossible not to think of a classic Dumb & Dumber moment when the Bills were tweeting too aggressively on Sunday. Just like Jim Carey they got too excited and missed the obvious after Buffalo scored a touchdown (and kicked an extra point) to go up 24-23:
I can confirm this tweet was real; I re-tweeted it myself.
A pretty embarrassing gaffe by the Bills social media manager but you know what? It doesn't really matter. They won the game on a miraculous last-minute drive by Manuel. They're 1-1 and probably feeling a little frisky in an AFC East that isn't too dangerous.
I can neither confirm nor deny that it was so hilarious Manuel broke down in tears:
Pat "All-P" Peterson
When Arizona Cardinals cornerback Patrick Peterson started catching passes in the preseason, Bruce Arians was throwing around crazy things like he could be a top-five receiver. Let's not get ahead of ourselves or anything, but the dude is a freak athlete.
On Sunday he caught a pass and he also threw a pass, which he completed.
Add in a tackle (he recorded at least one) and Peterson joined a pretty elusive group of guys who have completed a pass, caught a pass and recorded a tackle all in the same game.
The last person to do it was Mohammed Massaquoi in 2010, with Antwaan Randle-El pulling it off in 2008. Those are the only other two in NFL history.
For my money, Peterson's easily the most impressive of all those. Randle-El and Massaquoi, as wideouts, get a lot more opportunities to catch the ball. They also get tons of snaps on offense, which maximizes their ability to pass in trick-play situations. A tackle is hard to come by, I suppose, but all you need is a pick to make it happen.
Peterson picking up all three is really impressive. Bonus: this is a sweet painting of him staring at Calvin Johnson .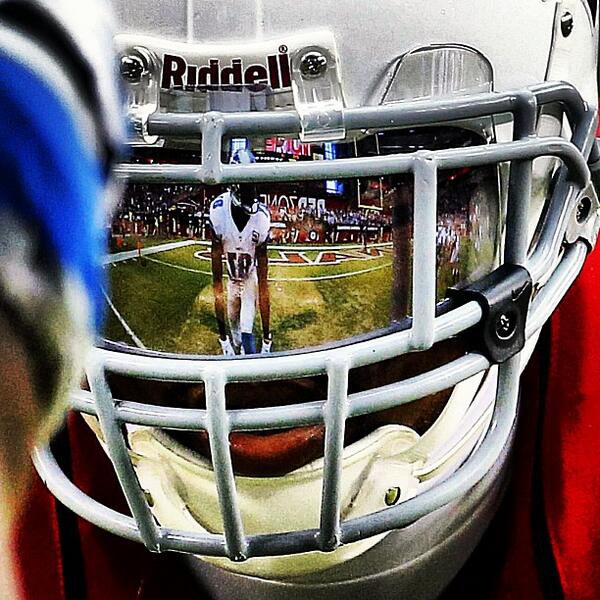 Into the Crevasse
Sure it was nearly 7:15 p.m. ET in the second week of the NFL season when it happened, and sure, it was on a Chad Henne pass to Clay Harbor , but the Jacksonville Jaguars have scored a touchdown. They've only scored 11 points on the season, which means after two games they're averaging 5.5 points per game.
That's really, really bad. So bad, in fact, that if they keep it up for the full season they won't have scored as many points as the Broncos have already this year. Oy.
The Broncos have scored 90 points in two games. At their current pace, the Jaguars won't score 90 points all season.

— CBSSports.com (@CBSSports) September 15, 2013
Dear Mr. Fantasy: Stop
OK people. This fantasy stuff has to stop. I love fantasy football as much as the next guy. It's how I got my start in this business and I still play in any number of leagues each year. But when an NFL player gets hurt or has a bad game, there is absolutely no reason to take to Twitter and rip them.
Anyone who's got the time and inclination to digitally harass a player who doesn't perform at the expected level for a virtually drafted team is an insane person.
Complain into the endless ether that is the Internet. Whine outwardly about David Wilson ruining your fantasy football team. But don't go tweeting to Ray Rice that he wrecked your week because he suffered a hip injury and you didn't win as a result.
That makes you the lowest form of human being.
Rookie Usage
Count me very surprised at the usage of both Tavon Austin and Cordarrelle Patterson in Week 1 by their respective teams. Those guys are playmakers in space, the new model offensive weapon for NFL teams. And yet neither the St. Louis Rams nor the Minnesota Vikings really utilized them.
Sunday they showed why they were so coveted. Austin ran the ball out of the backfield and caught a pair of touchdown passes. He's a special weapon and I'm convinced the longer the season goes along the more and more the Rams will find ways to use him.
Patterson flashed his gliding explosiveness Sunday on the opening play, a 105-yard kick return for a touchdown that tied Percy Harvin's franchise record for longest kick return. Christian Ponder struggles a
GIF O' THE WEEK
Man I love this Philip Rivers flop.
Potent Quotables

You'll never believe this, but a game involving Chad Henne & Denard Robinson facing an Ohio State QB is going to end in a loss.

— Land-Grant Holy Land (@Landgrant33) September 15, 2013
Week 2 UPDATE: The offense of the team playing Washington has revolutionized the NFL forever.

— SportsPickle (@sportspickle) September 15, 2013
"This isn't about learning hard lessons. This is like going to the dentist and getting several teeth pulled without any anesthesia, laughing gas, nothing." - Steve Smith after Buffalo's comeback win.
Please, please don't doubt us again. Every time you doubt us, you look stupid." - Richard Sherman
The new Dolphins quarterback offered high praise for his receiver after his first preseason...

LeSean McCoy was probably a pretty popular person in the Bills locker room on Thursday

Kaepernick is unsigned, but he is continuing to make waves off the field
A report Friday said that Bell's agent agreed to a five-year deal right before the deadline...

Plus everything else you need to know about Week 2 of the 2017 NFL preseason

The Ravens kicker wanted to try a ridiculously long field goal against the Dolphins