VIDEO: Michael Sam gets emotional after being drafted by Rams
Michael Sam took to Twitter to thank the Rams after St. Louis made him the 249th pick in the NFL Draft on Saturday.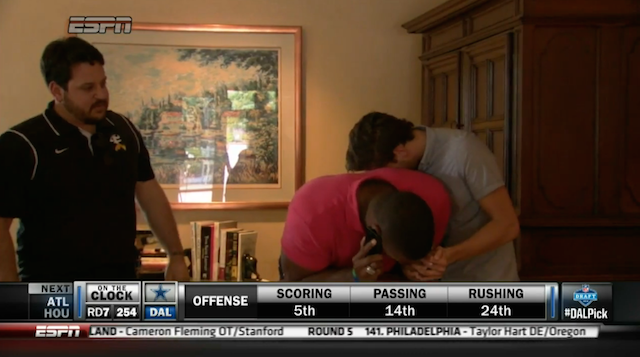 Draft coverage: Picks and grades | Prospect Rankings | Sam goes No. 249 | News
When the St. Louis Rams went on the clock with pick No. 249 in the NFL Draft on Saturday, one thing was beginning to become clear: There was a good chance the first openly gay player to ever enter the NFL Draft was going to go undrafted. 
Jeff Fisher and the Rams coaching staff didn't let that happen though and St. Louis took Michael Sam with the 34th pick of the seventh round. Sam took to Twitter after the Rams made the pick to express his gratitude toward the organization. 
Thank you to the St. Louis Rams and the whole city of St. Louis. I'm using every once of this to achieve greatness!! pic.twitter.com/QESdOJVzsw

— Michael Sam (@MikeSamFootball) May 10, 2014
Fisher told the NFL Network that drafting Sam was about adding a good football player. 
"We were fortunate to have the supplemental choices," Fisher said. "You use those for players that you want to give an opportunity to, that you want to draft. He's a good football player. I'm excited about our draft and I'm excited about the possibility of adding him to our defensive front."
The Rams coach doesn't believe Sam will be any sort of distraction for his team. 
"I don't have any concern whatsoever," Fisher said. "Yea, there's going to be a little extra attention for a couple of days… We have a very mature team and certainly not going to let any kind of distraction affect this football team."
You can read more about Sam's historic day here and you can watch his emotion reaction to being drafted below.
There are apparently some people within the Packers who are worried about him playing

Reports of Tom Brady's demise are premature

Emory Hunt has his finger on the pulse of the Boys and locked in a strong pick for 'Sunday...
Larry Hartstein has his finger on the pulse of the Bears and has a strong pick for Bears-Lions...

The Pittsburgh linebacker was placed on injured reserve Tuesday

Steelers coach Mike Tomlin wanted the Patriots and now he's got them