Pavel Datsyuk sits out Russian practice, Kovalchuk says he'll be fine
The questions about Pavel Datsyuk playing for Russia arose again on Monday when he didn't practice with his Russian teammates but Ilya Kovalchuk says he'll be OK.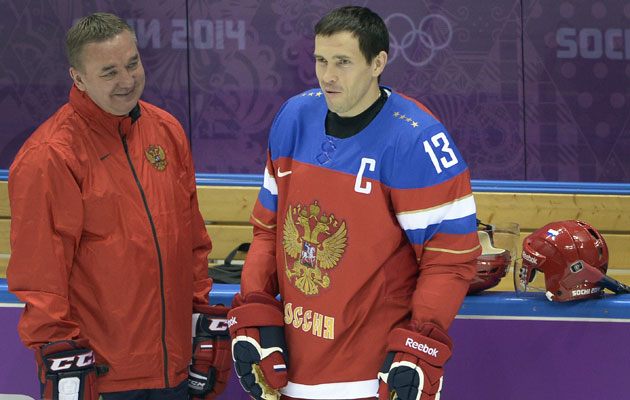 More NHL: Scores | Standings | League Leaders | Odds | Injuries | Power Rankings
The status of Pavel Datsyuk for Russia's Olympic team remained in some question on Monday.
After national coach Zinetula Bilyaletdinov said on Sunday that if Datsyuk weren't 100 percent, he could be replaced on the roster, everybody was awaiting Datsyuk's arrival in Sochi. That came on Monday and it didn't take long for Russia to hit the ice for practice and the team photo.
When the team came out, Datsyuk was on hand for the photo but he wasn't on the ice when Russia practiced. That hardly sounds like somebody who is 100 percent right now.
But before going much further in thinking somehow that Russia's captain could be ruled out for the Games, consider what Russian goaltending great Vladislav Tretiak had to say after speaking to Datsyuk upon his arrival from the States (via RSport).
"I asked him about his health and he told me everything is fine. I talked to everybody and they are all ready and in a good mood," Tretiak said.
Ilya Kovalchuk is equally confident that Datsyuk will be fine. In fact, he thinks Monday was the only time we won't see Datsyuk with the team.
Ilya Kovalchuk expects Pavel Datsyuk to practice tomorrow. "I think he'll be OK for the first game."

— Chris Johnston (@reporterchris) February 10, 2014
Datsyuk has been dealing with a groin injury since the Winter Classic and played in just two games before the Olympic break kicked in, hardly looking like himself. Even with that, it's still almost impossible to envision Datsyuk being replaced on the roster. He might miss the opening game against Slovenia -- a team Russia shouldn't need Datsyuk for -- but you have to imagine he'll play at some point in his home Olympics.
Without Datsyuk on the ice, the world got a look at the top two lines Russia would be playing with.
Russia lines: Ovechkin-Malkin-Semin, Radulouv-Svitov-Kovalchuk (No Datsyuk for practice, he was in the team picture).

— Cörey Masisak (@cmasisak22) February 10, 2014
Well that top line could be kind of good, huh? Also of note on that top line: Alexander Semin initially didn't even make the cut for the team and yet he's going to start on the top line. It makes you wonder why he didn't make the team in the first place.
Here's how to watch all of the halfpipe and slopestyle action as Olympic qualifying resume...

The two-time gold medalist's road to making his fourth Olympics just got a little tougher

The South African sprinter and Paralympic champion is serving time for the murder of his g...
The Olympic skier says she's received hurtful comments since her remarks about competing for...

More than 400 people reportedly held emergency defense drills in advance of the Winter Gam...

The Olympic gold medalist says she also won't accept an invite the White House