Eye on Golf Equipment: Nike Dunks
Eye on Golf Equipment takes a look at the hip-friendly Nike Dunks.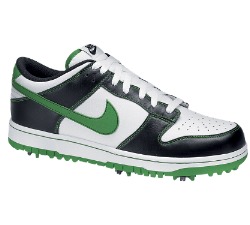 The green/black version of the Nike Dunks. (Nike.com)
Golf is a sport with ever-changing tools. There are drivers, putters, balls, towels, bags, socks, grips and everything in between. Here at Eye on Golf, we will start reviewing the latest in golf equipment each Tuesday in hopes that our words will help you make a better decision on what's best for you. This week, we give you the Nike Dunk golf shoes. 

There is nothing more fun than a fresh pair of shoes. No matter if you're buying dress shoes, sneakers or athletic kicks, putting on a new pair with no scuffs or marks makes anyone, male or female, feel good.
And while we have lived in a world where golf equipment now changes as fast as the digital camera, it took a decent amount of time for the golf shoe to start evolving. 
Not anymore.
Companies such as Nike, who have already changed the golf hat and are working on apparel, have decided that golf shoes don't have to be that front-billed flap or saddle-style golf shoe anymore, and the Nike Dunks you see to your right are probably the best example of this. 
The Dunks, retailing at $130, are a Nike shoe that long ago came out with no spikes for the everyday hipster but are now exactly what the younger generation might like to sport on the golf shoe to look as original as anyone else. 
They are good looking, comfortable, and come in a variety of colors so you have a chance to match it up with just about any outfit you've got. 
I went with the Green/Black/White version you see to the right, and they specifically pop if you don't mind going with the new ongoing fad of wearing white golf pants. They also look pretty solid with shorts and no-look socks if you are lucky enough to live in a place that isn't freezing right now. 
I'm a big fan of anything that can separate you from the rest of the golfing community (Happy Gilmore once had a great line about what he'd do to himself if he caught himself wearing traditional golf clothes) and the Nike Dunks do just that.  

Want Eye on Golf to review your golf products? Just hit us up on Twitter right here. 
Woods has not played a full tournament since missing the cut at the 2017 Farmers Insurance...

He's one of the best quotes in the golf world, and he didn't disappoint in Malaysia

The No. 7 player in the world had a busy weekend in Stillwater
The two high-ranking political officials teed it up over the weekend in Virginia

SportsLine simulated the 2017 CJ Cup 10,000 times and came up with some surprising picks

The former U.S. Amateur champion will draw from Bobby Jones and Clifford Roberts into the...