What makes the Masters so special?
We asked non-golf writers from around the web what they thought made the Masters the best golf tournament in the world.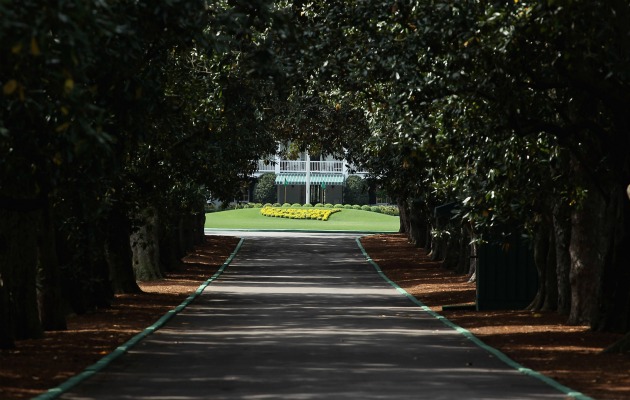 A look up Magnolia Lane at Augusta National. (Getty Images)
For golf fans, Masters week is the best seven days of the year. We all know about Amen Corner, the Sarazen Bridge and the Eisenhower Pine, but is it just golf fans who love the Masters, or do all sports fans get as amped as we do? I asked some fellow scribes who never cover golf to tell me what makes Masters week that special. Thanks to all that participated.
Brian Stubits, CBS Eye on Hockey -- I wish I could pinpoint exactly why the Masters is so special, but I can't. It's impossible to dislike that tournament. Sunday at the Masters is the best single day in sports, from Amen Corner to the 15th and 16th -- my favorite two holes in golf -- and the pressure radiating through the television screen. Nothing in golf can touch it.
Greg Wyshynski, Yahoo! Sports Puck Daddy -- I've always appreciated the audacity of The Masters. Other events have "champions"; this tournament's like, "No, you win me, you're a [expletive] Master, kid." Whether it's carpentry or a "Top Chef" or a ninja, being the master trumps all else. I've long thought the winner gets a fancy jacket, the mutant power of telekinesis and a his own harem. It's good to be the Master. 
Dan Levy, Lead Writer, Bleacher Report -- Along with the start of baseball, The Masters is the true beginning of spring for sports fans. A million shades of green–especially the jacket–highlighted by acres of blooming flowers makes Augusta something different than any course we can see on TV. It's breathtaking, and the golf usually pretty good too. Plus, the tinkly music. What other sporting event has such tinkly music?
Matt Snyder, CBS Eye on Baseball -- I don't watch or follow golf at all, but I somehow always find myself tuning into the last few holes of The Masters -- just to see who wins the green jacket. It's just one of those transcendent sporting events you cannot ignore, even if you want to.

Kevin Kaduk, Yahoo! Sports Big League Stew -- I love The Masters because Augusta National never changes. And I don't mean that in the sense that the food and souvenir prices are still ridiculously low, the course's policy of admitting women remains woefully backward or that each winner takes home a green jacket each year. I mean it in the sense that Augusta National is the only course that this casual golf fan knows, despite never having stepped foot on the course. While the three other majors rotate locations each year — never allowing me to get a full grasp on the challenges of each — Augusta's loop is the only one loop I can really recall from memory. That's a comforting feeling, especially when the tournament falls on Easter weekend and I'm forced to pop in and out of CBS' coverage between bites of ham and lamb cake. 
Jon Greenberg, ESPN Chicago --  It's tough to pinpoint why I care more about the Masters than any other golf tournament, because the bar is set so low. I really don't care about golf, though it is easy pretty easy to watch if you've got sports ADD like I do. But as a non-golfer, I do kind of dig the Masters. At least on Sunday. Late on Sunday. If I have nothing else to do. 
The scenery is nice. And the azaleas. Oh the azaleas. I don't even know what an azalea is, I'm not a flower person either, but I've been told the Masters has a lot of them. Azaleas and pimento loaf sandwiches. 
To be honest, I have no Master's memories outside of the time Tiger Woods won it when he was really young and those other times he won it. 
All I really know is the Masters is a "tradition unlike any other" and I believe everything Jim Nantz says.
Stephanie Stradley, Houston Chronicle -- When I first got a high definition TV, I was blown away at how much better sports looked. But nothing prepared me for the first time I watched the Masters in high def. It was like getting a new prescription for your glasses. Trees. Flowers. Leaves. Individual blades of grass. I've become used to watching sports in high definition, and I don't really notice it any more except for when I'm watching the Masters. I still get shocked on how vibrant it is. How impossible some of the greens are. It's amazing what a private course can look like when the members of that course insist that the network covering their tournament make it look like it is a movie or maybe a museum piece. It may be the closest that sports can get to art. 
Josh Zerkle, Lead NFL Writer, Bleacher Report -- Masters Week is really the start of the golf season for us, because for those of us that don't live in Florida or the southwest, it really is the start of the golf season for us. Except that I live in Georgia and have already been out twice this year. So never mind.
Gregg Doyel, CBS National Columnist -- I don't get gooey over golf. It's a slow-moving sport played by guys who tend to be people I'd have avoided as a kid -- just as those elitist snobs surely would have avoided the likes of me -- but the Masters? I make it a point to watch the Masters. It's not so much golf as it's pop culture. It's history. "Where were you when so-and-so shot a 60-something on the final Sunday to win at Augusta National?" That's a question I'll always be able to answer like so: I was in front of my TV, watching it happen.
Justin Bourne, Hockey Editor, "Backhand Shelf" -- The Masters, at face value, is special because of its beautiful simplicity. Green grass, pretty flowers, hey look, a flagstick. But aesthetics aside, no course makes players beat themselves as regularly as Augusta National. That's the course's amazingly unique duality. It fronts as the angel in white, luring you toward the light, assuring you that everything is going to be alright…but a darkness lurks within. The course has teeth. In an odd way, the azaleas remind me of "happy" children singing in a horror movie. You know it's supposed to be pleasant, but you know disaster lies ahead. Ashes, ashes, we all fall down.
The Masters is unique, special, and brings the best out of the best. What more can you ask from sports?
Jerry Hinnen, CBS Eye on College Football -- I don't watch golf. But as a college football fan growing up in rural Alabama, I was well aware of "Amen Corner"--the term used by Auburn fans (and borrowed by head coach Pat Dye) to describe the Tigers' closing pair of games against bitter rivals Georgia and Alabama. That's how big the Masters is; watch it or not, care about it or not, you're still going to end up talking about it.

Doug Farrar, Yahoo! Sports Shutdown Corner -- The Masters' halo is also its Achilles' heel. It is indeed an idyllic throwback to an imaginary time and place where the course is perfect, the commercials are limited, sarcasm is at a minimum (ask Gary McCord), and reverence for this great game is at an all-time high. Through all the commercial variances of modern media, the Masters remains, as much as possible, what it has always been -- a fantasy-turned-reality; a haze of perfection. Yet, that very inability to move with the times has caused and allowed  the people running the course and tournament to err on the side of extreme inaction in nearly every possible example of civic progress. There has to be a middle ground between the Firestone Open Brought to You By Doritos and State Farm, and the seamy underbelly of the Masters' exclusionary policies. At a certain point, the historical cache of this tournament and everything it stands for will pop like an overfilled balloon ... because it must. When that happens, someone will have to erect a new vision for the old course. If not, the Masters will cease its function as am idea we escape to, and become only an embarrassment we're escaping from. 

Will Brinson, CBS Eye on Football -- There are plenty of reasons why the Masters is more special than any other golf tournament. Amen Corner. Pimento cheese. Hootie Johnson's accent. But two stand out for me. One the Masters are the height of Southern haughtiness. Yes, this may be the same reason many people hate the Masters. But it couldn't be more charming to me. And two, the Masters is the unofficial start of spring. We've fought through several grueling months of winter and now I'm sitting at my house in the morning, wearing shorts and looking out my window at a blossoming dogwood tree. Sandwiched perfectly between March Madness and the beginning of baseball season, it's a quick, peaceful vacation to a place that doesn't even seem like it can be real. 

Ryan Wilson, CBS Eye on Football -- Augusta unofficially marks the beginning of spring and with it, in my mind, the start of the golf season. Football and college basketball are over, baseball's a few weeks old, and golf, for one of the few times all year, is the primary focus of the sports world. It's a nice respite from the break-neck pace of most sports, which is highlighted by the general absurdity of Augusta National, from the manicured grounds, to the green wax paper used to wrap the pimento sandwiches, to the insistence on referring to "fans" as "patrons." The U.S. Open is a more challenging set up for the players, and the British Open has the history, but the Masters is, well, the Masters.

And now your turn ... what makes the Masters so special in your mind? 
Riviera is the home of this week's 117th U.S. Amateur

A bunched-up leaderboard could be dominated by last year's Open winner

The scores are preposterously low in Greensboro thus far
Dealing with a rib injury, McIlroy considered sitting out the rest of the 2017 golf season

The No. 41 player in the world is all about core strength and his short game

The U.S. team is clearly jacked up for this event