2013 Team Preview: Baltimore Orioles
We continue our series previewing all 30 teams. Today, it's Buck Showalter's Baltimore Orioles. Can they repeat their feel-good 2012?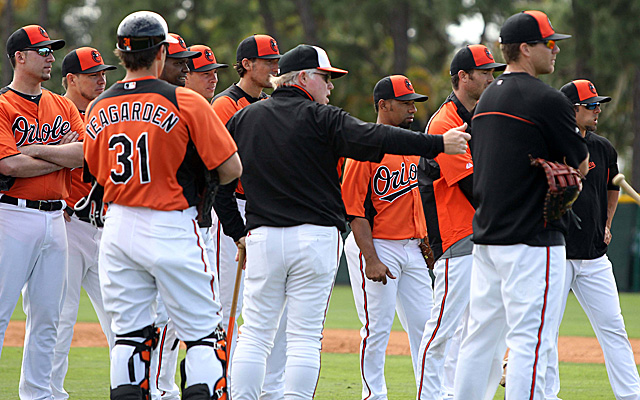 Buck directs his troops in camp this spring. (USATSI)
Spring training coverage | Orioles: Camp report | Likes, dislikes | Prospect watch
The Orioles were one of the feel-good stories of the 2012 season -- along with the A's and maybe the Nationals, too -- as they shocked the baseball world and made the postseason. The Orioles rode excellent managing, great bullpen work and timely hitting to an insane 29-9 record in one-run games along with a 16-2 record in extra-inning games. Much has been made of the Orioles' run differential, which points to an 82-80 expected record, not their actual 93-69 record.
But let's note this: Once the Orioles settled in and got done tinkering with their roster and lineup, they had the makings of a great team. They went 38-18 in their last 56 games and outscored opponents by 69 runs in those games.
Still, can they repeat the feat for 162 games? It's a tall order in the AL East.
Probable lineup
1. Nate McLouth, LF
2. J.J. Hardy, SS
3. Nick Markakis, RF
4. Adam Jones, CF
5. Matt Wieters, C
6. Chris Davis, 1B
7. Manny Machado, 3B
8. Wilson Betemit, DH
9. Brian Roberts, 2B
Probable rotation
1. Jason Hammel
2. Wei-Yin Chen
3. Chris Tillman
4. Miguel Gonzalez
5. Jair Jurrjens
Bullpen construction
Closer: Jim Johnson
Setup: Pedro Strop, Darren O'Day, Luis Ayala
Lefty specialist: Brian Matusz
Long reliever: Tommy Hunter
Notable bench players
C Taylor Teagarden, IF Alexi Casilla, IF Danny Valencia, OF Nolan Reimold
Under-the-radar transaction
The Orioles didn't do much of consequence this past offseason -- we'll get to that -- but one significant thing they did was sign Buck Showalter to a contract extension through the 2018 season. Showalter is a brilliant baseball mind who often manages circles around his counterpart, most notably in terms of putting his bullpen pitchers in position to succeed. Watching a full series of Showalter managing close games is a masterclass of strategy.
Fantasy bust: Chris Davis
"Fantasy owners are like the rest of us. They fixate on what just happened. Hence, they're more likely to remember Davis' .326 batting average, 15 home runs and 1.104 OPS over his final 36 games than his .187 batting average, six home runs and .551 OPS over his previous 49 games. But, in doing so, they don't see the complete picture. Yeah, he hit 33 homers, and given his pedigree and current stage of development, he could easily do it again. But he also struck out 132 more times than he walked, meaning the streakiness we saw from him last year is pretty much par for the course. If he ends last season on the wrong side of it, he's a .240 hitter instead of a .270 hitter. Likewise, if he begins this season on the wrong side of it, he's potentially out of a job. Of course, that's a worst-case scenario. But if 2012 was the best-case scenario, drafting Davis as anything more than a late-round all-or-nothing slugger is a risky proposition." -- Scott White [Full Orioles fantasy preview]
Biggest strength
The bullpen last season had a 3.00 ERA (good for third in the AL) and only 11 bullpen losses (lowest in the AL). The entire group is back intact, and we have to keep in mind that Matusz wasn't even a reliever until late August. The peripheral numbers say there is some regression due here for a few of the relievers. But if anyone can put the bullpen arms in the proper spots, it's Showalter.
Biggest weakness
The lineup depth leaves a lot to be desired. There's a reason the Orioles played so many close games last season, and they haven't done anything to improve matters offensively. Having Markakis a full season should help -- if he can stay on the field. But McLouth, Hardy, Betemit and whoever plays second base project to be below-average offensive players, and the bench has no one who's going to scare anyone. And while Machado is an excellent talent, he's still only 20 and it's awfully hard to be overly productive at that age.
Best-case scenario
They magically pull off a repeat of the 2012 season. And, yes, it would be magic because they are in basically the same situation. The only difference is that now these guys know they can do it instead of just having the belief that they can.
Worst-case scenario
Unfortunately for the Orioles, there's a ton of downside here. Not only is history not on the side of teams that pull off such feats at beating the run differential and going nuts in one-run games like that -- those have a tendancy of evening out over time -- but the Orioles did nothing to get measurably better this offseason. Meanwhile, the Yankees figure to be about the same, the Blue Jays are significantly improved, the Rays are still a quality ballclub and the Red Sox figure to be better than they were last year, even if not much better. And the Orioles are among the hunted instead of the hunters.
If we include concerns about Markakis' health, only Jones and Wieters are sure bets to help the offense. The starting pitching lacks a true ace while Machado and future ace pitcher Dylan Bundy could prove to be a year away from developing into major players.
Brace yourself, Orioles fans. There will be lots of people predicting a major downswing this season, maybe even predictions that the Orioles will be back in last place. I look forward to the accusations of bias, even though Showalter's O's became media darlings last September.
Most-likely scenario
Count me among those predicting a down year. Much of last year had all the makings of a smoke-and-mirrors routine. Even Showalter himself admitted during the winter meetings that the Orioles couldn't keep winning such a high percentage of one-run games. The problem is, considering the relatively fickle offense and starting rotation, it appears the Orioles will be in the same situation as last season, which is the mold of a .500-ish ballclub. Can they repeat their late-game heroics so much so that they're 20 games over .500 in one-run games? I'm not seeing it. No playoffs, and they'll be fighting with the Red Sox to stay out of last.
And if I'm wrong, well, it'll be tons of fun to watch these guys prove the doubters foolish again. If anyone can direct a quality sequel, it's Showalter.
For more baseball news, rumors and analysis, follow @EyeOnBaseball on Twitter, subscribe to the RSS feed and "like" us on Facebook. Also, individually interact with us on Twitter: @MattSnyder27, @daynperry and @mikeaxisa.

Neshek and the Phillies are closing on a two-year contract

And the team that first drafted Cole is interested

This scout was SUPER into Jeter
Stanton warned Marlins fans about the lean years that are forthcoming

The World Series champions aren't complacent

Stanton swiped at his old team on his way out