Colby Lewis' historically dubious outing
Rangers starter Colby Lewis allowed 13 runs on 13 hits in 2 1/3 innings Thursday night. How bad was that, historically? Real bad.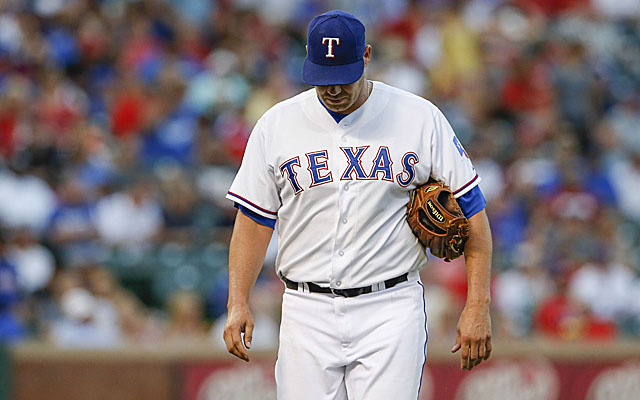 More MLB: Power Rankings | Expert Picks | Latest news & notes | Fantasy news
Rangers starting pitcher Colby Lewis just had one of the worst starts in major-league history. That's not an exaggeration, either. Here's the line:
2 1/3 innings, 13 hits (including two doubles, a triple and a home run), 13 runs (11 of which were earned, so he wasn't alone in being terrible).
He'd obviously take the loss, as the Angels beat the Rangers 15-6. That result seems ancillary, though, because that's one of the ugliest pitching lines I can remember.
So I jogged over to baseball-reference.com's play index machine, entering the parameters as starts that lasted three innings or fewer but yielded at least 13 hits and 11 earned runs. The play index goes back to 1914, but I still only got two results -- none since 1930.
•On July 6, 1918, Hugh Canavan of the Boston Braves gave up 13 hits and 13 earned runs in 2 2/3 innings to the Pittsburgh Pirates in a 17-1 loss.
•On July 25, 1929, Johnny Miljus of the Cleveland Indians coughed up 14 earned runs on 13 hits in three innings in a 21-3 loss.
That's it. No one else in baseball history (well, from 1914 to present) has had a line as bad as Lewis did Thursday night.
That's rough.
The Rangers, meanwhile, have the worst record in baseball.