Dan Plesac talks drinking 'blue Kool-Aid,' Nats, Dodgers, more
Eye on Baseball caught up with MLB Network analyst and former major leaguer Dan Plesac to talk about the upcoming season. We covered lots of ground, and we now know Dan is 'drinking the Labatt blue Kool-Aid.'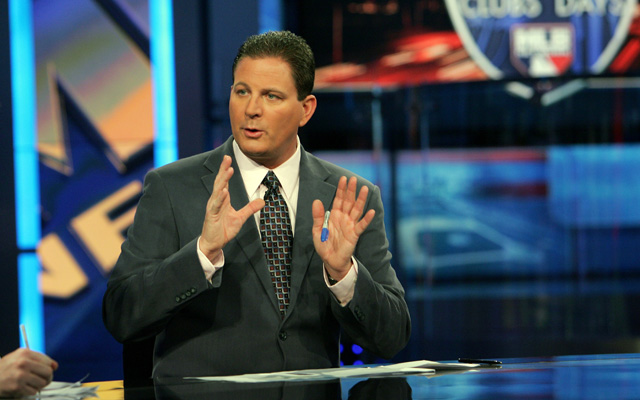 Dan Plesac spent 18 years in the majors, racking up 1,064 appearances, 158 saves and three All-Star trips. He last pitched for the Phillies in 2003, but now he's an analyst for MLB Network. In fact, he's the best whom they have in my opinion. When given the chance to interview an MLB analyst, my first choice was Plesac.
He'll be appearing on MLB Network's 15 hours of live opening day coverage on Monday starting at 10 a.m. ET. But, for now, here are the highlights of my 15-minute phone interview with Plesac.
Eye On Baseball
Preseason content
On the most intriguing storyline of the upcoming season:
"I think we're gonna find out how good the Washington Nationals are. The training wheels are off Stephen Strasburg and, in my opinion, they are the best put-together team in baseball in 2013. It's hard to find any weakness. Their rotation is strong. The bullpen is solid. The lineup is solid. They're young. They got a taste of the postseason last year. They would need a lot of things to go bad for them to not win the NL East. They're the best team in the National League."
On the Blue Jays:
"I like the Blue Jays. I think that's the second-best story. A complete roster overhaul. Once they were able to get R.A. Dickey, I was drinking the blue Kool-Aid. I think Josh Johnson's had a great spring, and you have a guy who was your No. 1 last year in Ricky Romero was going to be your five and now he's starting the year in Dunedin -- J.A. Happ has had a great spring. This team has everything. R.A. Dickey: NL Cy Young winner. Mark Buehrle, Brandon Morrow may have the best stuff on that staff. I just think that if Josh Johnson stays off the disabled list and makes 30 starts, the Blue Jays will win the East.
"If they get [Jose] Bautista back at full strength, they go Bautista, Edwin Encarnacion, Colby Rasmus, Brett Lawrie should be available late April. They're a solid offensive team that can out-hit most teams."
On the best divisional race for the upcoming season:
"American League East. I'm drinking the blue Kool-Aid. I think you could take any of the five teams and they could finish first and I wouldn't be surprised, and any of the five could finish fifth and I wouldn't be surprised. I can't give you a read on the Red Sox, the Yankees -- I don't know. I just don't have a good feel either way. I think the safest bet is the Rays, with their pitching, but I don't know how they're gonna score enough runs. I'm not buying their offense, but I'm buying their pitching. It's dynamite."
On the Yankees' current state:
"I'm surprised they haven't asked Joe Pepitone to come out of retirement. Chipper Jones, Derrek Lee -- they might even ask me." (Laughs)
Can Dan play first?
"Of course. In high school, I could rake! (laughs) I have a lot of concerns with the Yankees. It has nothing to do with pitching. I like their rotation and their bullpen. I just can't see how they're gonna score enough runs with how they're going right now."
Can the Yankees make a playoff run once everyone gets healthy?
"Yes, but I'm concerned about [Mark] Teixeira. There are conflicting reports. Some people say he's gonna be back mid-May; some people say he could be staring at potential surgery. The key to them is getting [Curtis] Granderson back. They have to get some pop in the outfield. I know he strikes out a lot, but they need his bat in the outfield.
"This isn't the Yankees we're accustomed to seeing.
"When was the last time the Yankees lost a bidding war with the Pirates? Russell Martin.
"I love their pitching. The lineup scares me."
On the state of the Dodgers:
"They scare me. With Hanley Ramirez out now for six to eight weeks, they've got some questions. Adrian Gonzalez is going to have to step up and produce. If Matt Kemp is the Matt Kemp of two years ago, then I'll sleep a lot better if I'm a fan of the Dodgers. Andre Ethier's been a little hit or miss … On paper, they look like a no-brainer, but something worries me about the Dodgers. I don't know if it's the collection of bringing all these guys together. I love Clayton Kershaw. I think Zack Greinke's where he needs to be as a two, I don't look at him as an ace; he's a solid two or three. But they have some questions in their rotation, too, at four and five. It wouldn't surprise me if the Dodgers won the division; it wouldn't surprise me if they came in third place.
On the Cubs' rebuild:
"They're doing what they have to do, which is accumulate young players. You're gonna have a better idea of where the Cubs are going after this year because, if Anthony Rizzo is what Theo and Jed think he is -- and he's made monster strides in the past year -- the process is gonna go a lot quicker. Starlin Castro is a terrific player, Darwin Barney won a Gold Glove last year; he's a solid player. Jeff Samardzija is on the verge of becoming a real good pitcher. They locked down Edwin Jackson for four years. They're trying to do the best they can in rebuilding the farm system and then winning at the big-league level. Two things, though: They're committed to young players, and they have money. It may take a few years, but they're on the right track. I think this year, if you get to 81-81 if you're a Cubs fan, you're ecstatic. I thought at the end of last year it was gonna be until 2015-16 until they were competitive again, but now I think they're going to be competitive before then."
On his transition from a player to a member of the media:
"When you get outta the game and you join the media, you're kinda looking on as an outsider. You're not in the inner circle anymore. The players aren't gonna share their thoughts with you anymore. You're a threat to them now."
On which teams might disappoint:
"There's two teams that I'm on the fence with right now, that I'm not buying what they're selling. In the NL, it's the Braves. In the AL, it's the Angels. There's something about them that just scream "be careful." It's not because of Jered Weaver, but we're gonna find out what C.J. Wilson is made out of this year because he's gonna be expected to be the No. 2. The 3-5 spots are questions, and the entire bullpen is a question in my opinion. When you're scrambling like they have the last three or four days to try and sign guys for the bullpen, they have questions. They better hope Ryan Madson gets back quick.
"I worry about the Braves because I'm not as sold as everyone else on their pitching. I think the Upton brothers are going to be good for each other, and that outfield has the chance to be the best in baseball with Jason Heyward in right field and the Upton brothers in left and center. They're gonna score runs. I have some concerns about the starting pitching. I think we've seen the better days of Tim Hudson. Julio Teheran has had a terrific spring. But I'm a little concerned about Kris Medlen. He's had a rocky spring. If the game was pitched out of the bullpen, I'd pick this team to win the division, I love their bullpen, but I'm not in love with their starting pitching."
MVP and Cy Young predictions
"I'm drinking the Blue Jays Labatt Kool-Aid. Jose Bautista for AL MVP. My NL MVP, I know it's hard to go back-to-back. My heart was telling me Buster Posey, but I'm gonna go Ryan Braun. Cy Young in the AL, Kool-Aid again -- Josh Johnson in a shocker. In the National League, I'm going Cole Hamels."
On whether Bryce Harper and Stephen Strasburg were considerations in the above question -- and offering up two sleeper pitchers:
"They're both in the mix. I think Bryce Harper has the tools. I know that Mike Trout is an outstanding player, but I don't think we've come close to seeing what Harper can do. He's looked so much under control this spring training. And if he carries the spring training into the regular season, he'll be in the mix for MVP. I think there are about five legitimate NL Cy Young candidates, and Strasburg is one of them. I think Clayton Kershaw's in the mix, I expect Adam Wainwright to have a really big year this year, and I'm gonna give you my wild-card picks: Ross Detwiler in the NL and Rick Porcello in the AL. I like breakout years for both."
Wright was arrested at his home Friday

The former Tigers teammates were voted into Cooperstown by the 16-person Modern Era Commit...

The Yankees still have room for a good-sized signing even after Saturday's trade with Miam...
St. Louis gets some much needed help for their bullpen

Keep tabs on the top 50 free agents right here

Morrow thrived with the Dodgers last season