PHOTO: Dodgers use extreme shift with five-man infield
The Dodgers positioned four defenders on the right side of the infield for one at-bat in the 12th inning on Friday.
Infield shifts are everywhere these days. Teams are using batted ball data to position their fielders in high-percentage locations to take hits away from the opposing team, and by and large they work. They work so well that more and more teams are using them with each passing season.
The Dodgers took the shift to the extreme on Friday. The Padres had the bases loaded with one out in the 12th inning, so Los Angeles employed a five-man infield in an attempt to smother any ground balls. Since pull happy lefty Seth Smith was at the plate, the Dodgers positioned four (!) players on the right side of the infield. Look: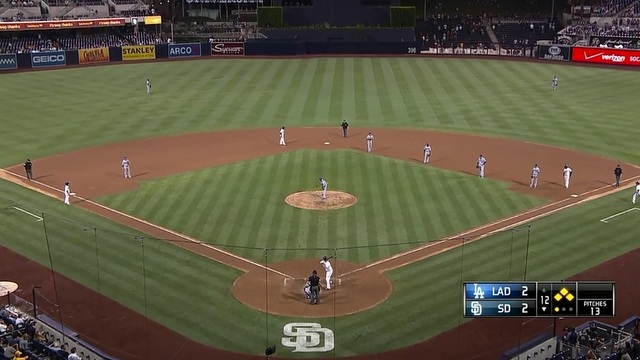 And you know what? It worked. Smith grounded to Dee Gordon (the middle of the five infielders), who fired home for the force out at the plate. That extended but ultimate did not save the game -- Yasmani Grandal followed with a walk-off single.
Shifts are everywhere, we see them every game, but it's not often we see no center fielder and four infielders between first and second bases.
This would undoubtedly be the worst trade in Miami Marlins history

The Pirates recently shipped Gerrit Cole and Andrew McCutchen to Houston and San Francisco,...

Surely, Martinez and his agent are holding out for more
The reliever had a very good 2017 season with the NL Central champs

We don't need to discuss Chipper's Hall of Fame case, so let's have fun instead

Dioner Navarro still hopes to return someday