Prospect spotlight: Dodgers reliever Josh Wall
After moving from the rotation to the bullpen, right-hander Josh Wall has seen his velocity increase (hitting 100 mph) and his results improve.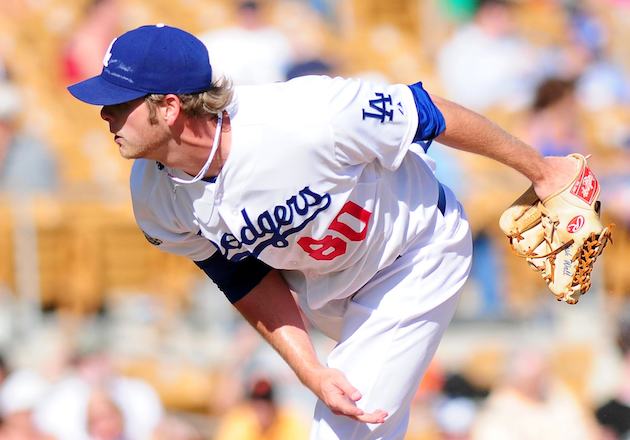 Josh Wall's story isn't all that unusual. A second-round pick out of a Louisiana high school by the
Dodgers
in the 2005, the 6-foot-6 right hander spent the first six years of his pro career as a starter, with mixed results. Then before the 2011 season, the team told him he'd be pitching out of the bullpen.
"I had a little bit of a mixed reaction about it," Wall said recently.
It turned out to be the best thing to happen to him in his career.
Wall had always been a starter and said he just felt like he'd learned from his struggles in the hitter-friendly California League and was ready to apply those lessons to another season as a starter. On the other hand, there was certainly an appeal of coming out of the bullpen and letting it loose.
The results, though, were nearly immediate. Out of the bullpen, he ditched his curveball altogether and more or less left his changeup on the shelf. Without having to worry about working deep into games or pitch counts or anything else, he's been able the rear back and unleash a fastball that has hit 100 mph. As a starter, he'd usually sit 92-95, touching as high as 97 when he needed a little extra. Out of the bullpen, it's been all extra.
"At first the adjustment to throwing back-to-back days and being ready to throw every single night," Wall said. "It was a pretty quick adjustment for me, and ever since I've done it, I enjoy it."
At Triple-A Albuquerque, Wall is 1-0 with a 2.16 ERA and four saves in eight games. He's struggled a bit with control, walking four and hitting two, but his WHIP is still just 0.96. Last season he put up a 3.93 ERA at Double-A and then recorded four saves and a 2.11 ERA in the
Arizona
Fall League. Wall appeared in three games for the big-league team in spring training and didn't allow a run.
"It feels good, I feel like I carried over what I did last year to fall league to big league spring training to now," Wall said. "I'm happy with the way I'm throwing."
The Dodgers have several young, powerful arms in their bullpen, so Wall may not see Dodger Stadium in the near future, but as the closer in Triple-A, he's certainly as close as he's ever been.
"I know I can't control anything but the way I pitch, so I just try to focus on what I have to do to get there," Wall said. "If I don't do that, it doesn't matter what goes on up there."
PROSPECT TALK
• The
Gio Gonzalez
trade seems to be working out for both the
Nationals
and the A's at the big-league level, as Gonzalez is off to a 2-0 start with a 1.52 ERA for Washington and
Tommy Milone
is 3-1 with a  2.00 in
Oakland
. But don't forget
Derek Norris
. The catcher sent to Oakland in the trade is hitting .357/.364/.614 with three home runs and 15 RBI in 19 games at Triple-A Sacramento.
• The
Pirates
have a young kid to watch in 19-year-old shortstop
Alen Hanson
. At low-Class A West Virginia, the switch-hitter is off to a .415/.448/.744 start with four homers, nine doubles and three triples in his first 19 games, a stretch of 82 at-bats. He also has nine errors.
• If he were taller than 5-foot-9,
Cardinals
second baseman
Kolten Wong
probably wouldn't have lasted until the 21st pick of last year's draft, but even at Double-A Springfield (Mo.), Wong has continued to do what he's always done -- hit. The 21-year-old is hitting .339/.431/.597 with two homers, four double and three triples in 17 games (62 at-bats). He also has four stolen bases.
• Last year's draft may go down as one of the best ever for pitching. One first-rounder who hasn't gotten as much attention as others,
Miami
's 
Jose Fernandez,
is off to a great start at low-Class A Greensboro. The 19-year-old right-hander is 2-0 with a 1.57 ERA and on Tuesday, he held Hickory (
Rangers
) hitless through six innings, striking out eight batters and walking two. He has 33 strikeouts in 23 innings so far this season.
• We've heard all about
Dylan Bundy
's amazing start at Class A Delmarva, but it's still amazing nonetheless. Tuesday Bundy matched up with
Red Sox
first-rounder
Matt Barnes
-- and the duel lived up to its billing. Barnes threw five shutout innings, striking out nine and walking two. He has yet to allow a run in his first 21 innings as a pro. Bundy, meanwhile, worked four innings for the first time -- and he didn't allow a baserunner in any of them. He struck out six. So far, he's allowed just one baserunner -- on a walk -- in 13 innings.
CATCHING UP WITH• Joey Terdoslavich
of the
Braves
(
article
)  is struggling at Triple-A Gwinnett, hitting just .203/.280/.311 through 19 games. He broke a four-game hitless streak on Wednesday.
• Billy Hamilton
of the
Reds
(
article
) is keeping up his pace of a stolen base a game, with 19 swipes in 19 games. He's also hitting .356/.447/.589 with six doubles, four triples and 11 walks. Perhaps even more impressively, he scored the winning run last week tagging up on a sacrifice fly caught by the second baseman.