Prospect spotlight: Reds speedster Billy Hamilton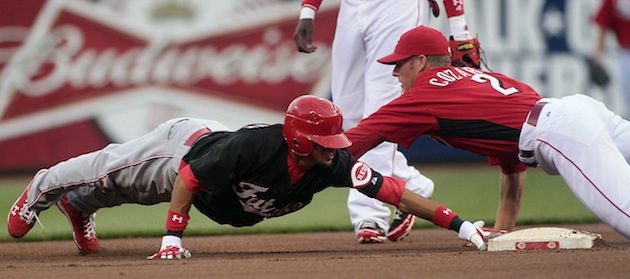 CINCINNATI -- Dayton Dragons manager Delino DeShields didn't even let me finish the question.
"Hypothetically," I started last week, "if it's August or September…"
"I would," DeShields said last week. "That's me. To have that coming off the bench, in September and into the playoffs. That would be a tremendous weapon to have."
That weapon is Billy Hamilton, the Reds' shortstop at Class A Bakersfield (Calif.), who last season stole 103 bases at low-Class A Dayton with DeShields. Just 21 and without a deep baseball background, the former Mississippi State football signee may be the fastest man in baseball. A switch hitter, there's still plenty of development he needs as both an offensive and defensive player before he's ready for the majors -- but, that speed isn't just big-league ready, it's game-changing.
"I call him a little ninja -- he doesn't leave footprints when he runs," said DeShields, who stole 463 bases in his 13-year career, including two seasons with 55 or more stolen bases. DeShields played with the likes of Tim Raines, Otis Nixon and Marquis Grissom and played against Kenny Lofton -- and he said Hamilton is in the category and has the potential to be even better.
Forget where he stole 100 bases, Reds manager Dusty Baker said, just the fact he became the first player since 2001 to steal 100 bases in the minors is impressive enough.
"Hey man, 100 is 100. It's like hitting .400 -- I don't care where you hit .400, you hit .400," Baker said. "Is it going to get tougher? Possibly. How much? I don't know."
Through the first six games at Bakersfiled, Hamilton has five stolen bases and hasn't been caught yet. He's hitting .217/.333/.478, with three of his five hits going for doubles. Last week he played in the Reds' Futures Game at Great American Ball Park. Against Reds starter
Mike Leake
, Hamilton singled in the first inning and everyone knew what was coming next, including Leake, catcher
Devin Mesoraco
and manager Dusty Baker. That's why Leake pitched out -- and Hamilton didn't care. He was thrown out, but only because he overslid second.
"The base came real fast for some reason, and I guess big league dirt is different than minor-league dirt because I kept on sliding for some reason," Hamilton said. "When I saw a pitchout, I just kept running. Some people when they see a pitchout, they stop a little bit. I just kept our running. I might have been safe if I didn't slide past the base."
Hamilton did steal a base later in the game -- this time off of
Homer Bailey
and
Ryan Hanigan
-- and finished 2 for 3, before getting on a plane to head to Bakersfield. At Bakersfield, Hamilton will again learn from an accomplished former big-league speedster, Ken Griffey Sr. Griffey stole 200 bases in his 19-year career, but he was the fastest player on the Big Red Machine and his speed was used as a weapon. It wasn't planned for the Reds to have DeShields and Griffey managing him in consecutive years, but it doesn't hurt. He'll also have former Red and current roving instructor Eric Davis -- who stole 80 bases in 1986 and 349 in his career -- working with him on occasion.
"That helps. Big time," Baker said of Hamilton's mentors. "Reading pitchers as much as anything. Knowing pitchout counts, seeing the catcher jump out, reading signs from the catcher, there's a lot involved in stealing bases. Just because you have speed, not just everyone can steal bases."
But even without that -- DeShields says Hamilton is "outrunning the baseball right now" -- he could still outrun the baseball at the big-league level. It probably won't be this year, but if the Reds are in the hunt at the end of the season, it would be an interesting thought.
Mississippi State football coach Dan Mullen still keeps in touch with Hamilton, who was recruited to be a defensive back and returner for the Bulldogs, and even though Hamilton says he misses football on Saturdays in the fall, he doesn't miss the rest and knows baseball will be his career. He's currently at shortstop, but many have predicted he'll eventually move to second.
Cincinnati
just signed
Brandon Phillips
to an extension through 2017, so outfield may be in his future at some point. However, no matter where he plays, his speed will be the difference.
"I have a whole bunch of confidence when I'm on the bases," Hamilton said. "I don't mind a pitchout. I'm confident I'll get second. If you throw me out one time, you're going to have to throw me out twice. That's not my game, sitting on first base."
PROSPECT TALK
• Bad news for the
Nationals
, as third baseman
Anthony Rendon
--the sixth overall pick in last year's draft -- suffered a partial fracture of his left ankle, the team said on Thursday. He had to be carried off the field on April 7 and the initial diagnosis was a sever sprain. The 21-year-old will see a foot and ankle specialist on Friday. According to GM Mike Rizzo, though, the fracture may be better news than a bad sprain, because it can heal quicker and cleaner. Rendon was considered by many as the best college position player in last year's draft, but slid in part because of concerns over his injury history. He had two different injuries to his right ankle and didn't play the field last season because of a shoulder injury.
•
Arizona
's first rounder from last season,
Trevor Bauer
, has 18 strikeouts in 10 2/3 innings for Double-A Mobile in two starts this season, including 11 in 5 2/3 innings on Tuesday.
•
Dylan Bundy
, the fourth overall pick by the
Orioles
in last June's draft, has thrown three perfect innings in each of his first two outings as a pro for Class A Delmarva of the South Atlantic League. He has struck out 12 of the 18 batters he's faced, including the last five in Wednesday's game against Kannapolis.
• One of the reasons the
Mariners
felt like they could trade Michael Pineda this offseason was their depth of talented starting pitching in the minor leagues. While Taijuan Walker and Danny Hultzen are the big names, don't forget about left-hander
James Paxton
. The 23-year-old has 17 strikeouts to just one walk in 10 1/3 innings over his first two starts of the season.
• And just because you're probably wondering,
Bryce Harper
is hitting .261/.320/.391 with a double, triple and stolen base in six games for Triple-A Syracuse.