Rays manager Joe Maddon calls out Nationals' Davey Johnson
Rays manager Joe Maddon called the Nationals' asking to have Joel Peralta checked for a foreign substance "cowardly" and then another word that was also not very nice.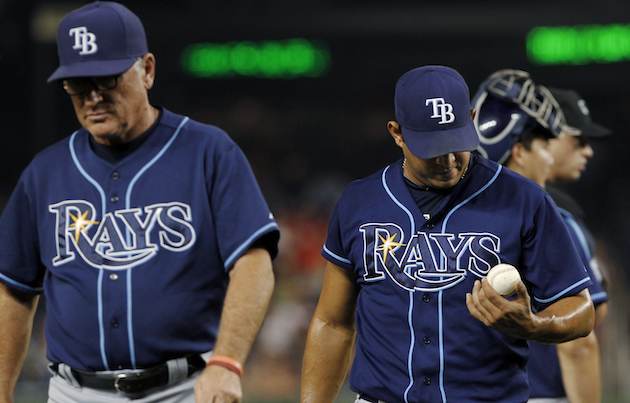 It's safe to say that Rays manager Joe Maddon isn't too happy with the Nationals and manager Davey Johnson. In response to Joel Peralta's ejection for using a foreign substance in Tuesday's victory over the Nationals, Maddon went off to the media.

"It's kind of a common practice that people have done this for years," Maddon said of the pine tar on Peralta's glove, used for a better grip (via the Tampa Tribune). "To point one guy out because he had pitched here a couple of years, it's probably common knowledge based on that.

"So I thought it was a real cowardly -- and I've used that word twice this year -- it was kind of a [wimpy] move to go out there and do that under those circumstances. I like the word [wimpy] right there."

Except, the choice of "wimpy" was from Tribune writer Roger Mooney, who used it instead of what Maddon said because the newspaper wouldn't print Maddon's word, nor will CBSSports.com. However, we call tell you the word he used can also mean a cat. So, there's that.

Johnson's now on Maddon's enemy list, along with Red Sox manager Bobby Valentine. Maddon was upset with Valentine after the Red Sox hit Luke Scott last month.

Maddon said it's a "common practice" for pitchers to use pine tar to help improve their grip -- and that "you're going to see brand new gloves throughout the major leagues starting (Wednesday)."

Johnson said he rhetorically asked how the Nationals let Peralta, who played in D.C. in 2010, "get away." He told reporters, "I got probably more information that I really needed." (via NatsInsider.com)

Maddon had the umpires check Nationals reliever Ryan Mattheus' glove and hat in the top of the ninth. Mattheus, a former teammate of Peralta's in Colorado in 2009, said he didn't hold anything against Peralta.

"Standup guy," Mattheus told reports (via NatsInsider.com). "I don't think he's out there cheating, trying to get over on us or anything like that."

As NatsInsider.com's Mark Zuckerman points out, it's not the first time Maddon has had a run-in with the Nationals about a pitcher with pine tar on his glove. In 2005, when Maddon was the bench coach for the Angels, Nationals manager Frank Robinson had umpires check Angels reliever Brendan Donnelly for pine tar. Donnelly was ejected and set off a benches-clearing incident between the two teams. Coincidentally enough, Tuesday's home plate umpire Tim Tschida was on the umpiring crew for that game as well.

While Maddon wasn't happy with the situation, Peralta seemed OK with what happened.

"Good for them. They still lose the game," Peralta said (via Tampa Tribune). "We bring in a pitcher who's doing even better than me, Jake McGree. He shut the door down and we win the game. That's all that matters."

He didn't deny the presence of the pine tar and also noted that Nationals first base coach Trent Jewett was his coach in Triple-A in 2010.

"I don't care who said something or anything, but Trent was like my dad in Triple-A," Peralta said (Tribune). "Even if he did say something, I don't care. He was really, really good to me."
For more baseball news, rumors and analysis, follow @EyeOnBaseball on Twitter, subscribe to the RSS feed and "like" us on Facebook.
deGrom is set to become a free agent after the 2020 season

Perkins missed most of the last two seasons due to injury

Jonathan Singleton was suspended after a third positive test for a drug of abuse
Rodriguez will join Jessica Mendoza and Matt Vasgersian on the "Sunday Night Baseball" boo...

Jeff Wilpon talked about payroll on Tuesday, and it won't make any Mets fan happy

Yelich's agent recently asked the Marlins to trade him before the spring