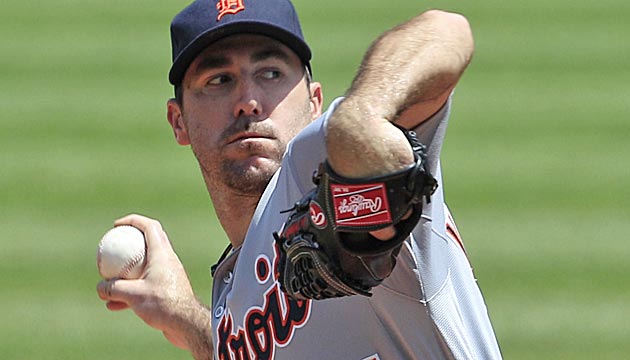 Verlander is lights out in the final inning of a loss. (AP)
BOSTON --
Justin Verlander
has thrown nearly 1,400 major-league innings, many of them brilliant.
How would you pick one and call it the best?
Not that tough, as it turns out. Just don't look at either of his no-hitters. Don't look at the game where he struck out 14, or either of the games where he struck out 13.
No, Verlander's best inning, according to the Tiger coaches (and to Verlander himself), was the final inning of last Thursday's complete-game loss in Cleveland.
And it's not close.
"Best inning I've ever seen anywhere, in my 49 years in the game," manager Jim Leyland said Monday. "I'm sure Nolan Ryan or someone could have done better, but I never saw it."
Verlander threw 11 pitches in the inning. Nine of them were fastballs, clocked between 96 mph (his first pitch) and 102 mph (his final fastball). He threw two unhittable curveballs, both for called strikes.
The Indians swung and missed seven times, all on fastballs. The three Indians batters -- Shin-soo Choo, Jason Kipnis and Asdrubal Cabrera -- didn't get so much as a foul tip.
"They really didn't stand a chance,"
Tigers
pitching coach Jeff Jones said. "Without a doubt, that's the best I've seen him."
Best inning he has ever pitched? Verlander says yes.
"Yeah, I'd say that's probably pretty accurate," he said.