What goes into making Tyler Clippard a workhorse?
Nationals right-hander Tyler Clippard is the game's preeminent workhorse reliever, but how does he do it?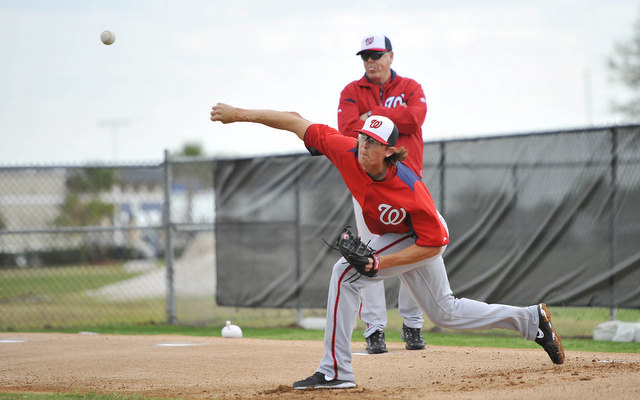 In the world of bad baseball trades, the deal that sent Tyler Clippard to the Nationals before the 2008 season doesn't get enough attention. The Yankees received right-hander Jonathan Albaladejo in the one-for-one swap, and he went on to post a 97 ERA+ in 59 1/3 innings spread across three seasons in New York.
Clippard, on the other hand, has since morphed into the game's best relief workhorse. The 28-year-old has pitched to a 143 ERA+ in 312 1/3 innings since moving to the bullpen in 2009, and no other full-time reliever is within 15 innings of that total. Relievers usually aren't the most durable of players, so Clippard really stands out from the pack.
Adam Kilgore of The Washington Post spoke to the Nationals' setup man about his ability to be such a workhorse, which Clippard credited to being open-minded and willing to communicate:
He credits a virtual village of 15 to 20 medical and training experts — Nationals trainers, chiropractors, massage therapists and more. He stays in constant communication with Manager Davey Johnson and pitching coach Steve McCatty and is never shy about telling them on the rare occasions he needs a day off.

"You have to listen to your body and know when enough is enough," Clippard said. "I think there's times in the last three years where I thought there was potential for something to maybe not go well with how I was feeling. But I was very vocal."

Clippard does not get deep into the physiology of his arm — "I leave that up to the people who know what they're doing," he said. But he uses the myriad resources at his disposal and devours information in a quest to find better and better methods to maintain health.

"I just listen, and I'm like, 'Okay, I'll do that,' " Clippard said. "If I do that and it has no effects on me, then I'll try something else and ask somebody else. That's the great thing about being a professional athlete — I can talk to three different chiropractors with three different opinions. They'll tell me different exercises to do, and I'll try them all. One will work, and I'll do that. It's just a constant trial and error."
Kilgore also spoke to Jason Riley, the director of sports performance at Performance Compound in Tampa, Fla., which Clippard has frequented since his days as a Yankees minor leaguer. Riley studies biomechanics, specifically the ways that muscles and other tissues work together during the unnatural act of pitching. He hunts for "compensation patterns," meaning when the overuse of one muscle group leads to injury in other.
"If you don't have the breaking force to slow your arm down, no matter how hard you pitch, you're going to have injuries," Riley said. "A Pinto is not going to be able to brake a Ferrari engine.

"I don't get into release points or the mechanics of how they pitch," Riley added. "All I do is try to make the biomechanics more efficient in their ability to create power and their ability to decelerate that power."

(snip)

"Let's make sure it's those small little muscles that are supposed to be holding those muscles in place are activated, are fired," Riley said. "It takes progressive years to make it stick."
Riley and Clippard -- who was too flexible and unable to properly decelerate his arm when he first started visiting Performance Compound -- have worked to enhance the right-hander's body after studying the way that his front foot landed and power was transferred through his body.
The Nationals added Rafael Soriano to an already strong bullpen this winter, but manager Davey Johnson will still rely on Clippard quite heavily in important late-inning situations. The right-hander has never been on the DL in his career -- MLB or minors -- thanks in large part to good genetics but also his progressive approach to studying mechanics and tailoring his workout routine.
For more baseball news, rumors and analysis, follow @EyeOnBaseball on Twitter, subscribe to the RSS feed and "like" us on Facebook. Also, individually interact with us on Twitter: @MattSnyder27, @daynperry and @mikeaxisa.

Marcell Ozuna figures to be the next Marlins star on the move

Several relievers have signed in the last two days

Several teams are interested in the switch-hitting first baseman
Neshek and the Phillies are closing on a two-year contract

And the team that first drafted Cole is interested

This scout was SUPER into Jeter