Whether it's MVP or MIP (most important), McCutchen makes a case
It will take September to decide the NL Central -- and also to decide the NL MVP, where Andrew McCutchen is making a case.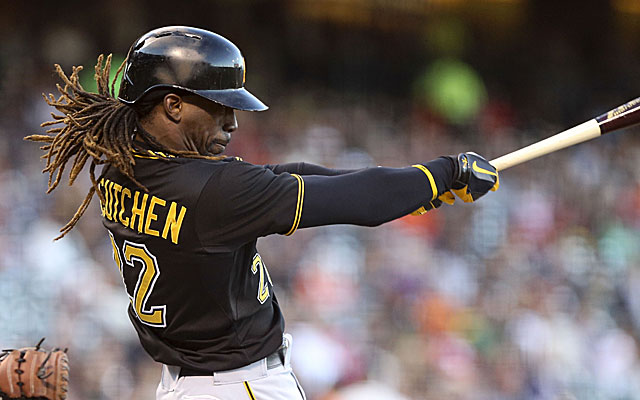 The Pirates added an MVP Saturday.
But maybe they already had one.
Justin Morneau won it in 2006, in part because his team went 16-7 down the stretch to catch the Tigers and win the American League Central. Andrew McCutchen could win it this year, and if the Pirates have a strong September and top the Cardinals and Reds in the NL Central, you might even be able to say that McCutchen should win it.
This weekend's Cardinals-Pirates series in Pittsburgh, and next weekend's in St. Louis, will help decide the division title. But they may also help decide the NL MVP.
I've made the case for Yadier Molina before, and I may make it again. I've said he's the most important player in the league.

But after spending some time around the Pirates, I'm not so sure that's right.
"I'd hate to see our lineup without Andrew McCutchen," Pirates general manager Neal Huntington said. "There's some teams that would be in trouble if you took one player out. But we'd be a whole different team without Andrew McCutchen."
He's right.
If you don't believe it, put the Pirates and Cardinals lineups side by side, position by position. Do the same with the Pirates and Reds lineups. And the Pirates and Dodgers lineups.
You don't give the Pirates the edge at too many positions, do you? That's still true, even after this week's trades for Morneau and Marlon Byrd.
The argument for Molina is still a strong one. He leads the league in hitting. He's the best catcher in the game, and the biggest influence on a pitching staff that survived injuries and relied on rookies.
And you don't need to ask how good the Cardinals would be without him. They're under .500 in games he hasn't started, including during the two weeks he spent on the disabled list.
McCutchen has played almost every game, so there are no meaningful numbers to show how the Pirates would do without him. They'd rather not find out.
"He does something special every day," said Pirates catcher Russell Martin, who has made a big impact on this team himself.
McCutchen and Molina are hardly the only two candidates. Paul Goldschmidt has been incredible for the Diamondbacks. Clayton Kershaw is having a historic season for the Dodgers.
But barring a big rally, the Diamondbacks aren't making the playoffs. And as good as Kershaw has been, the Dodgers became what they are when Hanley Ramirez got healthy and Yasiel Puig got called up. Neither Ramirez nor Puig will play enough games to merit serious consideration at winning the MVP, not in a season with plenty of other worthy candidates.
Pirates manager Clint Hurdle likes to say that the MVP should go to "the baddest dude in the league." Hurdle said he understands why people would vote for Molina, but believes McCutchen is just as strong a candidate.
The numbers suggest he's right. McCutchen leads all NL position players in WAR, whether you go with the numbers on baseball-reference.com or the slightly different ones on fangraphs.com.
The Pirates speak glowingly about the improvements he has made, about how his throwing has gotten better, and how he has worked to chase fewer pitches out of the strike zone. They see that instead of seeing his numbers fade as the season has gone on, as happened last year, he's done better as the year went on this season.
They have a special feeling about McCutchen, because he said he wanted to stay, and proved it by signing a long-term contract, at a time when the Pirates were still losing 90-plus games a year. He bought into what Huntington was doing, when many others still hadn't.
"I knew it could happen," McCutchen said. "That's why I signed. I sensed something in our team. I knew we were improving. I knew it would happen sooner rather than later."
It doesn't happen without him. The Pirates would be a much different team without Andrew McCutchen. Without him, the record run of losing seasons goes on and on.
Maybe that's not reason enough to give him the MVP. But then again, maybe it is.
The Grapefruit League and Cactus League seasons started on Friday

Data will be collected and then used to determine whether humidors are necessary in 2019

Spring training play began on Friday, and the Stoneman Douglas tragedy was on the mind of MLB...
Baseball players forced to take pictures usually lead to fun for all of us

One of the most celebrated programs in baseball is looking to continue its run

A closer look at the teams in the Cactus League and Grapefruit League