2013 Offseason Report: Phoenix Suns
Can the Suns manage to make something of themselves after trading for Eric Bledsoe and aiming for a rebuild? We take a look at year one of the McDounough plan.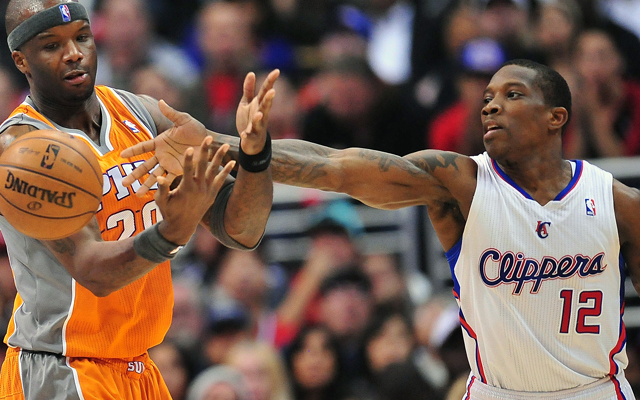 Over the next month, CBSSports.com's Eye On Basketball will take a team-by-team look at the 201213 NBA offseason. We continue with the the Phoenix Suns. You can read all of our Offseason Reports here. 
How they finished 2013
My mom said I'm not allowed to say anything in this situation.
But it was bad, OK? Really bad. The Suns had invested a not-inconsiderable amount of money in trying to build something in a whirlwhind. Surprisingly, giving Michael Beasley $18 million and adding Jermaine O'Neal as your veteran presence didn't magically convert dollars to wins.
Their starting five for the last game of the season was Kendall Marshall (who they're reportedly trying to trade), Luis Scola (who they traded), P.J. Tucker, Wesley Johnson (no longer with the team, free agency) and Markieff Morris.
It was pretty depressing all around.
Needs entering the offseason
Is "yes" an OK answer?
The biggest need for the Suns was to try and clear out some of the disturbing amount of salary they retained on the roster and to try and head in any sort of consistent direction.
They needed to move some of the veterans out and whether they would admit it or not, set themselves up to tank for the 2014 draft. They had to hire a new GM, and they hit a homerun with in Celtics assistant Ryan McDonough, and a new coach. For coach, they went to a familiar face with a different attitude in Jeff Hornaceck, who has preached metrics-foundational concepts like the value of high-percentage shots at the rim and from deep.
If we're looking at actual position needs, you can list backup point guard, shooting guard, small forward and power forward as the positions of need. Steve Nash is gone. It's time for a total reset on the Nintendo-SUNS.
The draft
The era of new GM Ryan McDonough got off to a questionable start when the Suns took Alex Len with the No. 5 pick overall. Beyond the questions about Len's health (ankle surgery) and how raw he is, the Suns also have Marcin Gortat still hanging around.
Len's one of those divisive players. If you think he has the skillset to be a real talent in this league, it's a steal. If you don't, this was a disaster. It doesn't seem there's much room for anything in-between.
The Suns did nab what could be a complete steal at No. 29 with Archie Goodwin out of Kentucky. Goodwin was a lottery prospect going into what turned out to be a disappointing Kentucky season. He showed in Summer League the scoring ability you hope to see from him. He could wind up being a significant part of the Suns' future if he can translate those skills to a team concept.
Free agency and trades
Neat fact: the Suns actually haven't signed anyone in free agency.
Phoenix has wisely pursued a zen course this summer. Inaction. They're targeting rock bottom, but in a really interesting way.
The big move for them was to trade Jared Dudley, releasing him from lottery bondage and sending him to a contender in the Clippers. In return, the Suns nabbed Eric Bledsoe. Even with Goran Dragic, Bledsoe is a tremendous asset. He's either the point guard of the future or an A-grade trade asset.
Either way, it was a terrific trade.
McDonough followed that up with another move of a veteran component, as they traded Luis Scola for Gerald Green and Miles Plumlee along with a pick. It cleared more salary and made the team worse. It added an athletic player with Green who may not contribute to wins but will give some highlights.
Overall grade and accomplishments: B
The Suns have surprisingly managed to make a team that will both achieve their tanking objectives and be fun to watch while it's losing. They cleared salary and invested in their future.
There's always the possibility that this team will be surprisingly good, that Len will immediately be a phenom, that Bledsoe will ascend to All-Star status out of the gate, that Michael Beasley will "get it." But when you look at the probabilities, a run at Andrew Wiggins or Julius Randle looks much more likely.
But there will be times when the Suns will field lineups of Bledsoe-Goodwin-Gerald Green-Markieff Morris-Marcin Gortat. And those lineups will be a lot of fun, no matter how much they struggle. The Suns finally understand who they are. That's the first step in figuring out how to not be that anymore.
Not a bad beginning to their fresh start.
LeBron had 29 points, 11 rebounds, and 10 assists in the Cavs' 109-100 win over the Jazz

The montage showed Carmelo's best Knicks moments before playing the Thunder game

KCP can't leave California for 25 days due to the terms of his pleading guilty to a misdemeanor...
Keep it right here for all of the news, notes, scores and highlights from around the leagu...

LeBron tried to keep what he said a secret, but one mic on the court picked it up

SportsLine's Mike McClure, a DFS pro with more than $1M in winnings, gives optimal lineup...