Draft Options: Picks No. 26 through No. 30
A look at the draft options of the Heat, Clippers, Spurs, Thunder, and Suns.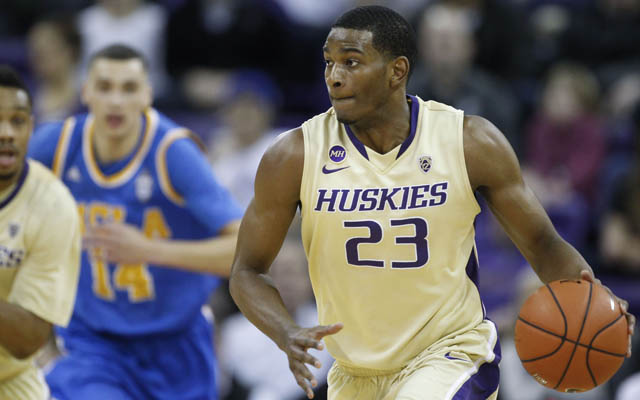 More Draft: Mock drafts | Draft news
NO. 26 MIAMI HEAT
Draft a big: Miami needs rim protection very badly and Chris Andersen is a free agent. So they could really use a functional big. They've cycled through a lot of youngsters over the years trying to find lightning in a bottle. But there's enough talent here to take a look.
Mitch McGary gives them a lot of what they're looking for, but the back has to be a concern. Patric Young might be the best fit. Athletic, mobile, and coachable.
Johnny O'Bryant has size, and a lot of it. He's a reach here, but with a 7-2 wingspan could at least fill a spot. Jarnell Stokes has similar size and is actually heavier at 262 lbs. He's just a monster. He doesn't play tall, but he's also just a beast. Insanely strong.
Artem Klimenko is a reach as well, but he's also 7-1 with a 7-4 wingspan. There just aren't many guys like that.
Draft a wing: They need youth on the wing so this makes sense. Glen Robinson III makes a lot of sense on that front. C.J. Wilcox could give them the scoring threat they need, Jordan Clarkson the same. Hairston would do well here if he were to drop as well.
Jordan Adams isn't athletic, but he's a great shooter and crafty.
If they were just going for athleticism, K.J. McDaniels would give them that threat as well. He'd learn well under Wade.
Draft a point guard: Mario Chalmers is a free agent, Norris Cole hasn't shown that he's ready. They're likely to go after a veteran in free agency, but there are some good options in the draft as well.
LeBron's a fan of Shabazz Napier for starters. Napier could go as high as the early teens. But if for whatever reason (read: upside) he slips, Miami might gobble him up.
The Heat run a lot of pick and rolls and Vailije Micic is one of the better guards in the draft in the pick and roll. There are some reach candidates as well. Jahii Carson, DeAndre Kane are two that I think might excel with Miami.
Trade the pick: They need to get younger. They should really try and target someone not only who can play, but who can contribute immediately.
Trade for a vet: If one came available that made sense, they might do this, but they had better avoid anyone who's too far past their prime.
NO. 27 PHOENIX SUNS
Draft a big: Depends on what they do with the other two picks, but they've got a world of athleticism to choose from here. And if they can't get a deal done, and want a stash-and-grab, Walter Tavares, 7-2 out of Cape Verde who just re-signed for three years with Gran Canaria works perfectly.
Draft a wing: K.J. McDaniels, Glen Robinson III, C.J. Wilcox, Jerami Grant, Bogdan Bogdanovic, P.J. Hairston, DeAndre Daniels, Nick Johnson, Jordan Adams, Jordan Clarkson, Cleanthony Early, the list goes on and on.
The Suns can use shooters, athletes, speed, size, anything. It's not that they're desperate, it's that they're adaptable. That's a huge advantage at this spot.
Draft a point guard: They can get better value at earlier positions, and they already have two great ones (if they re-sign Bledsoe) anyway. They could draft one of the usual suspects, but there are better ways to leverage their assets.
Trade the pick: Don't be surprised if that's the move, here. They only have so many roster spots, and moving it for either an upgrade with another pick or player, or just moving into a future first is probably the way they go. Selling it is, to be honest, still an option. Sorry, Robert Sarver still has a reputation.
NO. 28 LOS ANGELES CLIPPERS
Draft a big: Jarnell Stokes makes a lot of sense here. He's big and tough and Doc Rivers has never been focused on height over strength.
Artem Klimenko at 7-1 can be a roadblock inside. Mitch McGary at 6-10 can do the work on the boards as well.
They don't necessarily need the raw size, though. They could use someone with a bit of polish.
Draft a wing: Probably their biggest need, though they have Reggie Bullock who should have gotten more time last year. Jordan Clarkson is great fit with his shooting ability. C.J. Wilcox is a pretty top-level scorer and should be right in line here.
Glen Robinson III combines a lot of what they're looking for in terms of length and scoring.
I'm partial to Wilcox but he's no an elite athletee. DeAndre Daniels doesn't have the perimeter ability but can jump out of the gym.
One guy to keep an eye on here is Jordan Adams. He'd work really well in Doc Rivers' system. Same with Kyle Anderson if he inexplicably fell this far.
Draft a point guard: Darren Collison is going to free agency, so they could use another guy. If they wanted a reach beyond the usual suspects, Deonte Burton might not be a bad idea.
Trade the pick: They could use some youth to get into the system. If Doc Rivers is going to be the guy for the future, he needs to start finding guys he can build up through their system.
NO. 29 OKLAHOMA CITY THUNDER
Take a look at our options for the 20th pick. If any of them fall, that makes sense.
Trade the pick: They don't need too many more guys on roster. They could get inventive.
Something to keep in mind with the Thunder: They make big moves that come out of nowhere.
NO. 30 SAN ANTONIO SPURS
Draft a big: They can grab-and-stash more than any other team. They honestly don't need anyone else on roster. Even if they lose Patty Mills or Boris Diaw to free agency, they can pull in a veteran or use the guys they have or find someone in the D-League. So Walter Tavares makes the most sense on multiple lanes here.
Don't overlook James Michael McAdoo, either.
Draft a wing: Guys like Jordan Adams, Nick Johnson, Markel Brown, scorers from bigger programs who never 'figured it out' get looks from San Antonio here from time to time.
Glen Robinson III isn't a bad idea, either. Roy Devyn Marble seems like a Spurs guy.
Draft a point guard: Vasilije Micic is a grab-and-stash option. They could also draft someone totally off the board. It's the Spurs. Whoever they draft will be good.
Chris Bosh answered on the spot about the LeBron James and Kyrie Irving situation

LeBron James is pitching free agents on Cleveland but the Cavs can't even reach Kyrie Irving...

Thanks to the Rockets, the Nets might be open to selling a controlling stake
Stephen Curry likes what he sees in this fan

How the Cavs star would fit with the Wolves, Knicks, Clippers, Spurs and other teams linked...

The Pistons put out a long list of details regarding their new uniforms