Dwight Howard: 'I've always been a Melo fan'
Houston center Dwight Howard said he hasn't spoken to Carmelo Anthony, but he hopes he goes somewhere he can win.
• 2 min read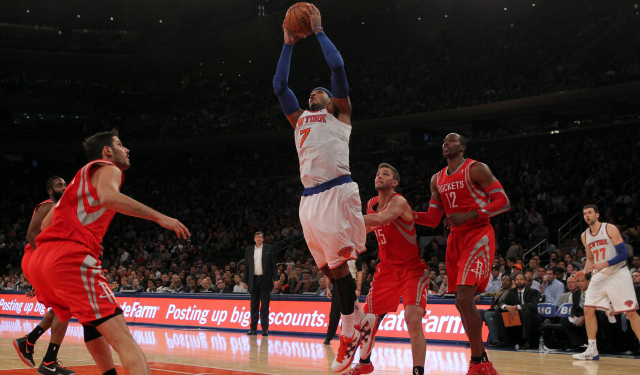 More Offseason Analysis: Coaching changes, news | Free Agency | Draft
Houston Rockets center Dwight Howard isn't exactly recruiting Carmelo Anthony -- at this stage, that would be tampering -- but he said "it would be great" if the New York Knicks forward ended up in Texas this offseason, via USA Today's Sam Amick:
"I haven't spoken with Melo personally. I know this is a time for him when he has to really just focus on what's going to be best for him. And I really believe that in this point in Melo's career, he just wants to win. He's done everything – we both have that kind of same mentality to where all the individual accolades, we've got them. We've got a gold medal, he has been in tops in scoring for a while, but those are all individual things. I think at this point he just wants to win, so it would be great to have him here because I know what his focus would be. It's up to him, where he's at in his career. But I want people on my team who are all about winning. That's my focus.

"I don't know what (Anthony) is going to do, but he wants to win. So he's going to be looking for a place to go where he can win. He's made enough money. He's done everything. I think he just wants to win right now. That's his only goal. I've always been a Melo fan. One thing he said in an interview a long time ago, I think my first or second year in the league, I remember him saying that if he could play with one guy in the league he would play with Dwight Howard, so you never know. You never know what could happen. Right now, I don't know, but for Melo's sake I just hope he goes somewhere where he feels like he has a chance to win and be successful for the next four or five years of his career."
Howard added that he'd probably not call Anthony, LeBron James or other big names who could be free agents, as he found out when going through it that "talking to a lot of people can really mess you up." It's worth noting, though, that the first thing Howard said at his introductory press conference in Houston was that Chandler Parsons deserved credit for constantly texting and calling him to talk about the Rockets. 
Anthony intends to become a free agent on July 1, and he will consider Houston, Dallas and Chicago, according to ESPN. The Rockets do make sense for Anthony if he wants to win now -- he'd get two play with two stars, in Howard and James Harden. That's a lot of firepower, but what's questionable is how the three of them would deal with fewer touches, and if Houston can find a way to improve its defense. Scoring wasn't the problem this season.
New York announced Porzingis would not return shortly after star forward left game

Teletovic missed the final three months of 2014-15 season with Nets recovering from same i...

Keep it right here for all of the news, notes, scores and highlights from around the leagu...
The NBA's City edition Nike jerseys are bold and very different

The Wolves may be smoke and mirrors, but the Pacers have the look of a team that can hang in...

LeBron said it might be difficult if the Lakers rookie ducks out of the way before he gets...