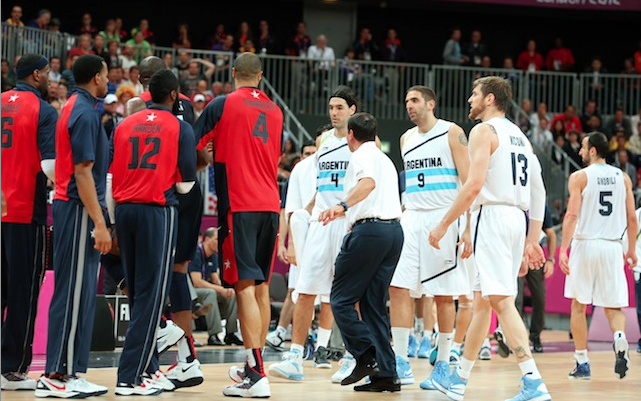 >Kevin Durant is fantastic against Argentina, leading Team USA with 27 points.
(Getty Images)
Team USA moved to 4-0 in tune-up games before the Olympics begin, but its 86-80 win over Argentina was another friendly reminder that it's not going to be a cakewalk to gold.
Kevin Durant led the way with 27 points, including seven 3s with the last being a dagger as Argentina had the lead down to four with three minutes to play. The U.S. took a 19-3 lead and appeared headed for a blowout, but the offense stalled and the Americans settled for a lot of outside shots and Argentina knocked down a whole bunch of triples.
But it's another game in the books for Team USA in the march toward London with a final exhibition ahead Tuesday against Spain. Here are five big takeaways from Sunday's win:
1. A proper look. It was only an exhibition, so in terms of intensity or strategy, not everything might've been shown, but we saw some of the top competition against the Americans with a stout Argentina team. With Luis Scola, Manu Ginobili, Andres Nocioni and Carlos Delfino, there's a lot of NBA talent on that team and it provided the U.S. a strong look. Lapse defensively, fail to close out on shooters or lose focus executing offense and those guys will hurt you.
Team USA showed its pure skill and talent with dominant runs and impressive shooting, but there was a lack of consistency throughout the 40 minutes. That's the vulnerability with the U.S. team. Fall asleep at the wheel, and these other countries have enough talent to make you pay.
2. Another starting mix. The U.S used yet another new starting five with Chris Paul, Kobe Bryant, , and Tyson Chandler beginning the game. Clearly it's a trial and error thing as Coach K and his staff tries to zero in on a group with the right mix of offense, defense and chemistry to start games.
The five that began against Great Britain (Deron Williams, Kobe, Durant, LeBron and Chandler) appeared to work pretty well, but the first five we saw against Argentina could very likely be the group used in the Olympics. It mixes well and Carmelo Anthony appears to be much more comfortable coming off the bench and having a little more of the floor to himself.
3. Coach K might be closing in on his rotation. For the first time, Team USA left players on the bench. No James Harden, no Anthony Davis. Andre Iguodala and Kevin Love saw limited minutes and Russell Westbrook was used a bit more sparingly.
The Americans aren't going to play 12 guys routinely and the 10 that played against Argentina will likely be the ones in the rotation for the Olympics.
4. Team USA loves the 3 a little too much. The Americans jack up some shots. Why? Because it's always there. It's just so tempting. With the shortened FIBA 3-point line, that shot is consistenly available and consistently makeable. They'd be better suited attacking the rim, but other countries love deploying zone against the U.S. and without true post players to dump the ball to, just letting guys like Durant, Melo and Kobe bomb away from deep is sometimes the best medicine.
When Argentina closed to within four, Durant and Paul knocked down back-to-back 3s to essentially ice the game. Those shots are there and although the U.S. certainly falls in love with it a little too much, it's understandable why it's so hard to say no.
5. The Dream Team throwbacks were fantastic. Let's all take a short breath from debating who wins or what would happened between the great 1992 team and the 2012 one. What we can all agree on is those terrific jerseys.
There's nothing all that special about them, but it's just the general nostalgia involved. Seeing those blocked, glossy letters hooping in Barcelona was a beautiful thing.