Lakers' Dwight Howard (incorrectly) thinks he should have won DPOY
Dwight Howard thinks he should have been named the league's Defensive Player of the Year last season. Dwight Howard is wrong.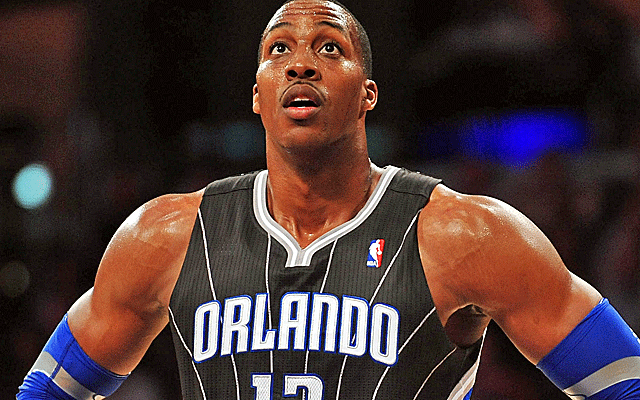 Was Dwight Howard the Defensive Player of the Year last year? (Getty Images)
Dwight Howard slid way down the Defensive Player of the Year Award voting last year, and he's miffed about it. From ESPN.com: 
"I thought I should have won it last year, to be honest with you," Howard told reporters after practice Monday. "I was a little bit upset about that."

... Howard received just 18 first place votes and 186 points.

"I felt like I did my job to win it. I also feel like I didn't because of the whole situation," Howard said, referring to the uncertainty surrounding his future with the Magic and the distraction it became. "That played a factor in it."
(via Dwight Howard of Los Angeles Lakers says he should have won top defender award - ESPN Los Angeles)
As is the case with most things involving Howard and last season, he's just wrong here. Howard is right that the situation played a factor, but that was because he was clearly distracted. This isn't about the injury that came later in the year, and this isn't about holding him to the standard of previous seasons. He legitimately slid in the biggest area that you can defensively -- effort. He simply wasn't as engaged on that end of the floor, be it as a distraction or just a matter of play. 
Howard is going to win the award this season; I think there should be very little doubt about that. He's happy again, engaged again, contending again. Amazing what happens when you get your way and wind up on the most loaded team in the conference. But it doesn't change that Tyson Chandler was a smarter, more involved and better defender last season.
Howard's defensive rating last season was a 96, the highest that it has been since 2008. But that's a poor indicator due to the nature of team defense. 
Synergy Sports reports Howard was in the 87th percentile in the post in 2010, when he had what could be considered his best overall season. That dropped to the 77th percentile in 2011, then to the 75th percentile last season. His overall numbers?
2010: .761 points allowed per possession
2011: .735 points allowed per possession (99th percentile)
2012: .768 points allowed per possession
But that's judging Howard against himself. What about winner Chandler last season? He finished with a worse PPP than Howard at .792. But Chandler's numbers were superior to Howard's in Pick and Roll, Isolation and Post defense. Chandler was hurt mostly by spot-up shooters, which most often is the result of poor team play. 
But those are just numbers. If you've watched Howard, you would have noticed a difference in his approach and tenacity at contesting at the rim. 
At his best and when healthy and engaged, Howard is the most monstrous player defensively in the league and it's not close. I expect for him to return this season to the player whom no one wants to drive against, who shuts down the offense multiple times on a single possession and who dominates the opponent. 
But last year? He wasn't that guy. Voters made a number of huge mistakes in their process (hi there, Serge Ibaka, runner-up DPOY), but Howard landed where he did of his own accord. 
Thomas spent a day with a 10-year-old girl whose family is also new to Cleveland

Barkley did not hold back with his opinion of the Big Baller Brand patriarch

We have all the latest scores, highlights and news from Wednesday's NBA games
LaVar Ball also made it clear he thinks his sons are being placed in 'a great situation'

The Thunder are just 12-14 on the season, despite the addition of Paul George and Carmelo...

The then-Heat teammates squared off during the 2011 ECF, but Erik Spoelstra put a stop to the...