NBA tries its best, but it (still) has a dunk contest problem
A strange format ruined a solid night of actual dunks as the 2014 dunk contest fell well short of expectations.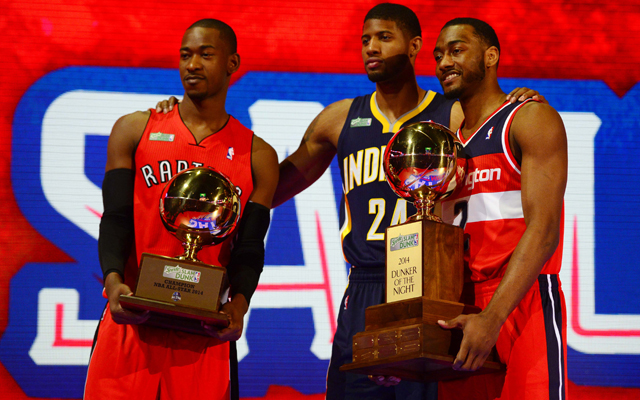 NEW ORLEANS -- So... that was weird.
The NBA debuted their new team dunk format. In a shocking turn of events, the internet hated it. But worse than hating it was the reaction in the Smoothie King Center as most of the audience reacted as if someone had dropped Benadryl into their smoothies. It was dead.
Paul George elicited a reaction with his jam and John Wall's "Dunker of the Night" (whatever that is) winning slam was a showstopper. But the biggest pop of the night came when Drake was shown on the Jumbotron, and again later when he came out to help Terrence Ross for a dunk.
Other than that, it was dead. Beyond dead.
And the format was confusing. There was no buildup to let people know something big was happening. The old format made you aware that this guy needed to pull something off. The opening round freelance segment felt like more of a shootaround, which is cool, but you need guys constantly pulling off crazy stuff to get people excited. Instead the guys kind of went through it.
The entire format change mostly resulted in confusion. This feeling of confusion was of course only amplified by the surprise appearance of Vanilla Ice in the arena, as he performed Ice Ice Baby. That's right, in the home of jazz, one of the best music cities in America, after Kendrick Lamar put on a stellar performance, Vanilla Ice rolled out.
Here's the summation of the dunk contest: The dunks wound up pretty great, the format was confusing, and they need a finale.
The free round can probably go, but most importantly you need a scoring round that sets up the best two dunkers. If Wall had to go against Paul George in the Final for best dunker, it could have brought the house down.
For the last few years, the dunk contest hasn't had the dunkers or the dunks to make it interesting, as it slipped from relevance. This year it had the dunks, and the format threw people off and felt disjointed. The league should continue to find better ways to present the contest, but at some point they've either got to "fix" it to the degree that it's relevant, or shut it down or a few years.
Ironically, if they'd just had a "normal" dunk contest this year's could have been epic. The King Shaqlemore dunk was cheesy but fun and involved a legend. Terrence Ross dunked over rap icon Drake, and John Wall and Paul George had legitimately great dunk contests. (We're not going to talk about Harrison Barnes.)
It should be noted John Wall was a fan of the changes.
"I think it was cool," Wall said after winning $100,000 for getting "Dunker of the Night" by popular vote. "Brought some excitement to it in the first round. And basically the second round you go toe to toe with the guy from the West, and you got have a great opportunity to beat those guys."
So hey, John Wall likes it. Let's all dance!
Finally, if the NBA really wants to present a better product and put its money where its mouth is, it needs to fill the arena with better fans. The place needs to be rabid, a crazed partying mob that is dying to react. This isn't a dog show.
So once again the dunk contest falls short of its storied history, and once again the public is left to gnash its teeth with disdain. The contest was neither as bad as it's made out to have been, nor as good as it could have been. It remains, as it has been for over a decade, simply underwhelming.
The NBA still has a dunk contest problem, even when they take steps to correct it.
Westbrook's late layup gave the Thunder a 109-108 victory

LeBron became the seventh player in league history to reach the milestone

There were a few things that stood out from Tuesday's All-Star selections
Here are three players from each conference who had legitimate claims to make the game

LeBron achieved the milestone in the first quarter Tuesday

Here are the full lineups for the 2018 NBA All-Star Game