Paul George: No timetable for return, doesn't blame Team USA
Pacers All-Star forward says he's set to begin rehab next week, discusses injury for the first time since compound leg fracture.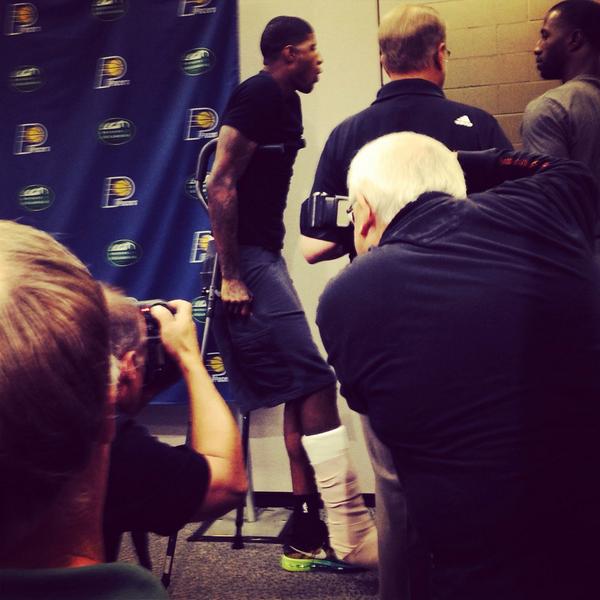 Offseason: Free Agency | Latest from Ken Berger | Rumors
Indiana Pacers forward Paul George met with the media Friday for the first time since his devastating leg injury in a Team USA scrimmage two weeks ago. 
In a press conference, George arrived on crutches after undergoing surgery the night of the injury, in which a titanium rod and multiple pins were inserted to stabilize the compound fracture in his right leg. George told reporters that there is "no timeline" for his return.
"I don't know yet," George said. "We don't want to put a date on it or a time frame on it."
George described the pain of the injury as if his leg were "set on fire" with gasoline, and that he was in total shock when the injury occurred. 
"When I looked down and saw the bone," George said, "I knew it was bad. I had felt pain before, and this was a pain that I had not felt."
George addressed criticism for Team USA in light of the injury, calling it a "freak accident" and labeling the criticism as "unfair." Following the injury a wider discussion of NBA player involvement, spearheaded by Dallas Mavericks owner Mark Cuban erupted, focused on whether players should be risking significant injury which can impact their livelihood given that neither they nor the NBA are compensated for their efforts. 
The All-Star forward also said that he's definitely open to playing in Brazil in 2016 for Team USA, and that he starts rehab on his knee as early as next week. 
Leonard's relationship with Spurs also reportedly strained because of how injury has been...

San Antonio hasn't missed the playoffs in 20 years, but the road is rocky this season

Last year's MVP finalist has missed all but nine games this season
The design for the patch is still being worked on

The explosive forward and upcoming free agent is having a career year

Cuban said on Dr. J's podcast that losing is Dallas' 'best option'