Report: Lamar Odom has interest in Knicks
A report indicates Lamar Odom would have interest in joining the New York Knicks. Good luck with that.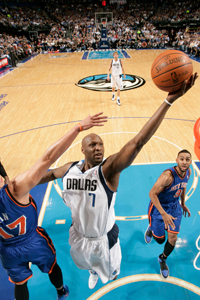 Lamar Odom never worked out in Dallas.
(Getty Images)
Lamar Odom
is going to play basketball again. After the
Mavericks
and Odom agreed to allow him to leave the team, Odom is still on roster with the Mavs. He's owed $8.2 million next year, but can be bought out for $2.4 million. Despite Odom's personal troubles and inability to contribute to the Mavericks on any meaningful level, he's going to be a popular target for teams trying to get him to buy in. 
ESPN reports that one team which Odom could be interested in is the
Knicks
:
Who will Lamar Odom play for next season? That's currently out of his control. He's under contract with the Dallas Mavericks, who likely will trade him or waive him.

But a source with knowledge of Odoms thinking says the New York Knicks would be "on the top of his list" if the Queens native becomes a free agent.

Lamar is big on being comfortable," the source said. "And New York is somewhere he can be comfortable."
via Source -- New York Knicks would be Lamar Odoms top choice in free agency - ESPN New York.

That's a nice dream. But there's about a million reasons why this won't happen. Let's say that no one trades for Odom, because why would you send assets to Dallas knowing that he's going to hit the open market? He'll be released for the $2.4 million hit. The Knicks, because of their cap situation having leveraged so much money for their star power, have only the mid-level exception. That's going to Jeremy Lin. Odom is popular. Odom is not Lin popular. So Odom would have to sign for the veteran minimum. Do you see Lamar Odom signing for the veteran minimum? It's possible, as the quote above illustrates, Odom is "big on comfortable." 

More so than money or title contention or coaching or teammates, Odom wants to be comfortable. That's why the Lakers were the perfect for Odom. It was a flashy city with parties,  nice weather and a celebrity culture for he and his wife.  Phil Jackson was the perfect coach to reach him. Not a professional, not a disciplinarian, but a philosopher who doesn't really care what you do as long as you do a few things within the system. An alpha dog in Kobe Bryant to keep him in line. It was perfect. 

New York at least makes him happy with the celebrity stuff even if the rest of those things aren't in place. But it's just not feasible if Odom takes anything close to the money he's going to be offered.

There are going to be options for Odom, and there will be a time to discuss them. But New York? That's a wish that seems to have little chance of coming true.  
Giannis, who spent last weekend in L.A. for the All-Star Game, says he loves 'low-key' Mil...

We've got all the scores, highlights and news from the first day back from the All-Star br...

Smart, set to return Friday, said doctors told him he was very lucky that the glass did not...
Word got back to Irving that the team was discussing options, and he didn't like it one bi...

An ongoing investigation continues to reveal details about the Mavericks' workplace

Larry Hartstein has his finger on the pulse of Kings basketball and just released a play for...